This past summer Bruce Mac Rae, singer songwriter and youngest son of the legendary show business couple Sheila and Gordon Mac Rae, succumbed to a heart attack at the young age of 55.
Heather Mac Rae, Bruce's sister and my close friend, invited me to "A Celebration of Bruce Mac
Rae's Life, Loves and Passions", held October 9 in the Bruno Walter Auditorium at Lincoln Center. Bruce will be missed; he was so young to make this journey and shared such a vibrant love of life with his beloved wife, the great beauty and clinical psychologist, Dr. Mari Terzaghi. In quest of adventure, Mari and Bruce traveled the world -- Egypt, the Galapagos, the Red Sea, the Sea of Cortez diving the deep seas around the world in dangerous, shark infested waters. They welcomed and sought the challenge of the deep blue, but were unaware of the challenge Bruce's body was facing internally.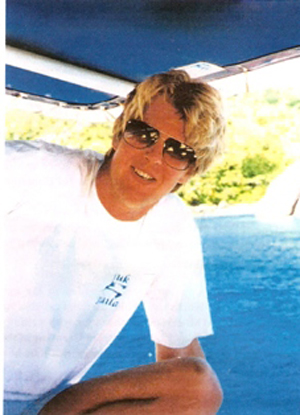 Bruce's mother Sheila is known for her role of the long suffering but sassy wife of bus driver Ralph Kramden in the color episodes of "The Honeymooners" a part of the "Jackie Gleason Show." Bruce's father Gordon rose to superstardom singing heartfelt lyrics across corn fields in "Oklahoma".
With wholesome, All American good looks like his father's, Gar Mac Rae at 63, is Bruce's elder brother, a soft spoken, mild mannered, humble father of five and grandfather of two who lives a life of serenity on an island off the coast of Seattle. After working in the motion picture industry for many years at Paramount, a retired Gar welcomes the solitude of the great Northwest.
True beauty and eldest daughter Meredith Mac Rae, who also resembled her father Gordon, achieved her own fame in 1966 for starring as Billy Jo in the hit series "Petticoat Junction." Gordon Mac Rae told Meredith, 'If you get straight As two years in a row, I'll buy you a car. "Meredith got that car and degree and credited her father with instilling in the family a proper work ethic. She had said, "We lived in a modest home in the San Fernando Valley when we could have afforded to live in fashionable Beverly Hills, but my father did not want us to feel superior to other kids." This symbol of the Everyman from the corn fields of "Oklahoma" is the humility that Gordon instilled in his children and which his family, and his legacy reflect and document.
After several years of illness, Meredith died in 2000. Meredith's daughter Allison is the one of the youngest living Mac Raes to have inherited Sheila and Gordon's wholesome good looks.
Referring to my good friend Heather, one of the guests whispered, "She has the pipes of the old man." Today Heather performs at concert halls throughout the country singing "Songs for my Father" as a tribute to Gordon Mac Rae. She has had a successful acting career and was featured prominently in Woody Allen's "Everything You Always Wanted to Know About Sex (But Were Afraid to Ask)" and in guest shots on TV shows such as The Sopranos.
We have been friends since the early seventies. When I had a miscarriage, she was the first person at the hospital. Heather helped me to bury Tutu when my beloved tea-cup poodle died. When my mother died, Heather sang at her funeral. Heather has always been a friend in a crisis and that is a Mac Rae trait. When her dear brother Bruce died, she again sang at his memorial. There was hardly a dry eye in the Bruno Walter Auditorium after the program of song and testimonials that were both humorous and heart felt.
Bruce Mac Rae's musical legacy will live on. His score of Ape, the Korean version of King Kong, so impressed Sondheim that Sondheim likened some of the pieces to the writing of Hammerstein. Recordings of two of his songs "Find Me a Man" and "Music That I Overheard" are available on iTunes.
The memorial program began with a film of Bruce's Somali kittens, Harvey and Veta, with their backs to the camera as though they were watching his life with us. Shots of Bruce snorkeling in the waters of remote Asian countries with wife Mari followed, with the song "Coffee, Cigarettes and Chocolate" playing on the sound track.
My favorite musical number written by Bruce was "Havana" played here against film of various fish, sharks and shark whales swimming, seemingly in time with the music. Bruce's voice had a timbre that resonated with the serenity one sometimes feels at sea. Gar Mac Rae created this spectacular footage. When Heather and Bruce were the opening act for George Carlin at the Sahara in Las Vegas, Carlin chose the songs "Havana" and "Find Me a Man" for them to perform.
"Forever Young", "Luxembourg", "Children's Playground" (from Ape soundtrack), "Music That I Overheard" followed.
Now Heather Mac Rae sang "Find Me A Man" accompanied by Mark Nadler. Heather's singing reverberated in the theatre with the strength of her father's voice; one suspected she could shatter glass as her foot tapped to the rhythm of Nadler's piano.
As speakers were both sad and humorous, Allison Mullavey, daughter of Meredith Mac Rae and Greg Mullavey was the wittiest. She said her uncle Bruce had suggested she take elocution lessons to get rid of her valley girl accent, then addressed the audience in her natural voice --that of a valley girl. Though her mother was blond, Allison's long straight black hair frames her features and reinforces her resemblance to Mom Meredith.
Allison's father, Greg Mullavey, now walked on stage and said whimsically, "How can I follow this?" Greg, looking more handsome than ever, was in NY starring in a play at the theatre "59 East 59".
"Greg does a lot of theatre around Manhattan," Heather told me. He is best known to TV audiences for playing Tom, husband of Mary Hartman on the iconic TV series "Mary Hartman, Mary Hartman."
Writing partner Leslie Gerchick spoke of Bruce's love of the thesaurus for a songwriting tool. After he was accepted to the prestigious BMI Lehman Engle Musical Theatre Workshop, he collaborated with Gerchick with whom he wrote "Little Man", set in Germany in 1930
After the program I said to Allison, "I don't think we've met."
"My grandfather and I had lunch with you in a coffee shop," she replied. "Don't you remember?"
No, I didn't remember, but I will never forget Gordon Mac Rae who also was a friend of mine who helped save my life by taking me to my first meeting of sober alcoholics and telling me he wouldn't speak to me if I drank. Just as Meredith had to get straight A's to get a car, I had to stop drinking to gain Gordon Mac Rae's approval. In time I learned to stay sober for myself. Gordon was not anonymous nor am I.
I feel a part of this family because of the love they have shown my mother and me over the years. Bruce Mac Rae was kind to my mother who lived to be 100. "Is that you, Brucie," my mother would ask when she could no longer see clearly, but could hear his soft lyrical voice.
Then there were the times I would push my mother up to Lincoln Center to have a lunch with Heather and Sheila in a coffee shop. Here they would sing show tunes such as "Surrey With The Fringe On The Top" to my mother who, by then was blind in one eye and wheelchair bound.
Bruce sometimes would be with them and was always the gentleman. My mother and I loved Bruce Mac Rae, my close friend Heather and the entire Mac Rae family who always will fill my heart with bittersweet memories.
Popular in the Community