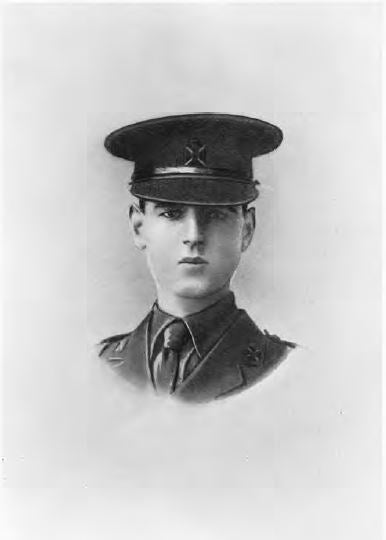 When the British missionary, the Reverend Seymour Dallas, reported back to his church in the genteel London district of Kensington, he wrote with admiration for the Canadian settlers he lived among:
"Anyone can stick to a thing that is going swimmingly, but the man who is not discouraged is the only man who can do any good in this country."
The young priest took delight in shocking the parishioners back at St Mary Abbott's in London by explaining that the Diocese of Edmonton was bigger than England. To attend a synod meeting in Calgary he faced three days in the saddle and then an eight-hour train journey, he told the church magazine.
Dallas arrived in Alberta in 1911, and worked there for three years, until he was called back to the UK at the outbreak of war. He was killed in the trenches in September 1917, age 33. However, the story of his brief and uncelebrated life illuminates the remarkable determination required by anyone trying to make a living in Canada's more remote areas a century ago.
"A settler's life in north west Canada is no soft job," Dallas explained to the well-padded London congregation that sponsored his mission in Alberta. "A living, and that is all, can just be made, and it takes three or four years before any profit can be expected."
Dallas faced a culture shock from the moment he arrived by boat in Quebec in 1911. Although he was well-travelled (he was born to missionary parents in the Far East) he was astonished by how long it took to reach Calgary by train. Having reached Alberta, he faced a bone-rattling journey on terrible roads to Edmonton, and then days on horseback to Barrhead, (at the time known as Paddle River). Once he arrived, he found his vicarage was a one room shack with a dirt floor. He put up a partition, and used the other half of the space for church services. In order to survive he had to chop wood, draw water, care for his horse (named Canterbury), make his own fire, cook and clean for himself. It was a far cry from St Edmund Hall College in Oxford, where he had studied divinity.
Yet, Dallas never complained, so impressed was he by the determination of the settlers to whom he preached. Instead, he wrote cheerful reports to his funders back in the UK, describing the physical challenges facing farmers in his enormous district ("more than 300 square miles") which included the Pembina and Paddle Rivers. Within three years the young man had built five churches on his patch, and several schools. He and Canterbury were required to ride twenty-five kilometres to reach the first service on a Sunday, followed by another twenty to the next far-flung congregation, and so on. A horrified visitor from England noted that Dallas's milk and bread froze solid while the vicar was out and about, performing his duties.
If anything ruffled Dallas's feathers, it was the poverty endured by settlers. He blamed the excessive prices charged for food and basic necessities in shops, and he responded by founding a cooperative food store where families could buy provisions for much less. He was also distressed by the way farmers undercut each other, "thereby cutting their own throats," he concluded. After much negotiation, he got 100 local farmers to form a society which set prices, much to the annoyance of the wholesalers and middlemen.
His church services were ecumenical, not by choice, but because he was the only Christian priest there throughout the year. He was once summoned to meet a settlement of Italians on the prairie who were so remote they had never encountered a Catholic cleric. Although Dallas did not understand Italian, he realized the settlers were desperate to have their many babies baptized. Communicating in Latin, their common language, Dallas obliged.
The young vicar was especially impressed by the old-timers he encountered who had arrived during the Klondike gold rush of 1898. They told tales of endless journeys by horse, husky and canoe, months of sub-zero temperatures, monotonous diets, and getting sick eating moose. When they reached Dawson City they found gold fever: stores where you paid in gold, "hundreds of gramophones banging out all the popular tunes," and saloons open day and night. But thanks to the Mounties, "There were none of the shooting affrays which were frequent across the boundary from Dawson, outside British [sic] territory." Some things never change, then.
When Dallas had an "at home" party, his parishioners would arrive at 7.30 pm and stay until daylight, so treacherous were the roads (and so scant the opportunities for entertainment). At his services, however, there was no musical accompaniment, and he limited the length of the hymns to a verse or two because so many people were illiterate.
From the hardships of prairie living, Dallas went to the trenches of France in 1915, with only a month back in the UK. Like so many other army chaplains, he was killed serving beside his troops. He died on September 20th 1917, age 33. His grave is unknown, though his name appears on the Ypres memorial familiar to so many Canadian families who have gone to Flanders searching for their relatives who died a century ago. Back in Barrhead, Alberta there is a hotel named after him, and a church that is the sister to St Mary Abbotts in London. A special service will be devoted to Reverend Dallas on the anniversary of his death.
Related
Popular in the Community