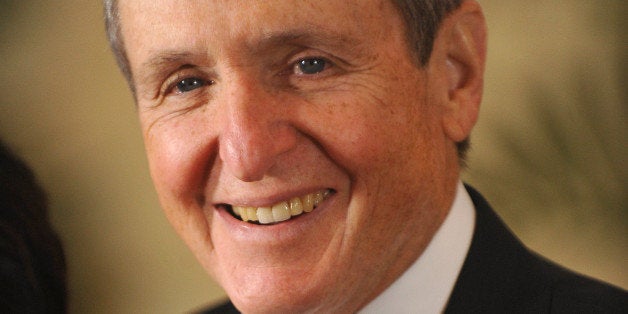 Yesterday morning, while driving my son to preschool, I turned on KPCC and heard Mayor Garcetti in the midst of talking about someone. All I heard was, "... he was literally the most universally liked man in Hollywood," and I knew that Tom Sherak had died. I was truly saddened by the news, and my eyes teared up. My son asked, "What's wrong, Mommy?" I told him that a friend had died. He asked, "Who?" And I said: "The nicest man in Hollywood. "
My journey with Tom began when my career in Hollywood began, many years ago. I was a fledgling film reporter for the Hollywood Reporter (when it was a trade daily), and 20th Century Fox was one of the studios I covered. Tom was one of the first people I met. The charismatic and adored executive showed me around the lot, introduced me to his colleagues, took me to lunch. He always made me laugh. Always made me feel like what I did mattered. And he taught me much about how this town and this industry work. Tom loved the film business, and making movies.
Over the course of four years, I wrote about executives coming, going and getting promoted, and movies being developed, marketed and released... some becoming hits, others flops. Tom and I spoke fairly regularly, and he always took my call, even if it was to say "no comment." He was helpful on and off the record, and even when the story had nothing to do with him, or Fox, he often had insights to share, which I always appreciated. Even when I ran a story that he didn't like, he usually acknowledged me for being fair. He was a class act, an exceptional man of honesty, integrity and character -- a true mensch.
When I left the paper and had producing deal at Fox, he was there again, always with a big hug, a smile, supportive words, and advice. He gave great advice because he cared, really listened and told you the truth. When I wrote and sold my first screenplay, he was encouraging, and genuinely proud and happy for me.
Many years later, I hit a rough patch in my screenwriting career. He was at Revolution Studios, and he heard through a wonderful mutual friend from the old days, that I was having a difficult time. He had me come in and pitch some movie ideas. I was truly touched, went in for a meeting, and Revolution bought one of my pitches for producers there. It was a good pitch, the job wasn't charity, but Tom certainly didn't have to reach out to me, and he most definitely didn't have to buy my idea. But he did. Because that's the kind of person he was. As many have noted, Tom was a very loyal man. And if he could do something for you, he would. It was, unequivocally, the kindest thing anyone has ever done for me in all of my years in Hollywood.
I remember thanking him, tears in my eyes, and he said: "You were always fair to me when you were a reporter. I'm just returning the favor. It's a good idea, now go write a good script."
A couple of years ago, after a pitch on the Paramount lot, I walked past Tom's office and stopped in to say hello. He invited me in with a hug and a smile. He was thin, clearly still fighting the cancer, but upbeat about his treatment and the future, and, as usual, didn't want to focus on himself. He was interested in me, in what I had been doing these past years. I told him about my film and TV projects, and shared with him that I had become a mother, and that my son, like his daughter who has MS, was living with a chronic illness -- Type 1 Diabetes. I talked about my new-found dedication to raising awareness and money to help find a cure. And Tom, the tireless advocate, fundraiser and philanthropist, told me he knew all too well the journey that I was on; the driving need to do something, anything, everything to heal your child. "What else are you going to do, " he said. "It's your kid."
We hugged goodbye, and I told him I hoped things went well with his health, "It's all going to be okay, he said, in his normally upbeat way. "Now go write something good. And take care of your son."
Henry James wrote: "Three things in human life are important: the first is to be kind; the second is to be kind; and the third is to be kind." Tom Sherak got it right on all three counts.
Calling all HuffPost superfans!
Sign up for membership to become a founding member and help shape HuffPost's next chapter