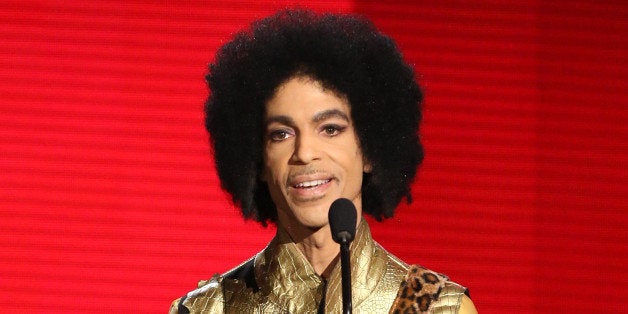 "Does anyone hear us pray?
For Michael Brown or Freddie Gray
Peace is more than the absence of war."
"If there ain't no justice then there ain't no peace."
These lyrics didn't exactly thrill police officials in Baltimore in May, 2015. They were the lyrics in Prince's "Baltimore" a rollicking, but moving, and heart felt tribute to the slain Freddy Gray that was released weeks before his May 2015 benefit concert for the Gray family. The lyrics were Prince's in your face message to Baltimore police and city officials who first stonewalled Gray's death, and then watched as riots convulsed the city in the aftermath of it. This was no fly by night cheap, celebrity photo op publicity gambit to capitalize on the turbulent events in the city. The month before the soft-spoken Prince gently reminded and admonished the audience at the Grammys at the Staples Center in Los Angeles, "Albums -- remember those?" "Albums still matter. Albums, like books and black lives, still matter."
Even before Prince took the stage at the Grammys and in Baltimore at the Gray Benefit concert, I remembered the flap that he had caused two years earlier with his lambaste of Wall Street greed in his song "Ol' Skool Company." He minced no words, "Fat cats on Wall Street, they got a bailout, while somebody else got to wait." "$700 billion but my old neighborhood, ain't nothing changed but the date."
When I heard those words I thought back to the Prince concert I attended in the early 90s and especially the one I attended at the Inglewood Forum in April, 2011. At this concert, Prince insisted that tickets not carry the standard usurious, highway robbery prices for big name performer's concerts. The result was that the concerts were more community events than a celebrity studded concert event. The concert was a stop on his national tour billed as Welcome 2 America tour. Prince ladled out more than $1 million from proceeds of the tour to the Harlem Children's Zone and more than $500,000 to arts programs in New York and North Carolina. This made sense and was in keeping with Prince's rage against hunger, poverty, and especially its devastating and corrosive effects on children in a track in his 1985 single, "Hello." He both pleaded for and scolded America for its abysmal indifference to the hungry and poor, "We're against hungry children, our record stands tall, but there's just as much hunger here at home."
The evening at the Forum, Prince gave a mellow, subdued, and fan warm appreciation concert. He showed himself as an artist and entertainer who really cared about his audience and who was conscious of who his audience was and their appreciation for him as a musician band a man of social consciousness.
It was that social consciousness that was too often ignored, downplayed, or missed completely. This was also true with Michael Jackson. And as with Jackson, Prince had a track record to prove that he really did care. It showed in his quiet giving to charities such as City of Hope, Jazz Foundation of America, H.A.L.O., Elevate Hope Foundation, Urban Farming, The Bridge and Edith Couey Memorial Scholarship Trust Fund. Then there was his very public pitch at a concert for the Chicago based Rebuild the Dream foundation to provide jobs, skills training, and business opportunities for minority youth in Chicago.
Prince, as with Jackson, was often hit with the criticism and the demand to say and do more against racial injustice. He was often hammered for his at times enigmatic, seemingly muddled, religious conversion and seeming coolness to same sex marriage and abortion.
But he picked his spots quietly, and in ways that he felt could make a difference. In between, there were the especially delicious and delightful moments when he let it fly. This was certainly the case with "Musicology" on his 2004 album. He boldly asked and challenged "Dear Mr. Man, we don't understand. Why poor people keep struggling, but you don't lend a helping hand?"
Prince's legacy as a prodigiously talented singer and performer was more than sealed long before his tragic death. But it was his charitable work and willingness to use his music when and where he felt it could make a difference and to make his protest in his own way against injustice that must be known and remembered. That is that he be remembered as more than just a black man who made his living on a concert stage or in the recording studio. Or a man whose other claim to notoriety was that he delighted in being a man of mystery and puzzlement.
The mountains of tribute are mostly to Prince as the performer, musician par excellence, showman, and song writer. They're all deserved. But it's the other Prince, the man who gave his time, money and raised his voice against injustice that I will remember most.
Earl Ofari Hutchinson is an author and political analyst. His latest book is From Sanders to Trump: A Guide to the 2016 Presidential Primary Battles (Amazon Kindle) He is an associate editor of New America Media. He is a weekly co-host of the Al Sharpton Show on Radio One. He is the host of the weekly Hutchinson Report Saturdays 9:00 AM on KPFK 90.7 FM Los Angeles and the Pacifica Network
Popular in the Community