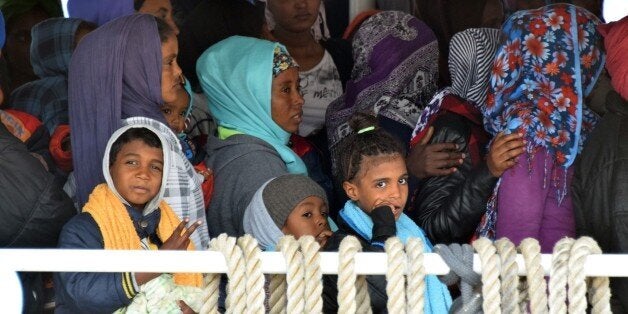 In ten years, away from journalists' video cameras and notepads, who will remember, and how will they remember, Arma, Imaad, Muhsin, Faiza, Sesen, Iman, Tangela, Ratiba, Majd, Maisa, Ndidi, Saabir, Nala, Mesi, Salma, Wafyia, Issa and Samar?
These names belong to people who were hoping for better lives, for a place far away from bombs, hunger, and ferocious violence, where they could protect their children and watch them grow up safe and sound.
When I see these faces, lost to the merciless sea, I see their courage. For each face I imagine a name, a tragic story, a desire to survive.
Every day there are thousands of people who are trying to cross the Mediterranean Sea in order to reach Europe. These are entire communities trying to escape bloody crises in the Middle East, the Sahel or in the Horn of Africa. There are those who haven't just lost their houses but an entire country, such as the 43,000 Syrians (11,000 of whom are children) who arrived in Italy last year and this year, after traveling arduously for months throughout Lebanon and Jordan, Egypt and Libya; or the 35,000 Eritreans fleeing from a dark tunnel of dictatorship, or the Somalis and Nigerians frightened by the brutality of a merciless fundamentalism.
Hell: that word describes what Libya is for all the refugees and asylum seekers who are putting their lives in the hands of human traffickers, who organize trips from Africa to Europe that in and of themselves are a sort of Russian roulette. Save the Children staff are helping and taking in unaccompanied children along the coasts of southern Italy, and "hell" is the word they hear repeated hundreds of times a day on the docks of the ports where the exhausted migrants come ashore.
To escape that hell about one thousand dollars per person is needed. When you're desperate and uncertain whether you'll survive, money isn't a problem, as you're ready to put everything on the line. Holding on to life is the sole goal. But life is over for at least 700 people who drowned during a rescue operation after the boat they had been packed into like sardines sank. It may have also been the case that many women and children were locked in the hold so that they couldn't go back up onto the deck.
How much darkness, stench, and noise from the motor and the sea was there in that hold for a young African woman with her newborn baby? How much courage does it take to be there and to try in every way possible to look forward, to save your child? How much distance was there between them and their future in Europe? Just a few miles. Yet Europe was much more distant in a different sense.
A sea of fear divides Europeans from migrants. Migrants fear death on the sea. For Europeans, there was, and still is, the fear of accommodating, of sharing. There's a lack of courage in not putting these people -- who have risked their lives -- first; in not recognizing themselves as the richest group of countries in the world, with the necessary resources to adequately take on this humanitarian emergency.
Sure, the international community must also do more to put out the blazing conflicts that are burning up entire countries, producing millions of desperate refugees with no sense of future. But regardless, there are thousands of young mothers, with their children, at this very moment, who are packed in among other refugees in Libya, hoping to leave and subjected to violence; not to mention the hundreds of children who are beat and tortured in an attempt to get more money out of their parents.
There must be a way for all these lives that keep on trudging ahead with pain and courage to get the rescue -- and the opportunity -- they need. In this battle and in others, I'm on the side of Save the Children because I believe that we must all push ourselves to overcome the fear of the unknown and to face, with humane solidarity, a historical fact such as the current migrant exodus.
Europeans feel as though we don't have the right economic, social and cultural tools. And maybe that's true. And if African and Arab countries oblige a sea of people to risk death just to escape from their homelands, obviously we are not solely to blame. But we are in part. This is a fact. It's clear that we can't avoid this just by turning away or reducing the situation to hatred, racism, violence and denial of others. Reestablishing equilibrium entails using our brains as well as our hearts.
I'd like my children, our children, to be able to judge us differently in ten years, to be able to remember the names of those who have been so courageous, and perhaps to even witness these people transforming the countries that knew enough to take them in.
This post was originally published on HuffPost Italy and was translated into English.
REAL LIFE. REAL NEWS. REAL VOICES.
Help us tell more of the stories that matter from voices that too often remain unheard.