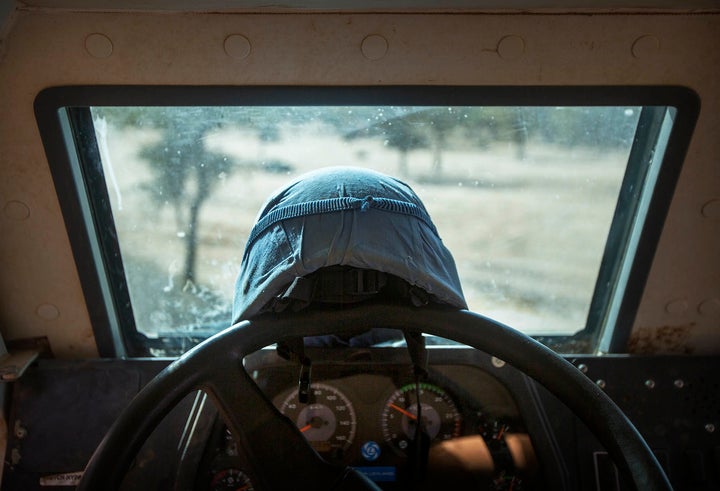 Yesterday was Memorial Day, a day to remember those who have sacrificed for this great country. A time-honored tradition, to recognize those who have fought for freedom and democracy, values we hold in the highest regard. Yesterday was also International Day for UN Peacekeepers, a day to remember those who have fallen in the name of similar goals to bring global peace and security.
Edward Mxolisi Mnyipikai, a South African soldier, was guarding a humanitarian supply convoy from the World Food Progamme in the Darfur region of Sudan last March when it came under attack. The ambush took place just 25 kilometers from its destination, a meeting with a Rwandan battalion that would escort the desperately needed aid to Darfuris in the western desert. He was killed protecting a food shipment from rebels in an area of the world facing the duel atrocities of crimes against humanity and a man-made famine.
A 13,000-strong peacekeeping force is set up to protect civilians in the war-torn country of Mali, where rebel groups and Al Qaeda affiliates have inflicted tremendous violence. Twenty-nine-year-old Shen Liangliang was one of those peacekeepers, working in the northern city of Gao. He and his unit from China were there to provide security, do engineering work and provide medical care. He was killed last June when a truck bomb was driven into his base and detonated. Overall, more than 70 peacekeepers have been killed in Mali since the mission first deployed in 2013, including two more just last week.
Corporal Khalid El Hasnaoui of Morocco was patrolling in the town of Rafai in the Central African Republic in April of last year. A member of MINUSCA – the UN peacekeeping mission in the country – Corporal El Hasnaoui was dispatched to the nearby village of Agoumar after reports of an attack by the Lord's Resistance Army. When he arrived, an angry crowd had gathered at the local clinic where members of the LRA raiding party were being treated after the battle. Corporal Khalid was killed while protecting the clinic from the mob. As a peacekeeper, he was tasked with keeping the peace, even if it meant protecting those accused of committing violence. He is survived by his wife and young son. Earlier this month, six peacekeepers, including four Cambodian engineers, were killed in the southeastern town of Bangassou, building roads in a country where only two paved roads currently exist. This was the largest attack on UN Peacekeepers in CAR since the inception of the mission.
Over the last decade, more than 1,000 other peacekeepers like Edward, Shen and Khalid have been killed in action. However, these sacrifices are not in vain: peacekeepers save lives, rebuild communities, and help strengthen fragile democracies.
Today, the UN's peacekeeping force is made up of 113,000 men and women from 124 nations. They operate in 16 missions around the world. Recent studies have shown that the presence of a UN peacekeeping mission, reduce the chances a country will return to war by 50 percent, and that when adequately resourced and deployed in sufficient numbers, peacekeepers dramatically reduce civilian causalities.
Since the first peacekeeping operation deployed in 1948, 54 missions have completed their mandates and closed. In June, the Mission in Cote d' Ivoire will join this roster, having supported successful presidential elections and paved the way for stability and development in a country that is now Africa's fastest growing economy. Two additional missions, in Haiti and Liberia, are also scheduled to close within the next 12 months.
While the United States is the largest financial contributor to UN peacekeeping, currently providing more than one-quarter of the UN's total annual peacekeeping budget, other countries do cover the other three-quarters and provide the vast majority of uniformed personnel. In fact, the U.S. currently provides fewer than 100 soldiers, military advisors, and police officers to blue helmet missions– accounting for less than .01 percent of the 100,000 uniformed personnel deployed. This is burden-sharing at its best.
Unfortunately, not everyone in Washington recognizes the extent to which the U.S. benefits from these activities. The Trump Administration recently released a 2018 budget calling for deep cuts in our funding for UN peacekeeping. That would be a disaster not only for the civilians that peacekeepers protect, but for the peacekeepers themselves. Moving forward, we urge the Administration and Congress to avoid shortsighted budget decisions and fully fund our nation's UN peacekeeping dues. Anything less undercuts the work and achievements of thousands of brave men and women.
Related
Popular in the Community