Grace Kelly was born in Philadelphia 84 years ago today, November 12, and somehow I've never stopped searching for the woman inside the myth. Though she retired from films when she married Prince Rainier of Monaco, the former actress has moved into the pantheon of American movie icons during the past half decade. And like another blond commoner who became royal, Diana of Wales, Grace of Monaco has also found fame as a "people's princess" in the aftermath of her tragic death in 1982.
Today as I look at photos of the young Grace Kelly, I see vulnerability. She's a shy girl with glasses who morphed -- to her parents' surprise! -- into the epitome of beauty and, yes, grace during Hollywood's golden era. When the new controversial biopic, Grace of Monaco, comes out next year, I predict there will be a run on Grace Kelly DVDs. Because although Nicole Kidman will bring beauty and grit to the title role, the essence of Grace can't be captured by anyone else. Like her contemporaries, Marilyn Monroe and Jacqueline Onassis, Grace Kelly Grimaldi remains is in a class by herself, and if you saw the film My Week With Marilyn, you'll know what I mean. Michelle Williams was compelling, yet I couldn't wait to rent The Prince and the Showgirl so I could enjoy the real Marilyn's allure.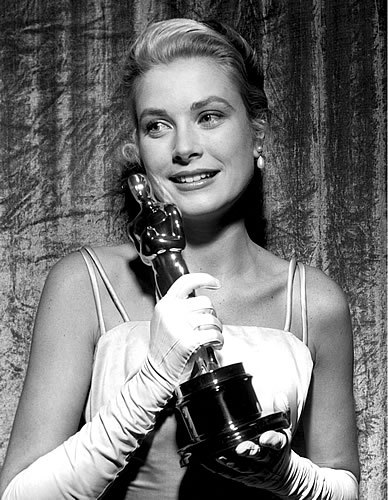 Grace Kelly with her 1954 Best Actress Oscar for The Country Girl.

Like other Grace devotees, I've relied on a spate of biographies and her eleven films -- from Fourteen Hours in 1951 to High Society in 1956 -- to form impressions of the actress who exudes warmth and charm on screen but also remains elusive and unknowable.
And through the years there has also been a personal reason for my fascination: as a child I heard about her from my great-grandmother, Catherine Costello Dormady, who was first cousin to Grace's grandmother, Mary Ann Costello Kelly. Catherine and Mary Ann had many relatives in common back in County Mayo, Ireland, and here in the States in Rutland and Philadelphia.
Until my great-grandmother died, six years after Grace's "wedding of the century" in 1956, Catherine remained gaga about her cousin's grandchild. But somehow I didn't believe the connection was real. Nowadays we can trace our roots through many genealogy web sites, but in the Sixties all I had for proof was my great-grandma's declarations and a family tree created on paper by another distant cousin, Grace Frommeyer.
Seeking further information at age 17 -- and too shy to approach Grace of Monaco herself -- I wrote to her uncle, George Kelly, the Pulitzer-prize winning author of Craig's Wife and The Show-Off. The playwright, who was Mary Ann Kelly's son, was cordial, signing his response to me "Affectionately, your cousin, George" and mentioning family members we both knew. And that's when I realized my great-grandmother had told me the truth. George was then 81 and living in Sun City, California, but he'd been the first person to champion his niece's acting ambitions. His affection for Grace seemed palpable, and in a letter dated January 27, 1968, he shared these insights:
Part of my wanderings this past summer took me to see Grace in Monaco. I had promised them to spend the month of September with Grace and Prince Rainier at Argozel [he meant Roc Agel], the summer place in the Alps...which gave us time for lots of gossip about everybody in the family: and, as you know it takes in quite a lot of people. And Grace has always loved the theatre. But in her position it's quite impossible for her to have any further active participation in it. Her many duties and the problems of three children are quite enough...
Years later I learned about the 1962 furor in Monaco when Princess Grace expressed interest in doing Hitchcock's Marnie, and I felt sad knowing that George Kelly's prediction had come true: she would never act again. As for his comment about the "problems of three children," it seemed prescient as the Princesses Caroline and Stephanie and Prince Albert II (now the Monegasque monarch) came of age in the public glare. Yet being a hands-on mother made the former actress deeply proud, and just before her death she told Pierre Salinger in an ABC interview that she wanted to be remembered for what she had given her children and future grandchildren. When Salinger asked how she wanted people to recall her career, she replied, "I don't think I was accomplished enough as an actress to be remembered for that. I'd like to be remembered as a decent human being, and a caring one."
In this era of reality TV when one can become famous for merely being quirky or self-aggrandizing, I find such humility surprising, especially considering the body of work Grace Kelly left behind. And these days as I revisit films such as To Catch a Thief, Rear Window, The County Girl, or Mogambo, I see her strength along with the cool self-assurance that became her hallmark. And I fall in love again with her accent.
Through the years many have wondered whether the princess was happy. According to her best biographers -- among them Sarah Bradford and Donald Spoto -- she was as familiar with sorrow and regret as anyone who lives to the age of fifty. But in Salinger's interview (which you can see on YouTube), one encounters an articulate, reflective 52-year-old woman in command of her complex life and, at that point, renowned for causes she had championed for Monaco and its citizens. One can only wonder what she might have achieved if she'd lived to be an octogenarian like her dear Uncle George, who passed away in 1974.
Her Serene Highness, Grace of Monaco, lives on in our hearts and memories, along with the luminous actress Grace Kelly whose films resurface again and again on TCM. I'm humbled that she was my very distant relative who brought delight to my wing of the sprawling Costello clan.
Popular in the Community