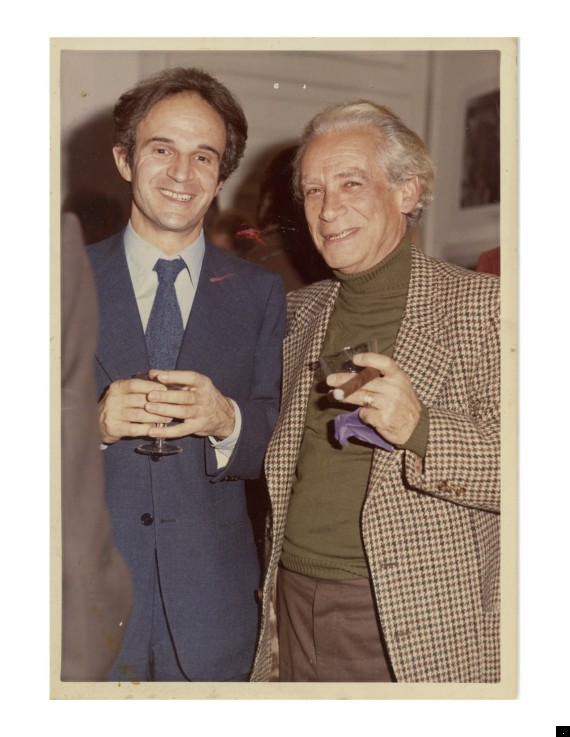 Francois Truffaut (left) and Samuel Fuller (right). Photo courtesy of Samantha Fuller.
It's timely that A Fuller Life -- a documentary celebrating Samuel Fuller's career -- opens Friday at the Laemmle Noho 7 in Los Angeles, and that the Cinematheque Francaise in Paris has just mounted a massive retrospective of Francois Truffaut's work. The internationally revered French filmmaker died thirty years ago on October 21 -- at the age of 52 -- while the 17th anniversary of Fuller's passing (at 85) is October 30.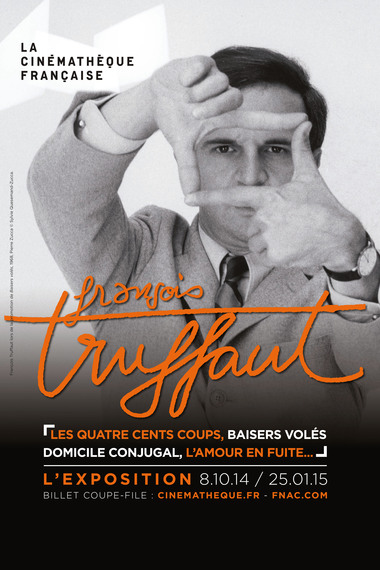 The two directors -- who often expressed mutual admiration -- were fiercely independent, making movies that were often deeply personal. Truffaut wrote in 1960 -- just after directing his first feature, The 400 Blows -- "I always come away from Samuel Fuller films both admiring and jealous." And when I was Truffaut's translator for a 1979 American Film Institute retrospective of his work, Fuller was one of the American directors about whom I heard him speak reverentially.

Francois Truffaut and Annette Insdorf at an AFI master seminar
Samantha Fuller's film works not only as a valentine from a daughter to her filmmaker-father, but an absorbing and illuminating piece of film history. Samuel Fuller had quite a life, which he chronicled in his autobiography, A Third Face. He didn't simply direct such classics as Shock Corridor, Pickup on South Street and Forty Guns; he was a newspaperman, soldier, liberator, screenwriter, and -- late in life -- husband to the actress Christa Lang, and then a father (at age 63). The irascible director's words are spoken by twelve actors and filmmakers, as well as illustrated by clips from his feature films, home movies, and archival footage.
In Fuller's evocative studio office, the "readers" provide glimpses of a life lived with gusto: James Franco about being a young NYC (Park Row) newsboy; Jennifer Beals recreating his time as a crime reporter; Bill Duke about freelancing during the Depression as well as the San Francisco strike of 1934; James Toback recalling that Fuller heard about Pearl Harbor on a car radio and immediately enlisted.
Given how Fuller's World War II experiences shaped his future work -- from The Steel Helmet (1951) to his masterpiece The Big Red One (1980)--the film offers numerous presenters of this seminal period. Wim Wenders -- who cast Fuller in The State of Things (1982) -- reads a wonderful story about Marlene Dietrich. (The cigar in the German director's mouth echoes the one that seemed to be attached to Fuller's mouth.) They met when she performed for the USO, and Fuller asked her to give their mutual agent a message.
Fuller was part of the charge into North Africa in November of 1942, not to mention D-Day. Filmmaker Monte Hellman gives voice to Fuller's liberation of the Falkenau concentration camp (and we see in the studio the Bell & Howell camera with which he filmed the crematoria).
A maverick whose work was better appreciated in Europe than the U.S., Fuller was always struggling with authority. Screenwriter Buck Henry recalls how he fought with J. Edgar Hoover, while director William Friedkin invokes Fuller's White Dog: it was meant to be a humanizing drama about racial tensions, but Paramount -- fearing violence -- shelved the film.
An astute viewer of White Dog can glimpse Truffaut's oblique presence: when Kristy McNicol's character visits a black girlfriend -- who has been hurt by a dog trained to attack African-Americans -- one can glimpse the famous book of interviews that Truffaut conducted with Hitchcock.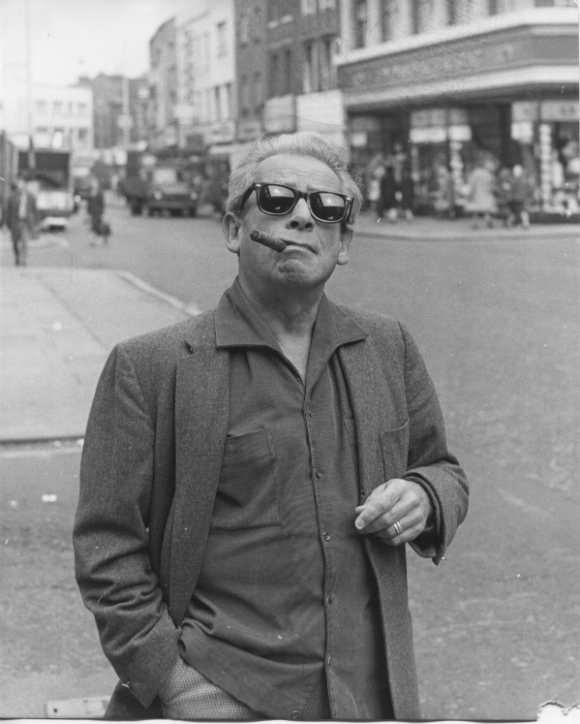 Fuller in Paris. Photo courtesy of Samantha Fuller.
Truffaut was not the only French New Wave director who revered Fuller. Jean-Luc Godard gave him a cameo (un-credited) in Pierrot le fou (1965) that is often quoted: "Film is a battleground," Fuller said on camera. "Love, hate, violence, action, death... In a word, emotion." (Godard's latest motion picture, Goodbye to Language 3D, opens next Wednesday.)
Truffaut was closer than Godard to the kind of narrative filmmaking in which Fuller excelled, namely stories about compelling individuals. Although his movies -- including Jules and Jim, the Oscar-winning Day for Night, and The Last Metro -- conveyed emotion more subtly or obliquely than Fuller, they seem inspired by his assessment of the American master: "As I watched Verboten, I realized all that I still have to learn to dominate a film perfectly, to give it rhythm and style, to bring out the beauty in each scene without taking refuge in extrinsic effects, to bring out the poetry as simply as possible without ever forcing it."
____________
Annette Insdorf, the author of Francois Truffaut, is currently writing a book on the films of Wojciech Has.
Calling all HuffPost superfans!
Sign up for membership to become a founding member and help shape HuffPost's next chapter