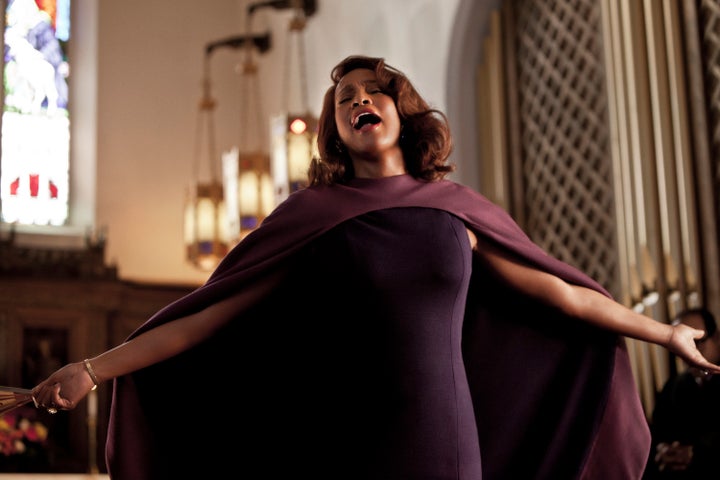 This past Thursday would have been Whitney Houston's 49th birthday and I still cannot wrap my mind around the fact that she is dead. Six months after her shocking death and her passing feels as sudden and as unreal now as it did that day in February when she drowned in her Beverly Hilton Hotel bathtub. Unlike Michael Jackson's death where many of us felt like we somehow had let the King of Pop slip through our brown fingers, with Whitney we felt, ahem, feel, robbed. Like someone snatched our sister right from our clutches in broad daylight.
I, like many of you, had seen the interview with Shaun Robinson of Access Hollywood on the set of Sparkle and Whitney looked amazing. Sparkle, a film that Whitney executive produced, was going to be a reintroduction for the most awarded singer of all time to a younger generation and her coming-out party to all the rest of us who grew-up with her. It was especially exciting for Black folk because Sparkle, with its almost all-Black cast is a movie for us to not only see Whitney, but it's the kind of film where we know we will also catch glimpses of Nippy. Nippy was the woman we saw in 2010 receiving a BET Honors award, running to the stage to high-five her best friend Kim Burrell who sang in tribute to her. She was the woman who portrayed a mouthy, ambitious yet naïve Savannah in Waiting To Exhale. She was also, and most unfortunately, the woman we saw on Being Bobby Brown, and Nippy was the one who struggled with addiction and wound up in that bathtub, inebriated, listening to gospel music and nodding off to rest forever.
What I found so incredibly fascinating, indeed appealing about Whitney was her ability to be America's girl-next-door while also being our around-the-way-homegirl. Just when we thought she was getting "too pop," she'd talk about needing to finish an interview so she could go to Roscoe's for some fried chicken or she'd switch wigs- from long, blond, and curly to a short, dark brown bob. She was a chameleon. She was their Whitney, but she was our Nippy. On stage she'd sing pop candy tunes like "I Wanna Dance With Somebody," "My Name Is Not Susan" and "Where Do Broken Hearts Go" with the kind of angelic middle-American sweetness that melts sugar into caramel goodness. But we also knew she was from Newark, smoked Newports and would curse you out in a nanosecond if she felt like you were trying to play her.
And Whitney's shifts in demeanor may have looked like bouts of inauthenticity to some, but I recognized the power she harnessed by flipping her camouflage depending on her surroundings. In high school, my friends and I did it all the time. We'd talk "proper" in class with our teachers and to some of our white classmates depending on their flow, but once in the schoolyard or back home on our block we'd "cut up." And I'll never forget while in college not discovering a friend was Jamaican for two months until Parents Weekend and hearing her speak to her folks. All of a sudden her voice had this beautiful and distinct lilt. It was like night and day. It was canoodling with Kevin Costner on the big screen and tonguing-down Bobby Brown on the small screen.
Truly having Sparkle as her farewell nod is a wonderfully sad irony. She plays Emma-- a single mother, former singer and now devout Christian dealing with the aspirations, challenges and growing pains of her three teenage daughters who want to be big-time singers. Living in Detroit during the Motown era her three girls, including Sparkle played by American Idol sweetheart Jordin Sparks, go through the ups and downs of love, addiction, and success with the their mom who is conflicted by her past mistakes, but also convicted with the love only a mother can have for daughters. For better and for worse she sees herself in them.
I wonder how much of her daughter's aspirations, passions and struggles did Whitney see in those three girls. Would she have supported Bobbi Kristina's reality show dreams? How much of Nippy did she see in Emma's missteps? And how tired she must've been trying to negotiate the pop media darling who was to appear that night at Clive's Grammy party with the woman who just wanted to listen to Fred Hammonds, high-five and cut-up with her homegirls, and have her daughter be all that she wants to be. Surely she was exhausted. Peace Nip, you're finally at rest.
Popular in the Community