Every Spring I enjoy the yellow trees that bloom in the Arts District. They're the only ones in downtown Los Angeles that I have been able to find. One of my ex-students from the Landscape Architecture Department at UCLA Extension identified them as tabebuia caraiba - Caribbean Trumpet Trees. They make me really happy.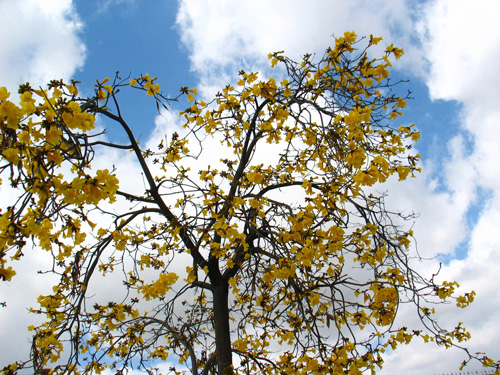 Since DTLA has grown and evolved so quickly over the last few years, those yellow trees are a vivid reminder of what it was like in the 1980's and 1990's when I first moved Downtown.
The story begins in 1994 when I was part of an organization known as the Los Angeles River Artists and Business Association, aka LARABA. I was one of three artists on the Committee at the time. As envisioned the Committee was formed to help keep homeless people out of Little Tokyo and to help building owners develop real estate, two near impossible tasks in those years.
I thought it was a civic kind of thing to do--being on the Committee that is. Joel Bloom--a man who fits the description of real character more so than any other human I've ever known-- was also on the Committee. That's how I first met and got to know him. He'd been the stage manager of Second City Theatre Troupe in Chicago and had that booming theater voice.
A cohesive group of artists at that time lived near the Traction Ave/Hewitt, 2nd and 3rd Streets area, the site of the infamous Al's Bar. It only made sense that, informally, at least, this would be thought of as L.A.'s Arts District.
Joel and I thought it would be nice to beautify the place a bit since everything in those years basically looked bombed-out, squatted, or abandoned. Signs of life were about as visible as those in the movie District B13. Through our work with the LARABA committee we got 25 trees donated to plant along Traction Avenue. Each tree cost $25 to plant, monies we got from business owners. In addition to planting the trees, our Committee also lobbied, successfully, for the City to designate the area as the Arts District.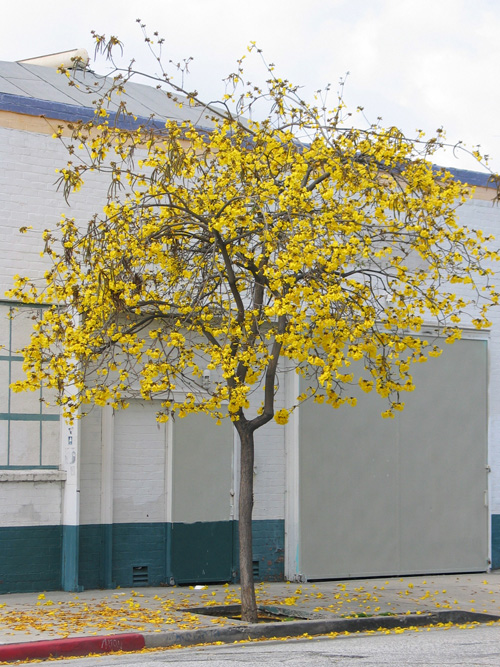 Around this same time, Joel started a convenience store on the same street, the only place that catered to artist's non-artistic needs for miles around. Here we could find everything from sunglasses to Pringles, porn magazines to VHS tapes, cigarettes to condoms and microwave popcorn.
Joel was a Vietnam vet. By virtue of several tours in Nam he had been exposed to Agent Orange. As a result he developed a wicked and persistent cancer that eventually spread throughout his body. After he died in 2007 the area near the site of Bloom's General Store has became known as Joel Bloom Square, an official City of Los Angeles District designation. Bloom's General Store is still there--in spirit, at least: at present it's but an abandoned and deteriorating relic.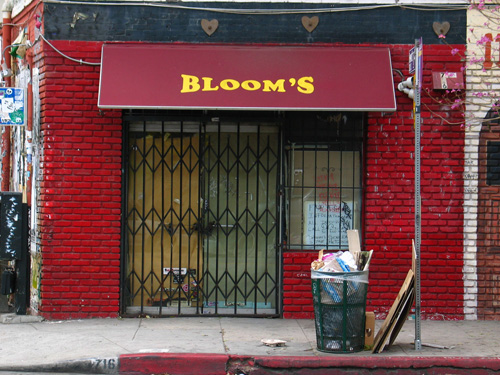 As I reflect on that era, the thing that endured beyond Joel's efforts and will certainly eclipse mine, is the presence of those yellow trees. They continue to grow, albeit slowly - from smog and lack of care, I imagine--and continue to make the now-fashionable restaurant Wurstküche location an even more beautiful place every Spring. I really love the yellow trees.