Last month, the captain of the Yale men's basketball team, Jack Montague, was expelled from the university following accusations of sexual assault from 2014. Judging from the media coverage of the incident, the real tragedy isn't that a young man may have raped a young woman, or even that Yale may have mishandled the case -- it's that Montague's absence might upset upset some March Madness brackets.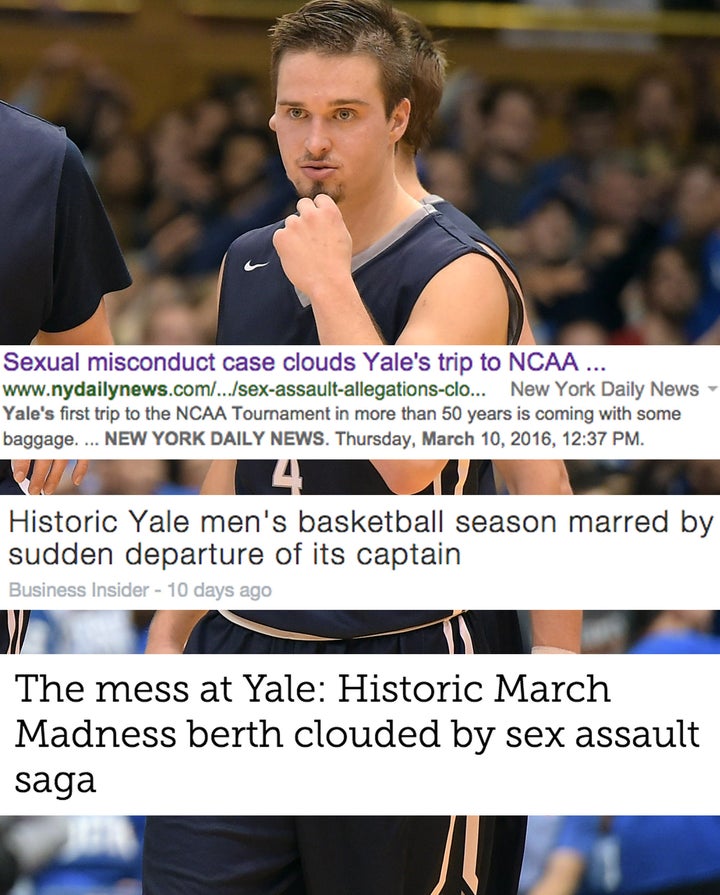 While the facts about Montague's case still remain unclear, many media outlets took the news of his expulsion as a chance to focus first and foremost on how the accusations negatively impact Yale's basketball team.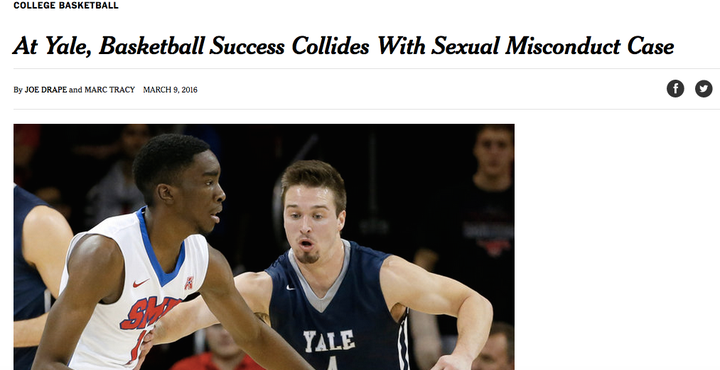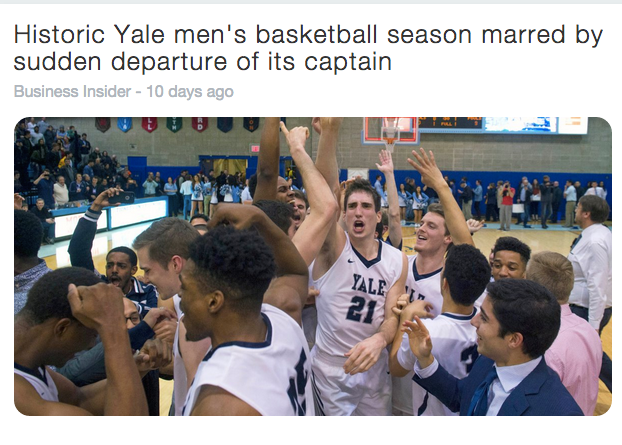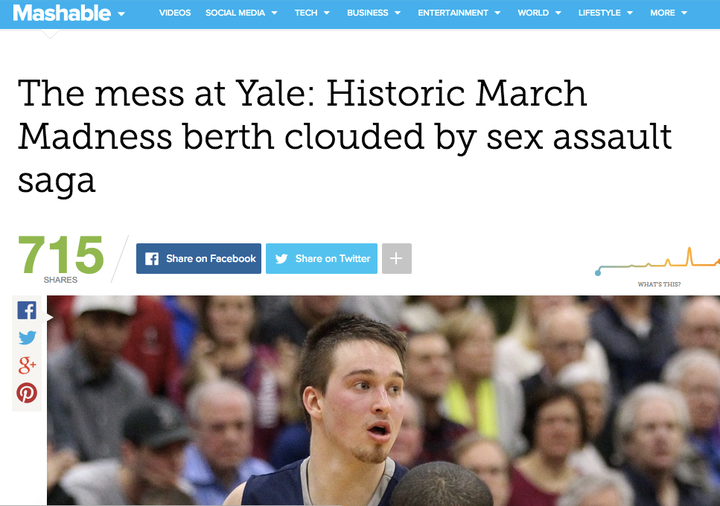 Montague's teammates had to apologize after causing outrage on Yale's campus for supporting their former captain and teammate by wearing shirts with his nickname and jersey number on them when they played against Harvard on February 26th. "The team's actions appeared to be a dismissal of the very real threat of sexual violence," wrote the Yale Women's Center in a statement released the following Monday. "We condemn the insensitivity of the protest even as we withhold judgment on individual team members."
It should be common sense that in a case of alleged sexual assault, the possibility of sexual violence on a university campus should be more important than athletic success. Unfortunately, the dialogue that has surrounded Montague's case feels almost de rigueur. The common reaction when a member of a well-known institution is accused of sexual violence, is to question how it might harm the organization or team, not to ask whether there is a larger problem or whether there may be more victims afraid to come forward.
Just a few weeks later, Vanity Fair published a piece of similar length about prep school athlete and convicted statutory rapist Owen Labrie, focused on what his sentence means for Labrie's future and for the elite school's reputation. An alumnus of the school where the sexual assault occurred wrote the sympathetic piece, the subhead of the which said, "two lives have been irreparably damaged," as the author waxed nostalgic for the "lilac-scented Arden" prep school that "transformed the life of the small-town midwestern boy." According to the author:
What is perhaps most depressing from the trial testimony...is that the rite in which Labrie participated was not the province of disaffected or marginalized students who were known rule breakers. Instead it involved some acknowledged leaders of the school: the captain of the soccer team; editors of the newspaper; a class officer of the grade behind Labrie.
Actually, what's most depressing about the trial is that an alleged sexual assault occurred on a high school campus.
These three instances are not unique. Places like Steubenville, Ohio and Missoula, Montana have become infamous for similar reasons, among countless others. Back in 2015, pundits found it more comfortable to refer to then-Florida State quarterback Jameis Winston's alleged sexual assault as "off-the-field issues," and wonder how they would affect his NFL prospects. College basketball player Brandon Austin was accused of sexual assault at two different schools, but CBS Sports simply referred to them as "past mistakes" that have "humbled" him in profile about his move to a third school. In college and professional sports, sexual violence (alleged or otherwise) against women has been reduced, if not completely ignored, to maintain the image and reputation of athletes and teams.
By extolling the athletic backgrounds of those accused of perpetrating sexual violence, and by framing them as tortured athletes-gone-sour, we overlook the basic issue of sexual violence, and subsequently undermine survivors' experiences. When the focus is on ruined sports careers rather than the horror of sexual violence, the uncomfortable questions we need to ask ourselves to prevent more of the same from occurring are ignored: Why do athletes seem to feel more entitled to women's bodies? And why do we let them get away with it?
When Daniel Holtzclaw sexually assaulted 13 women in the Oklahoma City area, the tragedy was not his failed career as either a cop or a football star. The tragedy was the violent manipulation and sexual assault of 13 women. Period.
When reporting or discussing sexual violence, the emphasis should not be on the future that the alleged perpetrator may or may not have. The emphasis should instead be on the survivors, and the systems that are in place in order to protect and seek justice for all parties. By focusing on anything else, survivors are made to take a backseat in the tellings of their own stories and experiences.
March Madness will be one of the most talked about events this month, as it is every year. Just last month, 115.5 million people tuned in to Super Bowl 50. An estimated $11 billion will be spent on the Rio summer Olympics this August. There is no shortage of positive attention given to male athletes.
So when we discuss alleged sexual violence, let's keep the focus on the crimes, rather than on how those crimes might impact a sports team's performance. Because when we put the pain of survivors on the back burner in favor of our March Madness brackets, no one wins.
CORRECTION: An earlier version of this article said that an estimated $11 million will be spent on the summer 2016 Olympics in Rio. The actual estimated amount is $11 billion.
Before You Go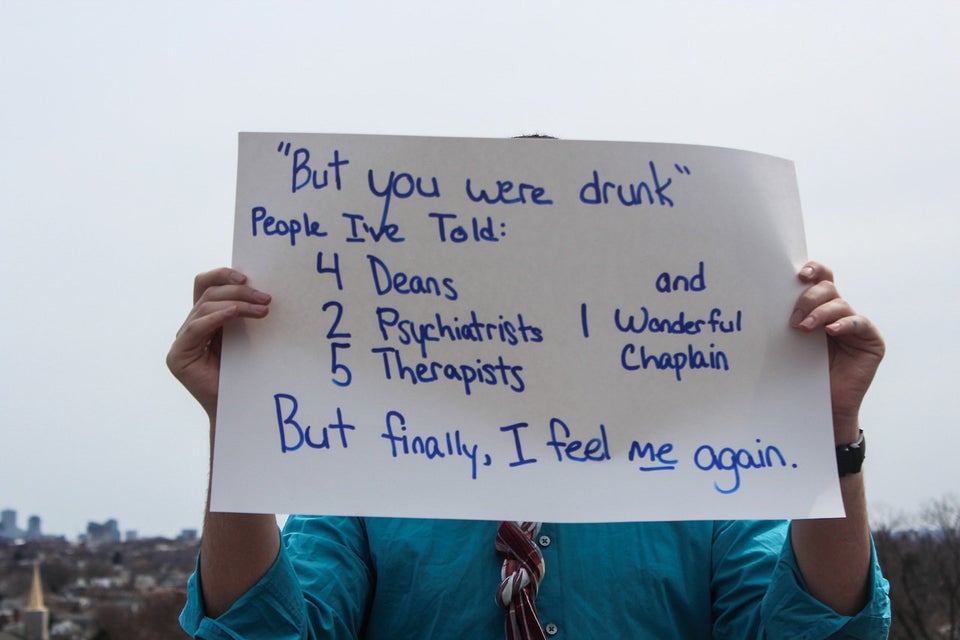 Surviving In Numbers: Stories Of Sexual Assault Survivors
Popular in the Community