This summer, Pen + Brush is teaming up with experts in both the visual and literary arts to bring our readers a guest blogger series focused on insights, advice and information that will help artists and writers take their work and their careers to the next level.
For our first topic, "Removing Barriers & Finding Your Own Creative Path," 21st Century art world game-changer Susan Mumford provides the following thoughts on how to avoid becoming self-defeating when it comes to achieving your goals.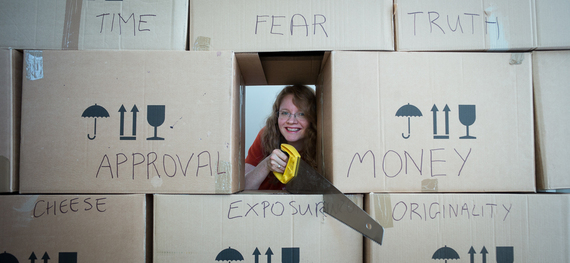 photo credit: Chris King
Remove barriers that you place in the path to success
by Susan Mumford © Be Smart About Art Ltd
Have you found yourself unwittingly doing things that make your own success less likely to happen?
Many people do this without even being aware of it. Why on earth would someone do such a thing? Deep down, they don't really believe in themselves, or in their own ability to experience success doing what they love. As a consequence, their subconscious mind is set on a course to create roadblocks along the way.
Recently, a friend founded a socially-minded business that personally interests me. I started following the organization on Twitter and added it to 'emerging initiatives,' a private Twitter list. I shortly received an automated direct message providing a link to a verification system in which a new follower confirms that they are a real human being, not a bot. I confirmed my realness and now see updates, but many people would never bother.
With only a few followers to date, the fledgling business cannot afford to place obstacles in the way of growing visibility and engagement with the public. Yet, that's exactly what is being achieved with the added security step. Such 'safety measures' can keep you and your practice practically invisible.
Similarly, I have come across many individuals in the arts who have been advised by web developers (as opposed to designers) to not list an email address on the contact page. They instead have a contact form, and that is it. Guess what? Their keenness to avoid being spammed also avoids being contacted by the very people they want to be contacting them. Never mind, they're at least safe (and alone).
In order to catch yourself putting such obstructions in the path to success, it's important to consciously instill your own barrier-busting police. This requires giving yourself time to think about the big picture of what you are doing, and then hone in on the details. Step back. Consider specific aspects of your daily work life, communication (email, telephone, face to face), online presence and so on.
Consider things like this: Are your work days productive? Do you sleep through too much of the day or get lost surfing the internet? Do you quickly respond to sales enquiries? Is it easy for people to contact you, sign up to your mailing list and follow you on social media?
Consciously catch those little and big things that you do to make yourself less productive, accessible or visible, and take positive action.
Think you never do such things? Even the most highly productive, positive and proactive people can slip into the unconscious creation of barriers. Be aware, pay attention, identify what needs to be changed and how you do this. Once a problem area is identified, you are in a position to rectify it. And then, enjoy continuing along the path to personally-embraced success.
Originally hailing from Arkansas, Mumford now divides her time between London and New York as an entrepreneur, mentor, speaker and author. While running a gallery in Soho, London, she founded the Association of Women Art Dealers (AWAD), a non-profit trade network with London, New York and virtual chapters, with members dotted around the globe. AWAD's mission is to facilitate business and collaborations between and for women art dealers. She is also founder of social enterprise Be Smart About Art, which helps art world professionals thrive in a changing industry. In late 2015, her first book was published: Art is your life. Make it your living. Her movements can be followed on Twitter and Periscope at @susanjmumford. Also see: www.besmartaboutart.com @besmartaboutart www.womenartdealers.org @womenartdealers
REAL LIFE. REAL NEWS. REAL VOICES.
Help us tell more of the stories that matter from voices that too often remain unheard.