Monai McCullough's rainbow-colored Afro was practically screaming at us during a recent romp in Midtown. The Housing Works retail associate relies on the tried-and-true Wen Cleansing Conditioner, as well as an olive oil leave-in treatment to keep her mane healthy. She gets her glowy skin by adding sugar to store-bought face scrub for a "little extra exfoliation." (Smart girl!) But it was McCullough's unconventional method of extracting blackheads that gave us pause.
"I use Elmer's glue to remove blackheads. It's a little extreme but it really works," McCullough told us. "Just put the glue on your T-zone, around your nose or where you notice blackheads, let it dry and then peel it off and wash your face."
Editor disclaimer: While this extreme form of exfoliation works for this beauty, this writer wouldn't recommend trying this at home. We've had great success with deep-pore cleansing strips.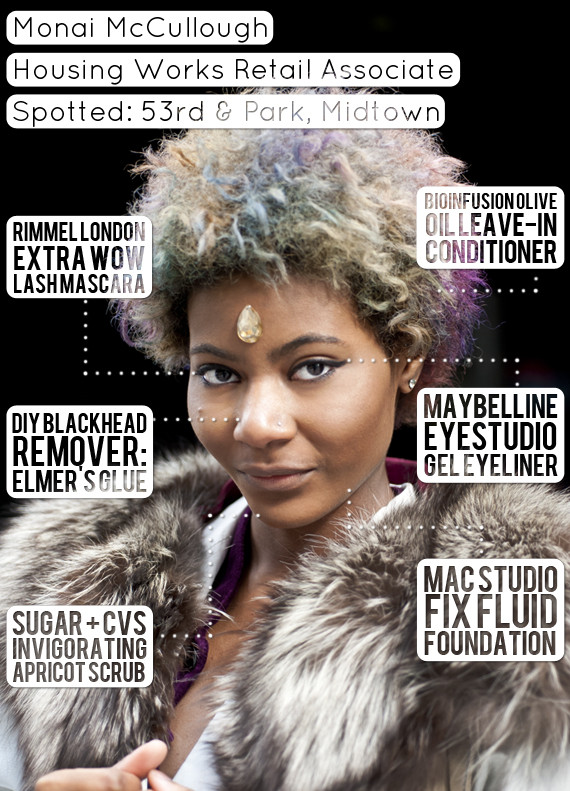 Photo/Art: Raydene Salinas

Beauty Street Style: Monai McCullough
Want more HuffPost Style beauty content? Check us out on Twitter, Facebook, Tumblr, Pinterest and Instagram at @HuffPostBeauty. (For everything else check out our main HuffPost Style Twitter, Tumblr, Pinterest and Instagram @HuffPostStyle.) --- Do you have a beauty story idea or tip? Email us at beautytips@huffingtonpost.com. (PR pitches sent to this address will be ignored.)