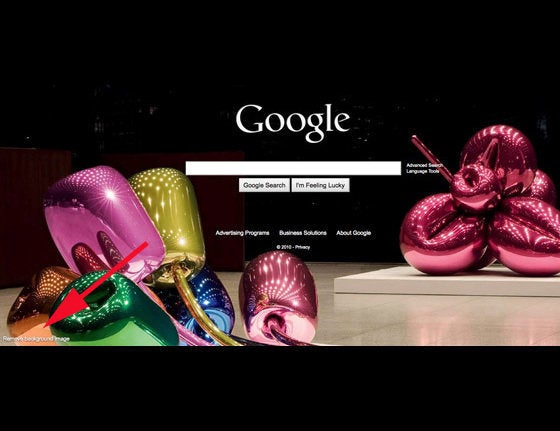 UPDATED 6/10/2010 1:43PM ET: Google has turned off the auto-appearing background image, Marissa Mayer, Google's VP of Search Product and User Experience, said in a tweet.
She wrote, "Actually as of now :) @Jon_E Google search background back to normal tomorrow, says @marissamayer."
--
Highlighting one of its new features, Google introduced a background image on Google.com--but it seems users aren't pleased with the new look.
"Remove Google background image" soared to the number 2 spot on Google trends, and the Huffington Post has received emails from readers eager to remove the background image that is appearing, by default, on Google's homepage.
One user wrote on the Google help forum, "I'm boycotting Google until this cr*p gets fixed. Who's the genius who came up with this idea to copy Bing WITHOUT giving the user an option to NOT have a background image? So fired." Another said, "It is frustrating to have that as a background... more frustrating is that it can't be removed/disabled..."
Microsoft even called out Google's copycat homepage--which, with its photo background, looks strikingly like Bing's--via Twitter. As ABC's World Newser noted, someone tweeted on Microsoft Europe's official twitter feed, "We've lost a background image, if found please return to bing.com ;)"
If you've added a custom Google background image and want to get rid of it, click "Remove background image," which should appear at the bottom left hand corner of Google.com.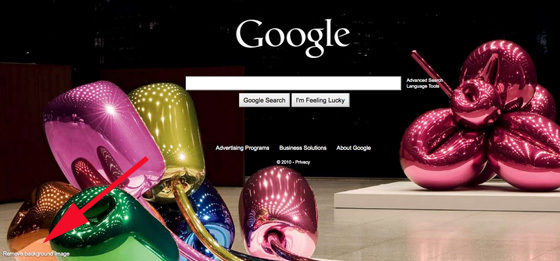 If, however, you're just hoping to restore Google to its plain white background, you may have to wait until tomorrow--as with Google Doodles, the unusual Google background image may just be a temporary, one-day change. You could also try uploading a plain, white image to give Google back a more normal look (instructions on how to change the background image are here) or you can access the plain white Google at Google's SSL search page: https://www.google.com/ (H/T: Ed C. and Ellen on Facebook.
What do you think of Google's background image? Tell us in the comments below.
Calling all HuffPost superfans!
Sign up for membership to become a founding member and help shape HuffPost's next chapter