Getting dressed up for Halloween can be thrilling, but getting off all that makeup at the end of the night is quite the nightmare. No matter how long or which direction you scrub your face, the paint and and prosthetics always seem to stain your skin.
Rule #1: Know what type of Halloween makeup you're actually wearing.
Most of the time, people go to the Halloween store and just purchase whatever product or kit they assume they need without reading the instructions. Avallone adds, "They mix that with their own makeup, or maybe it's a group of friends and everyone is putting on each other's. They really don't know what type of makeup they've put on -- whether it's grease, cream-based or rubber -- and they're not prepared for the removal process."
Alice and Pressler recommend using water-based makeup that has been specifically formulated for use on the skin instead of grease or cream-based products, as those are best used by the pros. Plus, you can easily remove water-based makeup with, you guessed it, warm water. Try to avoid paints, including Tempera, Sharpies, acrylic and watercolors.
Rule #2: Make sure you have the right makeup removers for the makeup you used.
Before you even step foot inside a costume shop, Avallone suggests researching the type of makeup you'll be wearing to better understand how to get it off. "A lot of the body colors like red, green and dark blue are very pigmented and they do stain. You get it off, but your skin has a yellowish tint to it and you have to go to work the next day or meet somebody," she says.
Stock up on cotton balls, Q-tips, gauze pads, cold creams and foaming cleanser or facial wipes. And most importantly, if you're going to be wearing a prosthetic like a bald cap, fake nose, mole or ears that are most commonly applied with Spirit Gum adhesive, don't forget the adhesive remover. "It's a slow process because it will take a few passes at the Spirit Gum to get it completely off your skin," explains Avallone.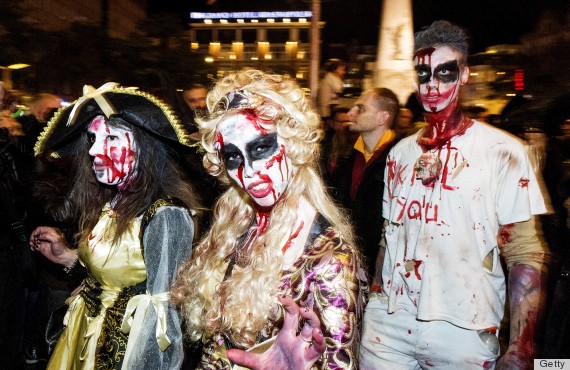 Alice and Pressler caution against starting with baby oil. Absolutely don't do that. Soap, shampoo or shaving cream and water should always be the first step. Baby oil (or any remover that is oil-based) is best to use for wiping away residue. Since water and oil don't mix, using oil first on water-based makeup would just make things a total mess.
MAC Cosmetics Cleanse Off Oil is also another great option to remove really heavy makeup and most of the residue left behind by strong colors. If you're trying to take off fake blood or really red makeup, Avallone's top pick is a barrier cream like Derma Shield.
For removal of any faux facial hair and prosthetics, Alice and Pressler recommend using an oil-based substance like olive oil, coconut oil or almond oil. Start by rubbing an oil soaked in a Q-tip along the underside of a loose edge on your prosthetic. Gently work the oil between the skin and prosthetic until it's completely off. Never just rip off a fake body part or facial hair -- it's not only painful, but it can damage your skin, too.
If you're trying to remove cream-based products, you can't go wrong with cold cream. Albolene is an oldie but goodie that you can find at a drugstore like Duane Reade or Walgreens. "It's like Crisco. You open it up and it's kind of transparent white," says Avallone. "Take a scoop and just massage it right on top of your skin. Wipe away with a warm wash cloth. You may want to follow up with a foaming cleanser to get all the residue off."
Rule #3: Moisturize your skin post-removal to avoid irritation.
To reduce your chances of any skin irritation, breakout or redness, Alice and Pressler believe that it's best to prepare you face and body before even applying the paint to begin with. Make sure that the makeup is put on to clean, dry skin and steer clear of painting over any wounds or rashes.
Avallone also recommends smoothing on a gentle skin moisturizer post-removal. "You can use Olay, Burt's Bees or something from a health foods store. If you're skin is really irritated, try an ointment like Lucas PaPaw," she says.
Still searching for a Halloween costume? We've got you covered: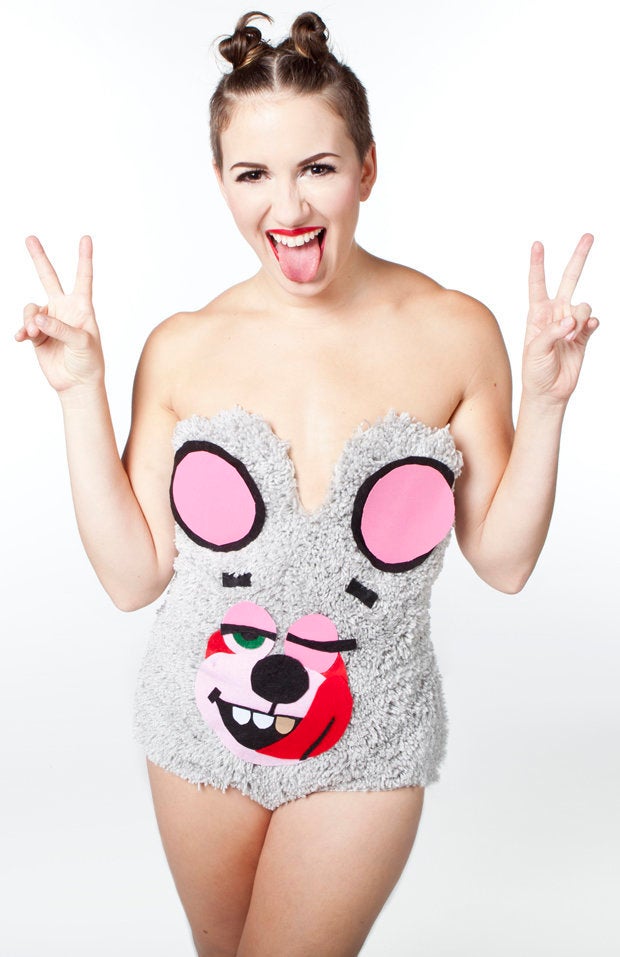 How To Win Halloween 2013
Want more HuffPost Style beauty content? Check us out on Twitter, Facebook, Tumblr, Pinterest and Instagram. (For everything else check out our main HuffPost Style Twitter, Tumblr, Pinterest and Instagram @HuffPostStyle.)
---
Do you have a beauty story idea or tip? Email us at beautytips@huffingtonpost.com. (PR pitches sent to this address will be ignored.)