In order to save our rivers and give our oceans a fighting chance, in order to bring back marshland and crucial habitats for fish, amphibians, birds, and reptiles, we need to pull down every dam and spillway on Long Island.
We started blocking these streams back in colonial times, before we were even a country. With dams came mills. How many ponds on Long Island are named Mill Pond? We haven't needed mills since Edison. But the ponds are still there. They shouldn't be.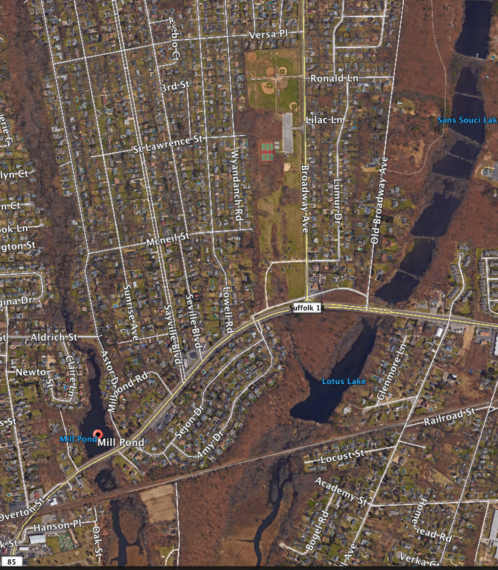 Let's take Sayville, where we have The Mill Pond. Not surprisingly, it's right on The Montauk Highway, which goes back to colonial times if it isn't a Native American trail. The pond is now in terrible shape, choked with algae and silt, and harboring an invasive species called phragmites, a reed that can only be killed by reverting the pond to a stream. Notice how there's a creek that goes north from the pond. That needs to be reconnected with the bay.
Then on the other side, there's Lotus Lake, the last chain of a long series of artificial lakes created by cranberry farmers, but which today could be connected to the bay and revitalize a long since vanished habitat. Lotus too has a phragmites infestation. Imagine how full of life the resulting nature preserve would be, restoring these pockets of Long Island to what they once were.
Both these branches form the estuary for Brown's River, meeting in a vast marsh at the very tip of Meadow Croft, the former estate of John E Roosevelt. Arguably, having water flowing freely through would help improve the habitat here and downstream as well.
Taking down the dams and having the ponds revert to streams and marshes will accomplish the following:
1. We can bring back the herring, alewife, chad and sturgeon and eel, all the fish that swim upriver to fresh water to spawn. Today, there is hardly a stream not blocked to them. We want those fish back in abundance.
2.By opening up the streams to the bays they empty into, creating marshland where the former ponds were, we will have a defense against flooding. The water will have somewhere to go.
3. The value of the land around these habitat restoration projects would increase. What were ponds become nature preserves. It's not only a great deal for homeowners, but they would also have the knowledge that they were part of a much larger project.
This is not a small task. There are 100+ dams and spillways along the South Shore alone. None are big, but the consequences must be understood via an Environmental Impact Statement. Hopefully on that ledger would be the prospect of having fish runs in places that haven't had them in 250 years.
Here's what is happening in Rhode Island -- they are taking down a dam on The Pawcatuck River. That is a $1,000,000 project overseen by The Nature Conservancy, and is much larger than the dams we find on Long Island, but we should see similar results -- a return of wildlife of all sorts, something a Long Island rapidly losing its natural beauty to pollution and overdevelopment, should embrace with open arms.
Dam removal has to be a national priority. It should be as much a part of our infrastructure conversations as our roads, bridges, tunnels and rail. It is also crucial as an environmental issue. People think hydroelectric power is clean energy, but it wreaks havoc on the life of a river. Rivers need to run free.
There's an art house documentary out called "A River Between Us." It's about The Klamath River in Oregon, and the struggle to find common ground among all the different peoples living along its 1200 miles -- The Native Americans, The Cowboys, The Farmers, and the local leaders seeking to reach that resolution. It's a moving tale that offers us all the possibility that we can come together and overcome our differences to protect a common good.
Four dams are to be removed, freeing up the river so that it could recover, so that the salmon could run upstream as they did for eons. The agreement is waiting either an Act of Congress or an Executive Order to become law. With that, nature can reclaim this river for future generations.
We have insulted our waters with levees, outflow pipes, fertilizer and road run off, dumping, pesticides, and of course with dams. Nature can be very forgiving if its not too late. On Long Island, we have seen where just by installing a fish ladder on Carll's River at Argyle Lake, we got some alewife to come up -- Thanks, Seatuck! -- but we need to do that all over on Long Island, and with that become a model for what should be done everywhere.
Calling all HuffPost superfans!
Sign up for membership to become a founding member and help shape HuffPost's next chapter