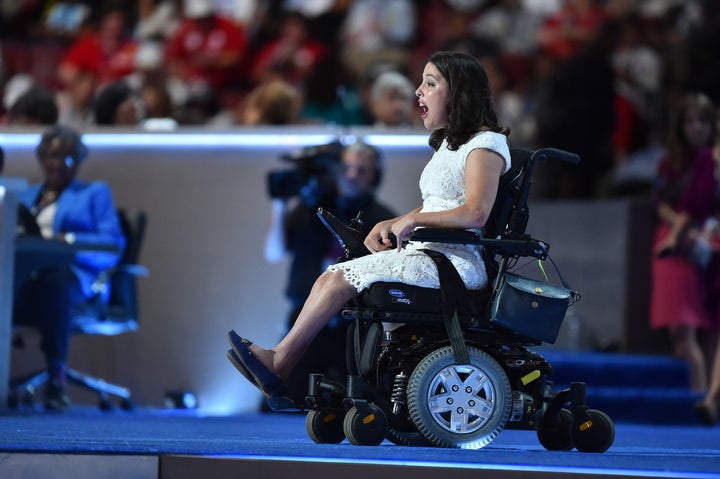 On the first night of last week's Democratic National Convention, Anastasia Somoza, a disability rights advocate, stole the show, noting the "invisibility" millions of Americans with disabilities often feel, and reinforcing the need for unity that was the Convention's intended theme. Hillary Clinton reminded Convention-goers of Somoza's speech again as she accepted the Democratic presidential nomination. Somoza's powerful speech was the most prominent of several efforts Convention organizers have made to highlight Americans with disabilities.
These efforts may have been in response to Donald Trump's apparent mockery of a reporter with a disability earlier in the campaign. But they also reflect recognition of America's changing voter demographics.
Voters with disabilities are what I've referred to as the "ticking time bomb of the electorate." They have specific needs that the system currently does not address adequately, yet they are a growing demographic — up to 35 percent of voters in the next 25 years will need some type of accommodation to cast a ballot.
The connection between voting rights and disability rights is unfortunately understudied, but it's nothing new. According to my research, since at least the early 19th century, citizens with disabilities were denied the franchise because they were viewed as "inferior" — much the same justification used to block African Americans and women from the polls.
The legacy of that discrimination is still with us. In the last presidential election, the Census Bureau reported that turnout among individuals with disabilities was 56.8 percent, compared with 62.5 percent for the rest of the eligible population. But those turnout figures understate the wide-ranging barriers to voting that Americans with disabilities — 1 in every 5 of us — face.
Take voter registration, a requirement for voting in every state but North Dakota. Voter registration imposes multiple hurdles for voters with disabilities. It starts with an antiquated system that relies on voters getting and submitting paper forms, which can be burdensome for Americans with mobility and visual disabilities, among others. That problem is exacerbated by the frequent failure of public-assistance agencies to prioritize accessible voter registration options, despite being required to by the National Voter Registration Act.
More generally, voter registration often does not meet standards of accessibility. State online voter registration options, for example, are frequently difficult to navigate with the screen readers used by many Americans with visual or cognitive disabilities.
Smart policies can reduce certain barriers to registration. Earlier this month, groundbreaking legislation was introduced in Congress to adopt automatic voter registration across the country. Under automatic registration, when eligible citizens seek services at government agencies (such as the DMV, Social Security offices, and others), their information is electronically sent to election officials, unless they "opt out" of registration. This reduces errors, increases security, and saves money. Switching to an opt-out structure takes advantage of our tendency to stick with the default option. The Brennan Center for Justice estimates this reform could add up to 50 million eligible voters to the rolls.
Automatic registration could help voters with disabilities in particular by decreasing our voting system's reliance on paper forms and allowing them to register while already interacting with a government agency, rather than requiring a separate trip.
Moreover, the federal bill introduced would automatically register voters at a plethora of public-assistance agencies that regularly interact with voters with disabilities — not just those previously covered under the National Voter Registration Act.
The bill additionally requires that all voter registration services be offered in an accessible way. It mandates and funds public education that can and should be geared toward voters with disabilities to ensure they know how automatic registration will work.
More must be done for disabled voters — getting people registered is just half the solution. On Election Day, resources like mobile polling can make actually casting a ballot realistic for every voter.
National automatic registration is a huge first step. And just as government should take responsibility for automatically registering every eligible citizen, it should take responsibility for providing accessible options for voters with disabilities on Election Day. Making these two improvements to how voters with disabilities participate in our democracy shows the kind of leadership that, regardless of our political persuasion, we should all support.
Rabia Belt is a legal historian and assistant professor of law at Stanford Law School. Her research focuses primarily on the history of disability and the right to vote. She is currently working on a book entitled Disabling Democracy in America: Disability, Citizenship, Suffrage and the Law, 1819–1920.
Popular in the Community