It's the end of the day, you're exhausted and you need to remove your makeup. Going to bed wearing eyeliner, mascara and foundation may not seem like a bad idea, but you ignore that silly thought and reach for a pack of cleansing face wipes.
Here's where things could go terribly wrong.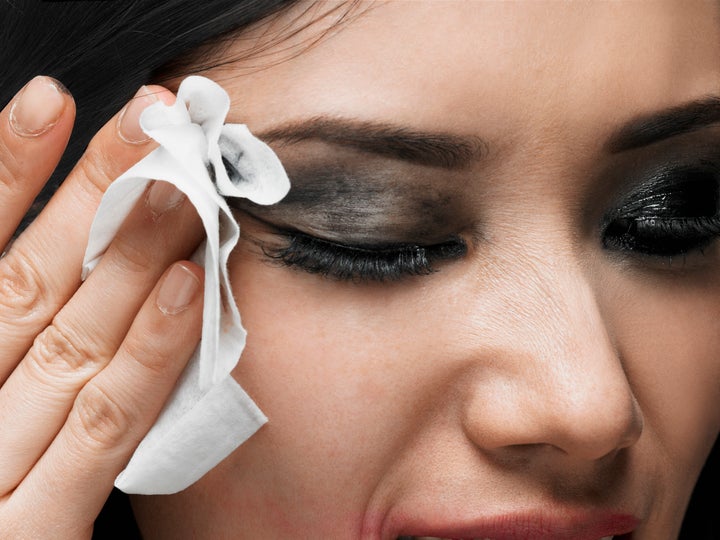 Makeup remover wipes are a quick and easy way to remove makeup, according to Joyce Park, a dermatology resident at New York University Medical Center. However, improper usage can result in more clogged pores and breakouts.
"The biggest mistake is improperly removing makeup, meaning leaving residue on the face and smeared into pores," says Park. "The ingredients in makeup can be inflammatory and can trap dirt and oil in the skin. So it is imperative that all traces of makeup be removed before heading off to bed."
The dermatologist advises using moistened cloths with caution. Instead, think of them as a first step in the makeup removal process to help break down debris from your products. Park adds, "You need the second step of cleansing and rinsing to wash the gunk of the makeup off fully."
Arielle Panarello, a licensed aesthetician at Union Square Laser & Dermatology in Manhattan, recommends purchasing quality cleansing facial wipes, avoiding those with drying ingredients and harsh chemicals such as alcohol, fragrance and formaldehyde. "Use these cloths gently -- there is no need to aggressively rub the skin while trying to remove makeup," says Panarello. "The goal is to try and achieve balanced, radiant skin, not have it become irritated or compromised by misusing this product."
While both experts are pro-facial cleansing brushes for removing makeup, dirt and sebum deep within pores, these types of skincare tools should also be used in moderation. "Overuse can result in dryness and irritation, and if you have sensitive skin to begin with, stick with more traditional soap and water methods," says Park.
Don't rev up the Clarisonic every single day -- Panarello suggests using it 2 to 3 times a week, at most. She adds, "Keeping your cleansing brush clean is so important to the health of your skin. Make sure to keep your brush out of the bathroom, where bacteria and mold can easily grow due to the high humidity levels."
And, of course, Park notes that you should be mindful of the area of your face from which you're removing makeup. "The skin around the eyes is very thin and fragile," she says. "Scrubbing the area vigorously with a makeup wipe can damage the skin and accelerate wrinkle formation."
Do yourself (and skin) a solid by using a makeup remover that is specifically designed for the eyes. Park advises dipping a cotton ball into the cleanser and resting it on the eyelids for a few seconds to absorb the makeup remover ingredients before gently dabbing away the makeup.
Shop our editors' picks below for facial cleansers and makeup removers for your skin type/concerns.
Dry/Sensitive Skin: Bioderma TS Sensibio Crealine H2O Miceller Water, $34
Normal/Combination Skin: EltaMD Facial Cleanser, $21.50
Oily Skin: CosMedix Purity Solution, $35
Acne-Prone/Rosacea Skin: Weleda Gentle Cleansing Milk, $19.50
Facial Cleansing Device: Foreo Luna Mini, $99
Related