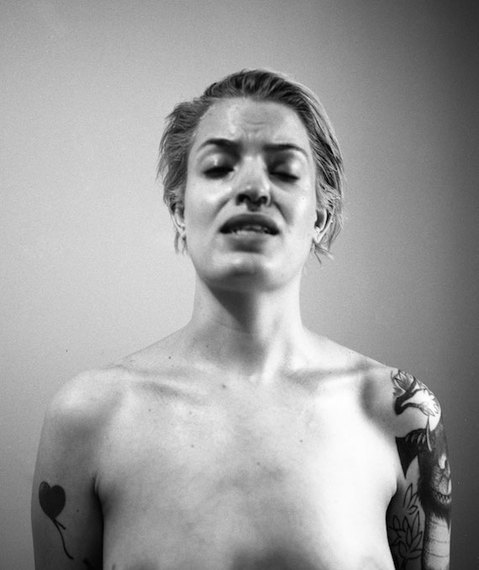 The discrepancy between reality and what we see in well-curated Instagram, Facebook and Twitter profiles is endless. More often than not, the real life individual barely resembles its online presentation. This digital version of our own person is what photographer Remy Holwick refers to as, "the second self."
Holwick's work is regularly featured in publications including VFiles, Purple Diary and Vice. In her upcoming show, We Can Be Afraid Together, she seeks to reveal what happens when you strip the physical self of the digital self to reveal what truly lies beneath.
Holwick specifically selected younger models that were born and raised in the digital era. Even though this generation makes their most private thoughts public on the internet, having their thoughts digitized rather than spoken creates a wall of safety and security, a wall behind which they can hide their deepest fears, insecurities and character defects. Holwick's aim is to present the physical self, or what she refers to as the "first self," stripped bare, in a moment of raw, emotional vulnerability.
Each subject was individually invited into a room with nothing but grey walls and a window. She asked for permission to shoot her models topless, and they obliged. Using a film camera and polaroid lighting, right before taking the photograph, Holwick asked, "What is your greatest fear?" "Spiders", "drowning" and "dementia", were just a few of the answers received.
The concept of fear has been explored for centuries, yet the ever widening gap between our screen selves and our physical minds and bodies couldn't possibly be more current. Using film to capture the selfie generation is no accident, as it leaves the subjects with a lack of control, unlike how we can manipulate our digital images to present to the world our best selves.
The end result is an entire gallery wall covered in a collection of life sized faces that stare at the viewer staring back at them. Not only does the beauty of the true self permeate in the purity and honesty of the photographs, but there is an interplay of anxiety and penetrating uncertainty in each image, between each subject, and between the gang of images and the viewer.
Holwick's greatest fear? "An enormous letter falling off of a building and squashing me. That and the planet Jupiter. Because it's huge and terrifying."
We Can Be Afraid Together by Remy Holwick opens Thursday September 17th, 6:30 - 8:30 pm at Wix Lounge, 325 W 23rd St, 8th Floor, New York, NY 10011
Related
Popular in the Community