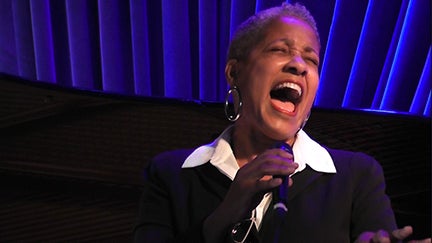 I have been documenting the annual Jazz Journalists Association Awards event for four years running. Each year Howard Mandel, president of the Association, books three acts to break up the presentations of the award, and each time I am introduced to an artist I did not know about previously, but who I now enthusiastically support. This year the entertainment was provided by John Beasley on solo piano, vocalist/songwriter Rene Marie and her trio, and the Herlin Riley Quintet. All stellar.
Ms. Marie knocked me out. She is intensely charismatic, has terrific pipes and the band is truly smokin'. That band is Elias Bailey, bass, Quentin Baxter, drums and John Chin, piano. While many formidable jazz divas confine themselves to covering songs written by others, Ms. Marie has written all the songs on her latest CD, "Sound of Red" on Motema Records. This makes the material and consequently the renditions exceptionally personal. In "Lost" Ms. Marie talks about a troubled woman torn in so many different directions that she is truly lost. The song describes it as "psychosis" and the song itself transitions from time signatures and moods as capriciously as its subject's stream of thought might. At times the narrator seems to slip in and out of omniscience…is the song about an acquaintance or Ms. Marie herself? Yet there is a lot of humor, indeed at some points Marie seems to be channeling a bit of the whimsy of the Lambert, Hendricks and Ross classic "Twisted."
The JJA Awards (usually in June at the Blue Note Cafe in NYC) are open to the public, and while the entrance fee may seem steep, it is a fundraiser, and has the great percs of free food, wine and beer, terrific entertainment and a chance to rub elbows with great jazz players and jazz writers. So if you are in town in June and want a truly unique experience, check it out. You'll be supporting an important organization.
For more information about Ms. Marie, visit the Motema website.
For more information about the Jazz Journalists Association and the Awards show, go here.
Rene Marie's 'Sound of Red' can be found
Related
Popular in the Community