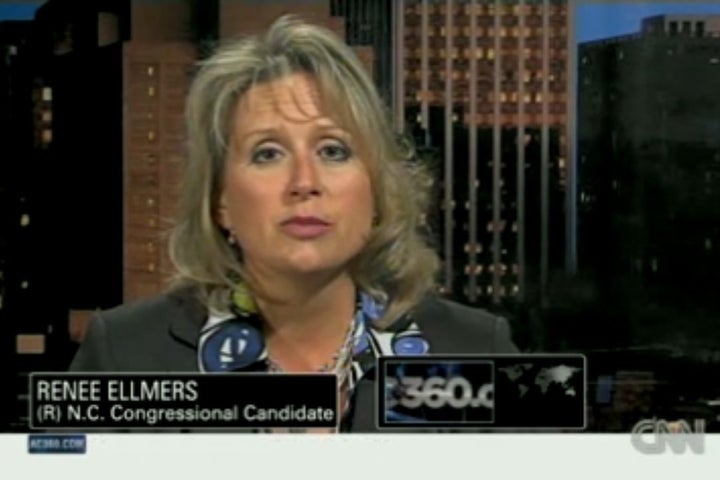 Renee Ellmers, a Tea Party-backed congressional challenger to Rep. Bob Etheridge in North Carolina, spoke with CNN's Anderson Cooper on Friday to defend a controversial campaign ad that sought to connect her opponent to the building of an Islamic community center near Ground Zero.
The ad at issue drew heavy criticism for its interchangeable use of "Muslims" and "terrorists," a complaint that Ellmers explained to Cooper:
"Well, to be honest, I think that you could make that assumption, but that's not giving me the benefit of the doubt," Ellmers said. "I am not intending to say that all Muslims are terrorists. Basically what I am saying, sir, is that there were terrorists who attacked us -- they were Islamic jihadists. And, as a result of that, we have seen the devastation on 9/11."
Pressed by Cooper over the contention that the planners of the Park51 Islamic center near Ground Zero were actually terrorists, Ellmers appeared unready to walk back the potential connection.
"Do you know that [they aren't terrorists], sir?" Ellmers asked. "We don't even know who is the donors to that."
Asked by Cooper if she thought Imam Feisal Abdul Rauf, the Imam behind the project, was a terrorist, Ellmers appeared equally uncertain.
"Well, I don't know that much about the Imam, I don't think any of us know that much about the Imam, that is where the uncertainty is," Ellmers said. "I don't know what his intentions are."
The conversation then shifted to the point in Ellmers' ad about the construction of "victory mosques" in lands conquered by Muslims centuries ago, a clear comparison that was being made to the so-called "Ground Zero Mosque." Ellmers didn't take kindly to Cooper's questioning over a similar Christian practice that he said took place in Rome after it was seized from the Pagans.
"You are wrong in your assumptions," Ellmers said. "I guess what I could ask you is, are you anti-religion, are you anti-Christian in your thinking?"
"That's like the lowest response I have ever heard from a candidate, I gotta tell you," Cooper responded.
As for the response by the Etheridge campaign last week that accused Ellmers of "desecrating this hallowed ground with her obvious and offensive attempt to raise her profile," Ellmers maintained that the issue was indeed relevant in her district.
"All we're doing is reflecting what we've seen in the district and the people that I have talked with who are so concerned with where this country is going," Ellmers said. "I am running for the people of District 2, North Carolina, who are good, hardworking, Christian people, who just want to turn this country around."
The latest analysis on the race shows Rep. Etheridge poised to hold the seat despite Ellmers' support from Sarah Palin, Tea Party groups and conservative 527 Americans for Job Security, which has announced that they will spend $800,000 on advertising against Etheridge.
Calling all HuffPost superfans!
Sign up for membership to become a founding member and help shape HuffPost's next chapter