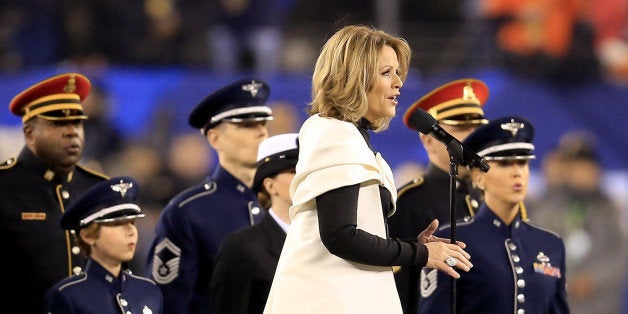 American opera singer Renée Fleming belted out the "The Star-Spangled Banner" before kickoff at Super Bowl XLVIII on Sunday. A 32-voice military choir accompanied the soprano during the performance, backed by a recording of the New Jersey Symphony Orchestra.
Fleming made news before the Super Bowl by announcing that she would perform the national anthem live, without the benefit of a backing vocal track. "It would be a disaster. I only know how to sing live," she said (via The Associated Press).
Fleming is the first opera singer to perform "The Star-Spangled Banner" at the Super Bowl, which typically enlists pop stars for the event. Recent national anthem singers include Alicia Keys, Jennifer Hudson, Billy Joel, Beyonce and Cher. Fleming previously performed at President Barack Obama's 2009 inauguration and at the 2003 World Series.
The Seattle Seahawks and Denver Broncos were set to face off against each other in Super Bowl XLVIII. The NFL's biggest game is held at MetLife Stadium in East Rutherford, New Jersey.