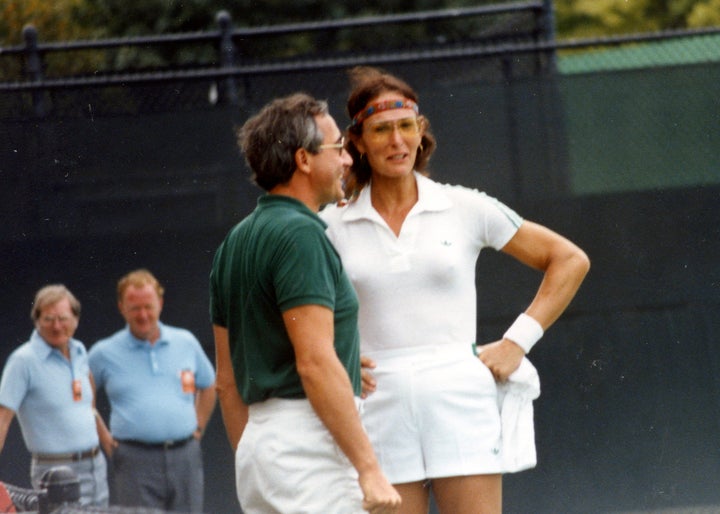 In 1976, Renée Richards walked onto the court of the La Jolla tennis championship as an unknown housewife from Southern California. Her 6-foot-2-inch frame was clad in a super-short white tennis skirt, her size-12 feet stuffed into feminine white sneakers. For Richards, who was actually a highly successful ophthalmologist and formerly a man named Richard Raskind, the unknown-housewife ruse fell apart as quickly as her opponents' game. Richards swept the tournament, and woke up the next morning as the most famous transsexual athlete in history.
Richards' dual life, first as golden boy Richard Raskind and later as reluctant trailblazer Renée Richards, is the subject of Eric Drath's new documentary, Renée, premiering at the Tribeca Film Festival. In the first half of her life, which is well documented by Drath through old photographs, Dr. Richard Raskind -- more often known as Dick -- was a perfect American son: handsome Yale scholar, U.S. Navy tennis team player, successful doctor, model's husband, young son's father. Then, in 1975, Dick underwent surgery and emerged as Renée, a woman, yes, but still a skilled doctor, still strikingly handsome, and still passionate and talented at tennis with Dick's notoriously killer serve. Like Dick had, Renée wanted to play.
This desire turned into an international controversy over transsexual rights in athletics. To capture this story, Drath draws on ample interviews from Richards, her friends and family, professional tennis players, video clips and headlines as well as an excellent musical score by Nathan Halpern. Combined, these elements depict seven courageous yet excruciating years spent on the women's professional circuit, during which Richards lost her privacy, was barred from competition, damaged her relationship with her son and sparked uproar in the women's athletic community. Yet, during these six years Richards also became a champion of transsexual rights in athletics. With the backing of Billie Jean King and others, Richards sued the U.S. Tennis Association and won the right to play in the U.S. Open.
The film focuses on Richards' story alone, yet its emotional complexity and nuanced look at transsexual rights renders the film highly relevant in today's sports world. Indeed, the limited and sporadic gains of transsexuals in athletics since Richards' era make this film not only a tribute, but also a complicated voice in an ongoing conversation that has changed little in the nearly 35 years since Richards first took to the court.
In 2009, the International Association of Athletics Federation, the world governing body for track and field, pulled South African runner Caster Semenya from competition for 11 months of sex-verification testing after she won the 800-meter race at the world championships with a time of 1:55.45 and rumors circulated about her sex. Last year, transsexual golfer Lana Lawless was barred from competing in the LPGA tour because she was not "female at birth." A lawsuit later, the LPGA dropped the policy. At the Olympic level, chromosomal testing—biological women are generally XX and men XY, although genetic variations can occur—remains a controversial issue with no clear solution.
Even Richards is divided over the issue.
"I think that transsexuals have every right to play, but not at the professional level because it's not a level playing field," she said in the film. These comments may prove vexing to transsexual advocates for whom Richards is the cause's pioneer. (Earlier in the film, Richards too expressed frustration at her transsexual status, explaining: "I didn't become a woman to be a trans-something.")
Yet filmmaker Drath defends Richards' ambivalence as indicative of the complexity of the issue, not regret.
"I thought I was going to have the Gloria Steinem for transgender rights," he said. "But the truth is that she's so incredibly brilliant and if anyone's thought it through, it's Renée. She hasn't championed the cause, but what she did with her actions is more powerful than what she's said."
The film also explores the full extent of Richards' personal life, dwelling especially on her damaged relationship with her son, Nicky, who now struggles with homelessness and drug addiction. As Richards admits in the film, Nicky's struggles feel like, "I'm getting punished for my sins" -- as if Richards is now assuming the weight of a mother's guilt for failing to be a good father.
The emphasis on Nicky and Richards' relationship coupled with Richards' reluctance to champion the transsexual cause does not make this film a story of triumph as much as an intricate and necessary look at the collision of gender identity, competition and society. As transsexual rights remain one of the pressing questions in the sports world, complete stories like this help push the conversation forward.
This neutrality has Drath, for one, worried about some audiences.
"We've been invited to a lot of LGBTQ festivals, and I don't know how it's going to be received," he said.
Still, despite Drath's balanced approach to the ongoing debate over transsexual athletes, the film is an unequivocal celebration of Richards.
"This is a person who had the courage to be herself," Drath said. "Whatever chains tie us to the lives we have now, they didn't hold back Richard Raskind," he said.
The film is playing at the Tribeca Film Festival this week, and will air on ESPN in the fall.


Popular in the Community