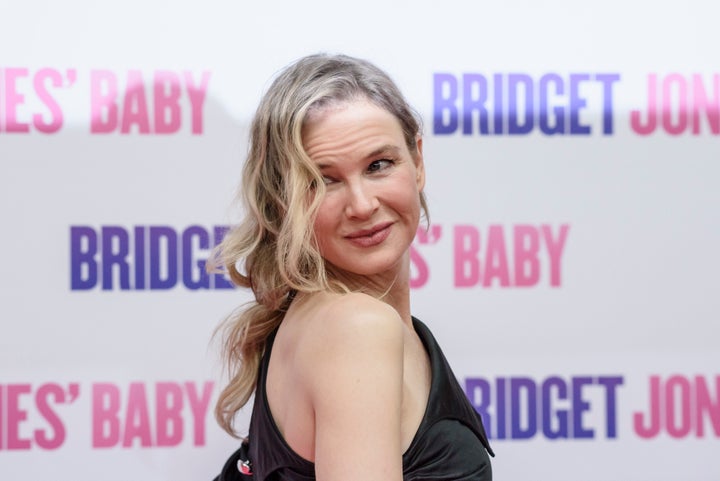 Renee Zellweger reprises her iconic role in "Bridget Jones's Baby," the third installment of the smash rom-com series which finds her character torn between two dashing love interests: Mark Darcy (Colin Firth) and Jack (Patrick Dempsey). 
In a new interview with The Advocate, Zellweger said Firth and Dempsey got along so well on set, crew members joked that their characters should be the ones who got together in the film, due out Sept. 16. Although that doesn't happen this time around, Zellweger hasn't ruled out the possibility of a same-sex romance in the "Bridget Jones" universe. 
"Maybe in the next movie? There's still time," she quipped. 
The 47-year-old Oscar winner said she feels "lucky to have handfuls" of gay friends in her life, even though the paparazzi will occasionally misconstrue the nature of those relationships. In the interview, she looked back on what she described as a real "Bridget Jones moment," when a tabloid photographer mistook her gay bestie as a love interest. 
"I went to Miami for New Year's Eve some years back with him and his boyfriend," she said. "Some tabloid ran the photos and wrote, 'Has Renée finally found her pearl?' I was like, 'Aww, he's my pearl!' He's family to me."
"That made me sad. It made me sad that somehow people were using that as a way to be cruel and calling someone gay as a pejorative, which has fateful consequences," she said. "Of course, there's the bigger-picture problem of why anyone had to make up a story at all."
We'd be honored to be your "pearl" anytime, Renee! 
Calling all HuffPost superfans!
Sign up for membership to become a founding member and help shape HuffPost's next chapter
BEFORE YOU GO
PHOTO GALLERY
Renee Zellweger