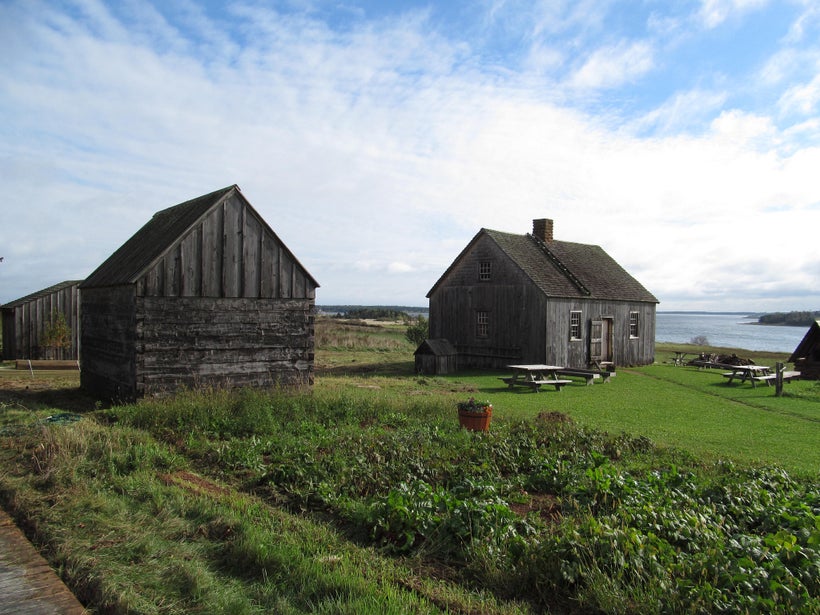 Travel writer Ann Abel won a free cruise as a door prize at a party. It was supposed be an intimate voyage through East Canada's famed Maritimes – the provinces of New Brunswick, Nova Scotia, and Prince Edward Island. But what starts out as a disaster ends up as a rollicking, random, impromptu road trip in which Ann loses a car, channels her inner "Girlie Gyver" and finds something called her "P-ness" . 
As a travel writer, I live an absurd life of luxury and adventure. Even odder, at industry events, no-strings-attached trips are given as door prizes. Last year I won one, a small ship cruise from Saint John, New Brunswick, to Portland, Maine. (The company will remain nameless, as I don't want to burn more bridges than this is already likely to.) I was dubious: After 13 years in luxury travel, I'm the first to admit I'm spoiled rotten, and I didn't think the ship would be up to snuff. But I'm way too polite to decline, and my friend Suzanne, who had seen me win, begged me to take her as my plus-one, as she'd always wanted to visit the Maritimes.
Suzanne flew up with me to Saint John a few days early. We hiked and picnicked along the Bay of Fundy, found ourselves invited into friendly strangers' homes and stayed at a Kingsbrae Arms, a delightful Relais & Chateaux hotel in nearby St. Andrews, where we dined on vegetables straight from the garden and shared late-night stories with the charming proprietor.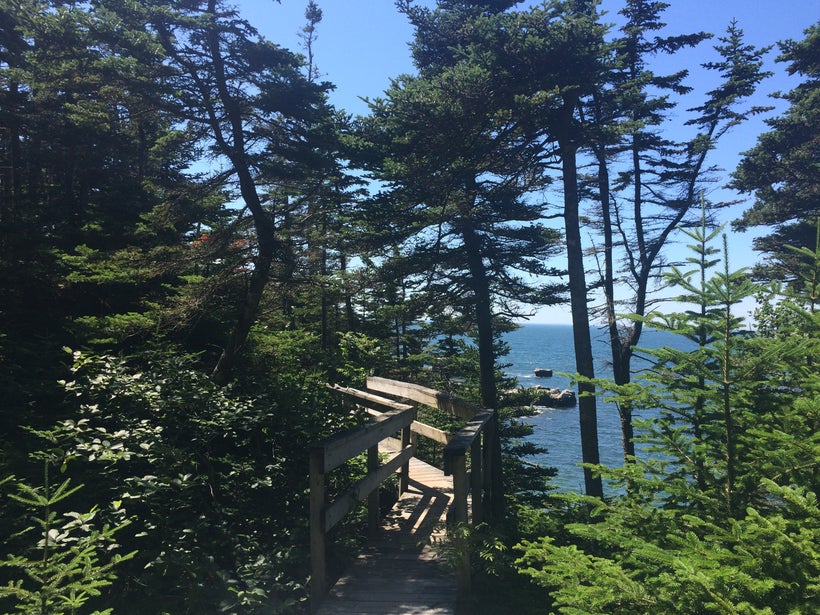 So it's a shock when the "official" part of my trip on the cruise begins.
I should have trusted my instincts. We figure there's been a mistake when we pull into the marina. The only boat that's docked has clearly seen better days and even then has never been great shakes. Our cabin is so small we can holds across the tiny aisle between our cots. The chef tells us he's worried about accommodating Suzanne's strictly and my mostly vegetarian diet. (After the hockey puck scallops the first night, I was ready to go full veg.) We bring the average passenger age down by at least 20 years—and Suzanne is in her 50s and I'm north of 40—and other guests assume we're staff. There's frequently a line for the chair lift up the stairs, and all the excursions, even to Arcadia National Park, will be done by trolley.
We have to bail. And so after dinner, we grab a bottle of wine (at least this is decent and free-flowing) and hatch a plan. We have to be in Maine ten days later for some work obligations and our flights home, so our plan is to get off as soon as we can, rent a car and figure it out as we go. Suzanne has never seen the Maritimes; now we have time to really see them.
Thirteen years of professional travel has also made me a bit lazy. I'm used to having itineraries handed to me, or at least planning my own well in advance. I'd never done a spontaneous trip in which I didn't know where I'd sleep every night. Suzanne tells me one of the preferences in the Myers Briggs personality test is P, for perceiving (as opposed to judging), which she takes as being okay with uncertainty and going with whatever happens. She tells me to embrace my P-ness, and off we go.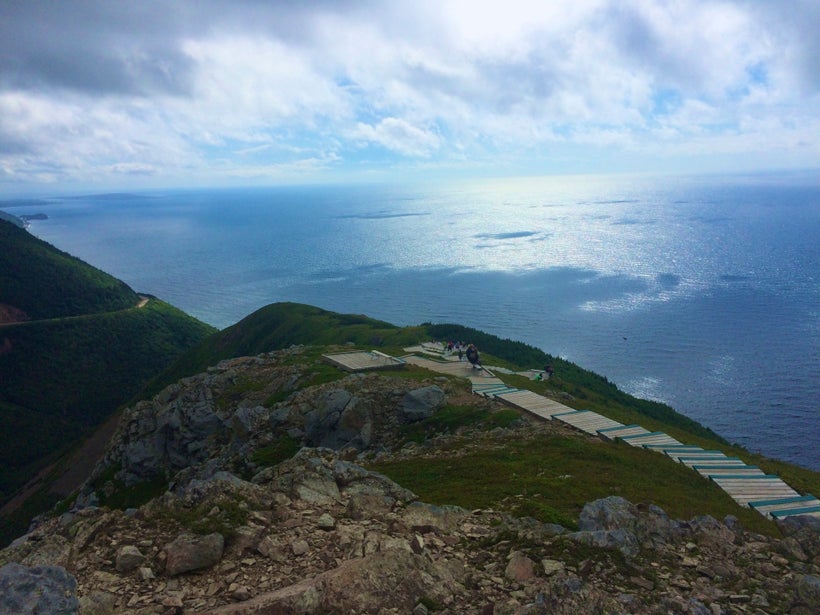 Day 1: We walk from the ferry in Saint John and to the Avis where we returned the first rental car the day before. Or think we did. When we arrived at the ship to drop off our bags, we asked the avuncular security guard if he knew where the lot for after-hours returns was. He assured us that we could leave the keys with him and he'd take care of everything. We know better, but he seemed so trustworthy and…Canadian. The agent tells us we have an outstanding rental. The rent-a-cop stole our rental car!? There's no sign of anyone in the lot where he'd been. Somehow, Suzanne talks the agent into giving us a second car. We drive to Charlottetown, Prince Edward Island, stay at a cute B&B and are overjoyed to be back among restaurants with good food.
Day 2: We drive around PEI with no goal other than to see the island and end up on the other side. Those information kiosks that are everywhere along Canadian highways turn out to be godsends, and something of an obsession for me, as I'm navigating. Any time we can't use Airbnb, the nice kiosk people find us a room. That day's kiosk gets us a hotel in the pretty town of Montague. We fine-tune our "girlie Gyver" lunch strategy: finding a farmer's market for local cheese, fruit, and vegetables (and gluten-free crackers and hummus if we're lucky), and assembling them mid-hike (occasionally carrying ice and wine in my backpack) with a plastic butter knife nicked from a café.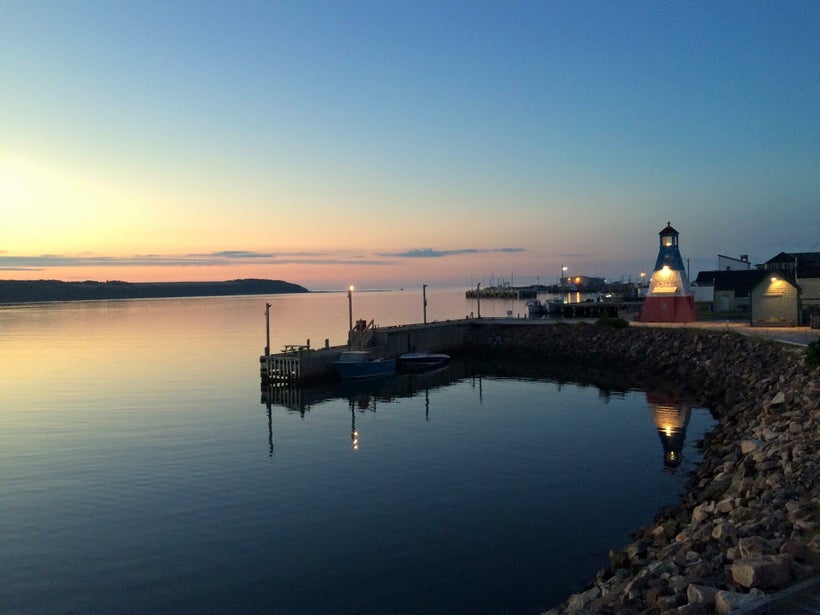 Day 3: After three days of calling Avis and the cruise company, car number one turns up. It had been a bank holiday, and the well-intentioned security guard had taken the car "somewhere safe" until he was sure businesses would be open. We're relieved as we drive onto Cape Breton Island, the place that most clearly puts the Scotia in Nova Scotia. Scottish accents are so thick we can barely understand them. The kiosk people tell us that best trad session—fiddlers in a pub, as you'd find in Scotland or Ireland—is at the Red Shoe Pub in Mabou. We tap our toes there, sample the whiskies at Glenora Inn, and then find a mediocre restaurant with a sublime sunset view near our hotel in Chetticamp.
Day 4: Farmers market, hike to the pretty dunes in Cape Breton Highlands National Park, drive around the northern perimeter of Cape Breton, quick stop to plan our next move. This is in a parking lot outside a volunteer fire station with an oddly situated ditch—right where parking bumpers might be. Plans made and heading toward the road, Suzanne doesn't realize it's there and drives straight into it. Bystanders rescue us from the 45-degree vehicle, and a fireman says, "Here we go again." We call Triple A, and the tow truck guy tells us it's his third time there this week. We embrace our P-ness. Amazingly, the car emerges unscathed.
Day 5: We drive to the maritime town of Baddeck. A regatta happens to be in town, so of course we find the party. It's not St. Barth nightlife, but the old sailors of Baddeck know how to throw down. We dance to 80's covers until 2am.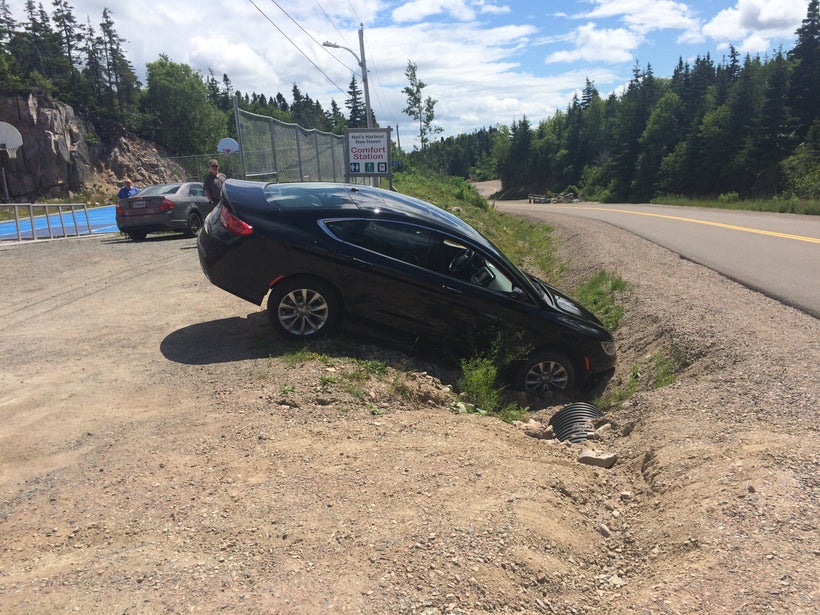 For more on Ann's awesome road trip - which involves Brooklyn (not kidding), more car disasters, a LOT of cheese and the full itinerary , including where to stay, what to eat and the route, click HERE.
Calling all HuffPost superfans!
Sign up for membership to become a founding member and help shape HuffPost's next chapter
This post was published on the now-closed HuffPost Contributor platform. Contributors control their own work and posted freely to our site. If you need to flag this entry as abusive,
send us an email
.