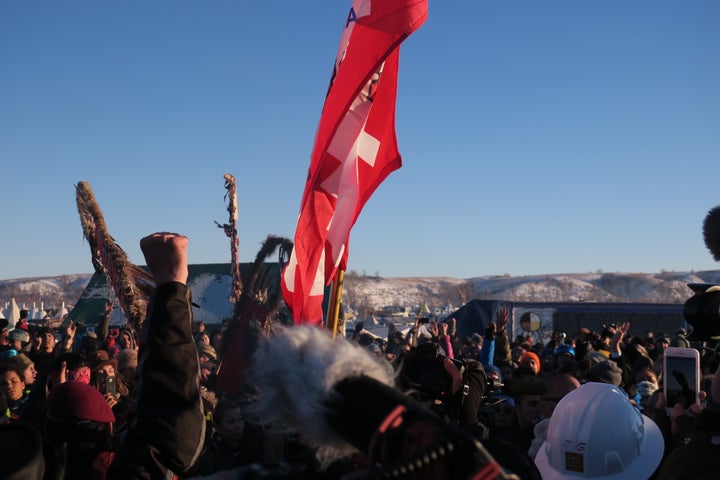 On December 4, 2016 the Army Corps denied DAPL their drilling permits, mandating a full environmental impact statement be completed by an impartial third party. The story was played by CNN and other major outlets nonstop when it first happened. It's the first real coverage major outlets have provided. They hailed it as an outright victory for the protesters. That coverage has all but disappeared, and most people around the country believe the conflict to be over. That's not the case. Both sides are still there, occupying their respective camps. On December 27, 2016 twenty-seven protesters were arrested as they attempted to pray on Turtle Island, which is sacred to the Sioux, and is now occupied by Morton County police officers and hired DAPL security personnel.
On January 24, 2017, President Donald Trump, a spry five days in office, signed an executive order requesting an expedition of the environmental review mandated by the Army Corps in December, and that the Army Corps rescind their denial of DAPL drilling permits. The order comes as promised, and reveals the intentions of President Trump's administration with regard to environmental protections and fossil fuels – little doubt had lingered.
This conflict, however, is far from over. Rather, like Donald Trump's presidency, it has just begun.
In late November, I was in a tent in Standing Rock, North Dakota, with a group of activists and journalists called Renegade Media Collective. In response to this executive order, they claim they have started preparation for their return to Standing Rock.
This is an account of what it was like inside the protest, a glimpse at what it will be like again.
November 30, 2016, and I was wearing every piece of clothing I brought. It was snowing inside – there was a hole at the top. It looked like a makeshift space capsule, covered in Mylar and shining. There were thick blankets hanging behind the Mylar, but they were failing us. No chance against that hole. I woke up that morning with a pile of snow on my sleeping bag. It was zero degrees in Standing Rock, North Dakota.
A flame, one that I flicked to life myself, danced an inch from my glasses as I tried to light the last of a rolled tobacco cigarette. To trick myself into thinking I was warm, I needed the smoke. We smoked constantly to maintain that warm illusion – it worked. Crowded around the small wood burning stove in the corner, which struggled to get a good burn on the wet wood we'd stuffed in there, we sat in silence. Smoke billowed out, we breathed it in, we coughed, we cried as smoke filtered into our eyes. Soup. All I'd eaten was soup. I caught a glimpse of my hands. Dirt had piled under my fingernails and my skin was peeling and bright red. They felt like old, sick hands. Not my own.
The recommissioned army issue green canvas tent was the HQ of Renegade Media Collective, the group I'd been schlepping it with in Standing Rock, North Dakota for the past eight days. Schlepping. What a stupid word. I wasn't doing that. I was surviving with this odd band of rebels. Without them, I didn't stand a chance.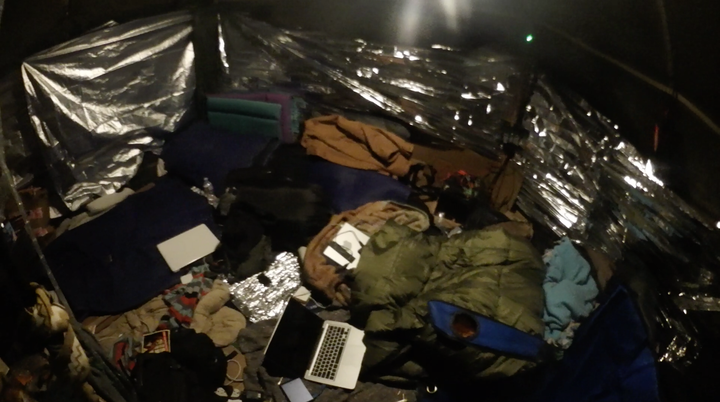 The Rebels go by code names that read like a video game roster. Sugar Bush, Oak Tree, Flower, Trash Man, Wacetu, Babushka, Ghost, Star Child, Blizzard, Sunshine, Wonder Woman, Gunslinger, Jesus, and Superman. There are more, too. People were constantly filtering in and out of the tent to offer up information or film or photos or cigarettes. Cigarettes are prized out there. American Spirits at the top of the food chain. The thirty-minute burner, it's been dubbed.
"Boom," yelled Superman, the founder of Renegade Media Collective. Plastic was burning somewhere in the tent, gas was leaking, we could smell it, but couldn't locate the source. Empty propane and soup cans were scattered around the tent, along with wet blankets and dirty pots and pans and cigarette butts and lanterns and rope and drones and discarded gloves and hats and scarves that could no longer cut it in that cold. This was home, this was headquarters. It was a mess.
"Boom," said Superman, cracking about the very real fact that we could all explode any minute. His attempt at humor, and it hit. Anything would have worked on us at that point.
Fumes continued to pour out of the stove, its chimney clogged with fallen snow, as we listened to recorded phone conversations between a woman in Ohio and one of Superman's many agents in the field – we didn't know the identities of any of them, but they continually brought in good intel, or at least, what seemed like good intel. Some of the stuff that came in was too propagandizing, but these recorded conversations were good – juicy, relevant, real.
The woman from Ohio had just been released after being detained and questioned, she said for seven and a half hours for aiding and abetting terrorism. She was nervous and shaken, mainly for her son and Mom, but staying levelheaded and focused. She said she'd tried to send several drones, as well as signal blockers and packs of cigarettes, to Standing Rock. She claimed the federal government was trying to get her for 133 years, a terrorism charge for each item sent, including the cigarettes. Packages no longer make it to Standing Rock because Morton County is allegedly opening and searching any piece of mail larger than an envelope arriving within thirty miles of the reservation.
I contacted several Morton County Post offices, and all denied the claims. However, reports of missing, disappearing packages continue to roll in throughout the camp. The logistics to deliver mail to a camp like Standing Rock are staggering, but protesters are asked to set up and use P.O. Boxes in nearby towns if they would like to receive mail.
Protest camp supply chains were systematically dismantled after the December 4, 2016 announcement, which seems more a chess move, calculated and lethal.
"Everyone believes whatever comes on their TVs," said Superman as he shoved another log into the stove and pulled his dog, Napoleon, up onto his lap. They're both vegan and struggled more than most of us to find food they could eat. "Their TVs didn't tell them to come here, but now they're telling them to leave, and they're listening."
Superman is the most committed of the crew. Casually, he would mention martyrdom – a serious possibility for him. I wouldn't be surprised to see his name in the obits.
He was semi in charge, but repeated constantly that it was a collective. Sugar Bush and Trash Man, the two other main players in the collective, rolled their eyes whenever he said it. Superman started Renegade Media, and while he claims it's a collective, he doesn't let them forget who was there first.
I lived in their tent, but they didn't even know my name. No one knew each other's real name. It was safer that way should anything go wrong. Their goal was simple: to get raw, unfiltered footage out there. They'd been doing that, too. Their videos hit upwards of one million views while I was there. They also sold footage to Reuters that garnered tens of millions of views, alone.
Renegade's true turning point was on December 4, 2016. Morton County PD had retreated from the cement and barbed wire barricade constructed on Backwater Bridge, a public road separating the protesters and DAPL. It's also a crucial link in the supply chain to the protesters – one that's been shut off, for now. Renegade captured aerial footage of Morton County PD, and what appeared to be the National Guard, mobilizing their forces about a mile back from the barricade.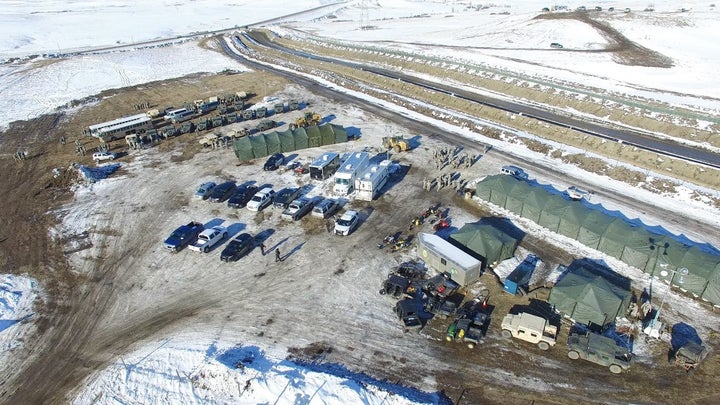 Members of Renegade claimed they were regrouping out of sight from mainstream outlets that had filtered in with the vets. Standing behind the barbed wire in military garb with rifles on their shoulders isn't exactly a good look. This pseudo-retreat was synchronized with the arrival of the veterans and the Army Corps' announcement. It appeared all very planned and deliberate. To Superman and Renegade, it meant Morton County and DAPL didn't plan on going anywhere. To them, it meant they were aware of the announcement beforehand, and possibly behind it.
The aerial footage Renegade repeatedly released was censored over and over again, Facebook going as far as removing it from the site. I know how that sounds, but I saw it with my own eyes three different times. Ask Jordan Chariton of The Young Turks. They had footage provided by Renegade removed, as well. The video hit half a million views in less than an hour, then was taken down.
This kind of footage was controversial as it was captured in a federal "no-fly zone", one that had been continually violated by Morton County and DAPL, as they subjected the camps to 24-hour aerial surveillance. While I was there, all day and night, helicopters and planes flew low over the camps.
Morton County and DAPL weren't the only ones breaking the FAA's ban, however.
"We're always going to be up in the air," Sugar Bush said. "Always. Someone has to be up there watching them."
Huddled around the stove, the tent still leaking snow, we sat silently as the woman from Ohio detailed how five police officers had showed up unannounced at her front door.
I spoke to every police department in Dayton and Montgomery County in Ohio, and none have any record of this woman being arrested or charged. When asked if there should be some report of her being questioned, most said it depended on the situation. "Not necessarily," said one kind, yet uniformed, dispatcher. "Depends on the detective, though," she said.
The charges are pending, and therefore, any information on the suspect and her detainment are not considered public information. I checked with Morton County Sheriff's department, as well, and they have no record of this woman's arrest or detainment.
The North Dakota State's Attorney, Allen Koppy, who denied my request for comment, appears to be on a rampage to punish anyone who had a hand in this movement against DAPL.
After we listened to the conversations, Sugar Bush called up one of their lawyers – they work with many, always offering their footage to help protesters that have been arrested. The lawyer was calm and patient, showing her expertise, as she juggled a conversation with four different people on speakerphone. She told them several times that they were going to get Morton County for all they've done. She also thanked them for their continued support and cooperation. This went with a request that they be safe and lay low for a while. They wouldn't listen.
Weeks earlier the protest came to a head with the most violent clash between the two sides. On November 20, 2016, a night which has become infamous, unarmed protesters were sprayed with water cannons in twenty-degree weather, shot with rubber bullets, tear gas, and mace, and one 21-year-old protester, Sophia Wilansky, was struck with a concussion grenade, nearly tearing her arm from her body. Despite all of it being caught on film by Renegade, and many other sources, Morton County continues to deny their role in the clash, flatly denying the use of water cannons and concussion and flash grenades.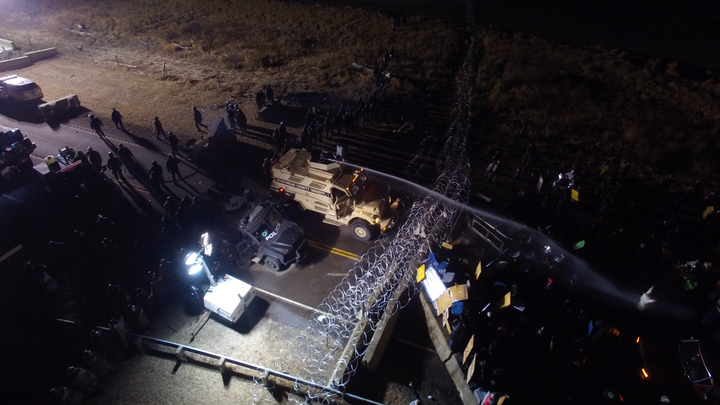 "It started with fires started by the protesters," said Colonel Michael Gerhart, superintendent of the North Dakota Highway Patrol. "So, yes, water was used to put out fires, and then to get protesters away from the bridge." Footage provided by Renegade Media clearly shows two things: no fires were on the bridge prior to the use of the water cannons by Morton County officers, and the ensuing fires were started by canisters of tear gas launched across the barricade into protesters by Morton County officers and DAPL security personnel.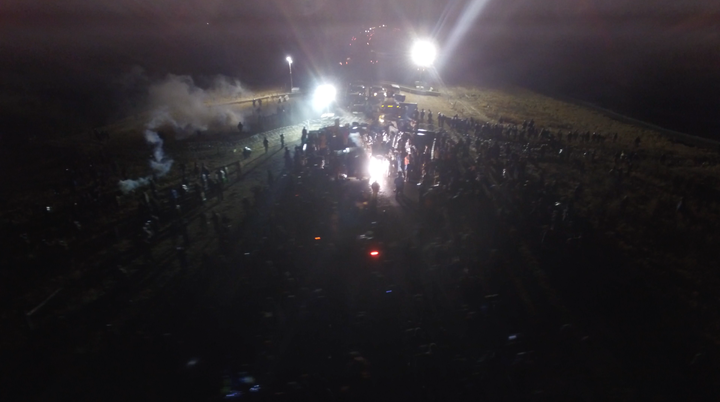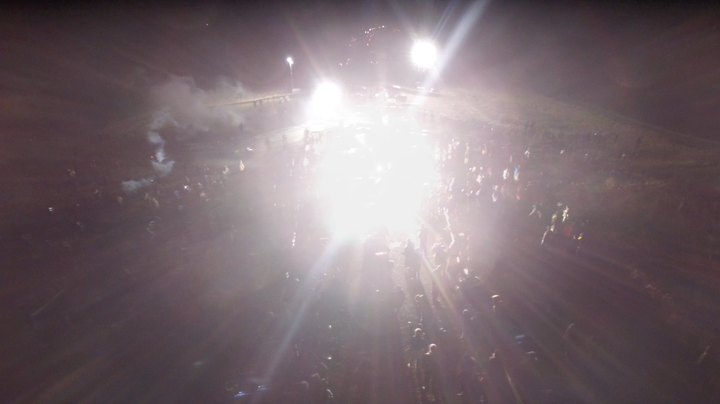 A class action lawsuit has been filed by the Water Protector Legal Collective, an initiative of the National Lawyers Guild, against Sheriff Kyle Kirchmeier of Morton County, Sheriff Jason Ziegler of the city of Mandan, and Sheriff Chad Kaiser of Stutsman County. I called and left messages for each sheriff but my calls were never returned.
The woman from Ohio alleged that the state of Ohio has filed two $3.8 billion lawsuits against Morton County for the trauma inflicted upon their troopers. I contacted the office of Ohio Attorney General, Mike DeWine, but my requests for comment were, once again, denied. There have been no other reports or confirmation regarding the lawsuits.
Less than a week into their deployment, Ohio state troopers, against Morton County orders, picked up and returned to their state. More than half of the Ohio troopers have since quit the force, the woman from Ohio told Renegade. Her brother-in-law was one of the troopers that quit, she claimed.
I was able to track down this woman from Ohio – I only knew her first name. From the information she stated in the recordings, however, I was able to track her down. I've reached out several times, but she hasn't gotten back to me. She is no longer active on Facebook. In my search, I found another woman who has had multiple conversations with her about officers allegedly leaving the force after their deployment to North Dakota. This woman was skeptical, hesitant to speak with me, but she eventually did. She, presenting herself as a writer, claimed she'd been trying to dive into this story since early November.
"The problem," she stated, "is that when someone starts speaking about this topic, they get death threats…and so everyone is keeping their mouths shut."
I pressed her about her conversations with the woman from Ohio, and if she was able to find any verification on the topic. Cryptically, she responded, "You'll have to ask her yourself if you want to know that."
I wish I could ask her, but I'm still waiting for her call. Diving deeper, I began to deconstruct her family tree in search of her brother-in-law. I eventually found him.
On his Facebook page, it clearly states him leaving the Ohio State Highway Patrol in 2016. There is not a specific date.
Next, I contacted Lieutenant Robert Sellers, the man in charge of public information for the OSHP. Before speaking with Lieutenant Sellers, I spoke with other troopers and a Sergeant who only knew one thing regarding North Dakota: they returned on November 16, 2016. That was the only thing they were sure of, everything else was uncertain. All other questions could be answered by the Lieutenant, alone, they said repeatedly.
The Lieutenant got back to me the next day, answering my questions promptly. The only discrepancy I had was with the number of troopers deployed. He told me thirty-two were sent, while earlier he had said thirty-seven, as reported in the Columbus Dispatch.
He also cited no incident reports from troopers sent to North Dakota, and reported all troopers sent were still employed by the Ohio State Highway Patrol.
Employment records of state troopers are public information, Lieutenant Sellers confirmed. I asked him for the records of the woman from Ohio's brother-in-law, and any reports of his leaving the troopers in 2016.
The Lieutenant responded, asserting the man had never been employed by the Ohio State Highway Patrol. I didn't understand, for I had found record of his graduation from the OSHP academy in 2009, and a 2014 Ohio Appellate Court case in which he was the arresting trooper.
I presented the documents to Lieutenant Sellers, who quickly said he would check into it for me.
He didn't reply until I followed up days later. The trooper voluntarily resigned in July, the Lieutenant alleged. Sellers stated the trooper had damaged a vehicle and was dishonest about it.
"Is that standard for a trooper to resign voluntarily, even after discipline and an investigation have taken place? It would seem he should be fired for that kind of incident…rather than resign voluntarily. Am I correct in thinking that?" I asked him.
"He resigned before discipline was given. Honesty and integrity form the core of public service, we take that very seriously. Our discipline grid allows for termination for dishonesty."
The report of the trooper's resignation, provided by Lieutenant Sellers, indicates the investigation began on June 16, 2016, and was completed and delivered on July 6, 2016. The trooper did not resign until July 16, 2016.
When asked why the trooper had not come up in his previous search, Lieutenant Sellers took responsibility and said he had only searched for currently employed troopers.
According to public records, the trooper's employment history is completely void of a stint at the OSHP. It only lists the United States Navy, of which he is a veteran.
Asked to comment on the class action lawsuit filed against North Dakota sheriffs and the actions taken against protesters, Lieutenant Sellers refused comment.
When they hang up with the lawyer, Superman, Sugar Bush, Trash Man, and Blizzard immediately dive back into their work, arguing over a recent edit they'd finished. It was a compilation of aerial footage from the celebrations following December 4, 2016.
The rub was over a grip of interview footage of Sioux Chairman, David Archembault, that Superman secretly slipped into the edit. He snickered as he chanted, "Renegade, Renegade, Renegade!" The other members weren't amused and growing frustrated. They thought it in bad taste to alienate their viewers, many of whom support Archembault. Or, at least, many of whom might take the inclusion of the footage as a sign of disrespect.
"We can't just push this unsubstantiated information," Sugar Bush urged. "This isn't going to look good to the elders. We need their support to stay and to continue to do what we're doing…and we need to continue what we're doing. It's important."
"Look at those shifty eyes, man," said Superman, pointing to the gyrating eyes of the Chairman, whose message is one declaring victory, and then asking all non-Sioux to leave the protest camps.
"There's nothing more to be done this winter," he iterates in the blurred film.
"He's so bought," declared Superman. "Look at those shifty eyes."
"We don't know that," responded Sugar Bush.
"Yeah, I don't like this. I think it's too much. Too soon. We need to take it easy, too," added Trash Man.
They did need to take it easy. Trash Man was right. They were coming under serious heat after the woman from Ohio was picked up for terrorism. Rightfully, they were all concerned they may be next. All except Superman.
"I want to get kicked out of this camp," he said, smiling devilishly. "Rationing wood…man, the vets screwed this all up. CNN messed this all up with their lying. This isn't a victory! I don't like this. Archembault with those shifty eyes…he's bought." On December fourth about ten thousand veterans filed into Standing Rock, putting a major strain on the camp and bringing with them a slew of media personnel. The media spun it all as a victory.
The other night at a Sacred Stone camp meeting, one Native man with a red bandana and wooden serpent cane stood up and warned us all of the two-forked tongue of David "Archembought". He lamented the many backdoor deals going on at Oceti Sakowin main camp.
"This isn't over," he said, as he lit a cigarette and staggered to his feet. One bad leg left him limping. "What we need to do…is to stop sitting here planning and talking. We need to take action. We need to get over there and occupy that damn drill pad." This was met with several supportive Ahos. It was also met with hesitation. Minutes later, after saying his peace, he stormed, limped out of the meeting.
No one expected the permits to be publicly denied. And no one at the camps believed the conflict to be over. It was easy to understand that while there. They'll stay as long as it takes. They're unconcerned for themselves as individuals, intensely focused on the community and its survival. This is their stand. Outside of those camps, though, it's not as easy to understand – and easier to forget that they're still there.
"It ain't over until they take down those lights and we can see the stars again…and I ain't talkin' Jane Fonda," said Superman as we entered the tent, smirking and showing his grill of tarred teeth. He was tall and wore thick glasses. Simultaneously sweet and harsh. Paradoxical, yet straightforward – that's what makes him a Renegade, I guess.
Superman had been there since August and seen hundreds of people come and go, so he wasn't overly friendly, at first. We got acquainted over a cigarette and cup of camp coffee, made on the wood burning stove. It was warmer then, on that first night. I had no idea I would come to loathe that stove. Wood was running low so Superman took Trash Man and I to supply to grab more, and also to raid the food tents. Superman always raided the food tents at night. People were pretty stressed during the days, trying to save as much as possible. Superman didn't see it that way. He didn't take much, but he was vegan and had particular tastes so he couldn't linger and search during the day the same way he could at night.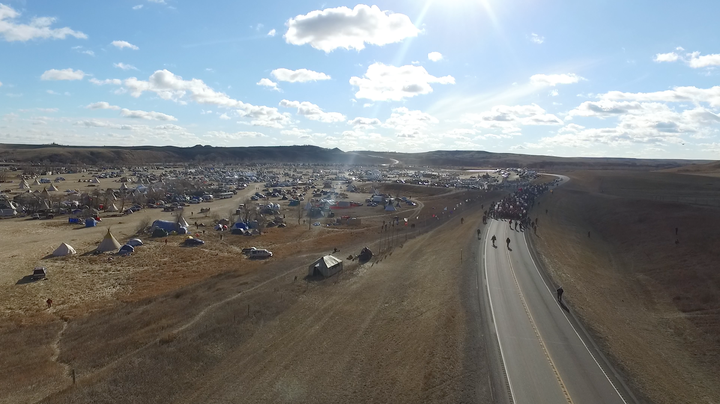 There were three huge tents and two shipping containers filled with donated food. It was all separated as best they could. Instant Snacks, Dried Goods, Cooking Supplies, Canned Food. Both shipping containers were filled with canned food. We spent most of our time there. Cans were stacked to the ceiling and one false move would have sent the whole thing tumbling down. Superman was after some vegetarian chili he'd found a couple days prior, but had failed to discover again. This trip would leave him chili-less, too, but he did take a whole sleeve of applesauce, some canned pineapples, and chickpea lentil soup. I didn't take anything. We'd brought a whole box of soup. In the coming days, I'd perform my own raids. A thief in the night. I giggled as we staggered back to the tent with food and a wheelbarrow full of fresh wood. I didn't understand any of it, yet.
As we sat in the tent, fueling the stove and smoking cigarettes, you could hear helicopters flying low overhead and strange sounds being projected onto our camp. It was all part of their psychological war games. They were working.
"What the hell is that? The ban's not over," said Superman. We were at the tail end of the FAA's second airspace ban at Standing Rock. It was their attempt to combat the many drones that monitored DAPL's drill pads and Morton County Police Department activity. They didn't like that groups like Renegade were watching them, and so they got the FAA to issue a ban.
"The ban expires at midnight. They've been flying choppers the whole time. We been flying, too, so whatever. Renegade," Superman said, leaning back in his chair. He would stand up randomly and pace around the tent, his Cyber Network Alliance HQ complete with double agents and spies. They were the watchdogs that lived out in tents in the middle of winter to stand guard. They were the guys who launched their drones despite airspace bans. They were on the front lines taking mace and tear gas to the face and filming it. They were the outlasters – or they liked to think they were. They were the renegades on this front line, and I was stuck with them in a tent.
I went to bed that night doubting whether I should have come. I thought it all might have been a mistake. As I laid down to go to sleep I remember physically shaking, not from the cold. I was anxious and nervous and hungry. I didn't understand any of it, yet.
In the middle of the night, I woke up. The fire was out, wind howling, chopper flying low overhead. The planes were equipped with Stingray technology, which forced any active phone to connect to it so that it could access and download its data. My phone was off. I rolled out of my sleeping bag, stepped on Superman's dog Napoleon, who yelped, and put two more logs in the stove. Superman was snoring, loudly. It was a terrible noise. Like he was choking. It took me an hour to fall back asleep, contemplating what the next day would bring.
"Wake up, sleepy heads," Superman said as he turned on the lights and put a dirty handful of coffee grinds into the coffee pot. He slid the pot over the stove fire until it boiled. The coffee was poured through a filter, which did very little filtering. You get used to the spare grains in each sip. The least of your worries.
"We got a lot of work to do today. Sugar I need you to get up in the air ASAP. Oak Tree's already been up, but his batteries are freezing. I need you to get up there. I need everyone else to get to the front lines. We need eyes on that barricade. We need to find out what's going down when the veterans get here. Let's go…we got a lot of work to do today," Superman yelled. It was gray outside and felt like four in the afternoon. Time sort of floats away out there. Temperature dictates everything.
Superman would give orders like that, but no one really followed them. Everyone worked at their own pace. It was a collective. Officially, no one was in charge.
Sugar Bush was the most skilled drone pilot in the group. The most ballsy, too. He would fly low, almost taunting Morton County PD. Every time he went up, they tried to shoot him down. He'd been nicked a couple times, but nothing serious. It was his footage that had garnered the most attention. That day, he and Oak Tree, once their batteries had thawed, would find a nice tree-covered location to launch. Within minutes a helicopter would circle overhead, keeping them stranded in the air until they could call in a backup drone to draw the helicopter away. If the protesters were paranoid about DAPL and Morton County PD, then that paranoia was reciprocated tenfold.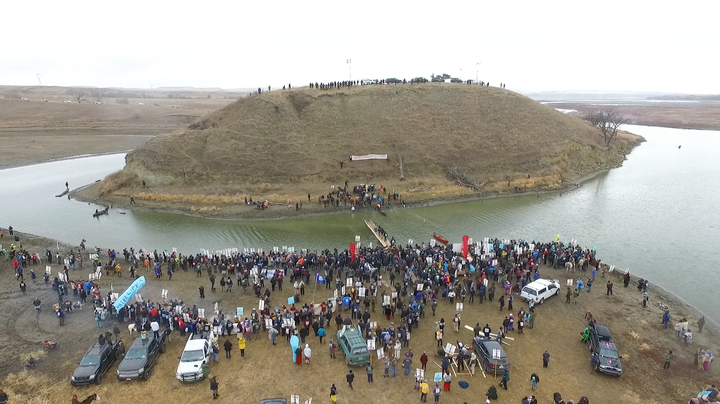 Morton County PD had begun releasing videos proclaiming their restraint and peacefulness throughout the many conflicts – the series was called Know the Truth. Renegade came up with the idea to cut together footage from the night of November 20, 2016, and put them side by side with the proclamations of the Morton County videos. They called it Know the Lies, and spent the whole night editing and arguing. Very little sleep was had. This wasn't a vacation.
The next morning, a blizzard arrived and we were shut up in the tent most of the day eating soup and discussing plans for the arrival of the veterans. I left the tent and wandered around camp meeting new people. For an hour or so, I got stuck sorting new donations. The woman in charge of donations and supply got angry when I asked for a new pair of gloves. Mine were made for Southern California cold, and my fingers burned like hell. Feet, too. I took the lashing and snuck over the to the glove tent when she wasn't looking. I understood where she was coming from – all this stuff had to last through the winter. I was also an outsider, a visitor with no intent on staying long term. She was a general in this battle, making difficult, unpopular decisions.
The majority of the camp was happy, and eager to help in whatever was needed. The community was pulling together to ensure they would all survive the winter. It would get dangerously cold, and so it required an entire community. Children, elders, dogs, fair-weathered visitors – everyone had a role to play.
The blizzard raged into the next day when the veterans arrived. The announcement from the Army Corps came about midday and all three camps at Standing Rock rejoiced. Fireworks and songs and reports of victory exploded from Standing Rock. Mainstream media outlets were finally paying attention, but they were reporting the wrong information – the conflict was over, they said. More than 10,000 veterans arrived simultaneously. Many of them would leave the next day, thinking their work done. The camps would experience divide like they hadn't before. With more weather on the way, to stay or go was the question.
At Renegade HQ, the question hit each of them in the chest. For most of the outfit, this was their home. They did't have any money or a warm apartment to go back to. This was it. They'd picked up and left everything to be there, and it had come to define them as individuals and as a group. This was their fight. And now it was being jeopardized, threatening Renegade's very existence.
I honestly didn't know what day it was, for time was unimportant set next to the weather. We had just found out that the woman in Ohio, who had tried to send drones to the camp, had been detained and reportedly charged with aiding and abetting terrorism. It seemed, in the eyes of the federal government, Renegade Media Collective was a terrorist organization. That's all I knew at that point. Helicopters and flood lights and the constant threat of infiltration looming heavily over the tent, our heads, snow trickling in.
"Excuse me!" yelled Sugar Bush, politely tossing his phone into the corner. "You can't just treat this like it's nothing." He and Superman were going at it, debating at how to proceed. Superman wanted to hit it harder than ever before. Sugar wanted to focus on security and provisions. They were the two polarizing charges of the group – each needing the other to maintain a balance.
"You want to talk about it? Okay, let's talk. No fear. That's what we talk about. No fear! That's been it from day one. I don't know what you think this is, but we aren't just going to sit back here while they spread lies and make people think that this shit is over. It's not over. Far from it."
"I don't think that it's over, but you parading around and talking on potentially compromised lines isn't helping anyone. Please understand that, man. It's essential to our survival. All I ask is that we operate over secure lines. This is serious and I would appreciate if it was treated as such. They are trying to charge this woman with terrorism. I know you don't care, but some of us do. Some of us want to be around to fight this and other battles in the future. Please have some foresight and vision. We need to be prepared for everything. We cannot underestimate our enemy, man."
"Man, come on with that shit. I don't appreciate the implication. I'm committed. I'm here. I'm not going anywhere. If you don't want to fight, then leave."
The temperature had dropped to zero, negative twenty with the wind chill, and it was only getting colder. Wood was now being dropped off at each tent separately. We got four whole logs that night. Enough to last us two hours, if that. The tent was breaking, and it was too cold to get outside to try fix it. I was scared. I was positive I was never leaving that camp. A new blizzard was on its way, and the car that had driven me in was now frozen. The starter was shot.
Snow floated from down from the hole in the top of the tent, which was covered in Mylar. There were blankets beneath the Mylar, but as I mentioned before, they were failing us.
As Sugar and Superman squabbled, the power went out and we sat there in the dark. We had a solar panel, but it didn't get much sun that day. We also had a generator, but we were out of gas. There was only one thing left to do and that was to fall asleep and hope tomorrow would bring something better. The fighting stopped and we tried to sleep. No one did it well.
We woke up early. It was snowing and winds were gusting upwards of forty miles an hour. Any exposed skin instantly burned. More than five minutes exposed and it froze. Trash Man and I bundled up and headed to the bridge. Supposedly there was a veterans' march. It was a whiteout, but people had gathered on the bridge. Medical vehicles were the most active, as protesters were falling left and right to hypothermia and delusion. You couldn't see more than five feet in front of you. The veterans linked arms while natives sang songs and prayed. It went unnoticed, though, due to whiteout weather.
Back at the tent things were worse than ever. No wood. Superman was dealing with an identity crisis. He said he was staying. The next minute, he said he was leaving. Sugar was in a similar state. He didn't know what to do. I had booked a flight out of there the day before, but didn't really plan on catching it. Just didn't think it feasible. I had been trying to find another place to lodge, but the camp had been stretched to its limits and there wasn't much room to wiggle. Superman had a teepee, and suggested often we move there, but he never left the side of the stove. He and his dog, Napoleon, were finally feeling the strains of the elements: his tooth had started to ache and his feet couldn't be warmed.
"You should wear wool socks, not cotton," Sugar Bush said. Despite their fight, he still cared for Superman and what they had created.
We had two choices as I saw it. Everyone hop in Sugar's car and head up the road to the casino or dig in and survive the night in the tent. Sugar had offered to drive me to the airport in his car, but I declined. He understood. His car was far too conspicuous. We'd be picked up and booked within minutes of leaving the reservation. I was stuck. Mentally, I had accepted that.
Just then, a veteran we had worked with earlier in the week fell into the tent. He declared he was going to Bismarck and had just dropped by to grab his guitar. His spirits were strangely high. I told him I needed a ride. The car was full.
"Come with me," he answered, seeing the desperation in my eyes.
The sun was setting. This would be my only chance to get out. I hugged each of the Renegades and told them I would see them soon. They hugged me back and watched me stumble out of the tent.
The veteran made a tiny crawl space in the back of a royal blue Honda Element. I had to leave most of my belongings with Renegade. As darkness set in, I left camp. I couldn't believe it, but it was too soon to relax. I still wasn't home free. I thought we'd be pulled over for sure – and then detained and questioned. In my head, I went over my story. I also thought of lawyers I could call. I didn't know many, but I could find one. I'd have to prove I wasn't a terrorist. We all would have to prove that, I thought.
As we rolled out of camp, I felt guilty for leaving them behind. In that weather there wasn't anything for me to do. I wasn't sure if Renegade would survive the night, either. As I was leaving, Trash Man said he would call me in the next day or so and provide me updates. My flight took off the next day on time. A small, unexpected break in the blizzard provided the window.
Back in Southern California, warm and sick, I got that call.
"Where are you?" asked Trash Man.
"Where are you?" I responded quickly.
He laughed. "I'm at the HQ…alone."
"Superman fled with Napoleon to a hotel to escape the cold. I don't know what hotel. He just vanished. He's been holed up in his room posting new edits to the Renegade Facebook page. He posted the audio of that woman from Ohio on there…people are pissed. Lawyers are calling. He took it down, though," Trash Man snickered. We all knew Superman was a loose cannon. When it came down to it, Superman was going to do what he wanted to do. "Renegade, though. He's adding a voice changing filter to the audio and is a click away from reposting. Sugar is trying to talk him down, but he won't listen."
"No. Not at all. The community here is pulling together tighter than ever. We just got the biggest donation we've ever had…wood stock is renewed. This community is strong and determined to last. Not going anywhere."
"Where's Sugar?" I asked.
"He had to get out. He left…back home. Got a flat tire on his way out, but he's safe and hasn't been picked up yet. Haven't talked to him in over a day, though. I think he'll be fine. He's going to continue to follow up with this Ohio woman, and he's working with the lawyers and a group called Revolution Truth. He'll be back. I think he needed a break to get his mind right."
"Sometimes it's good! The van still won't start. I've ordered two different starters and neither have been delivered. Morton County is still confiscating mail coming here. It's fucked. I'm just praying to God and the great Spirit that she starts tomorrow and I can get out of here. This tent is sad all alone."
"What if it doesn't start?"
"Then I'm staying! But more importantly, I had a vision…for the future of Renegade. I was invited to a sweat lodge with a group of Natives and earth muffins. We stripped down naked in a mud hut."
"Yeah. And then an elder brought in a pile of red hot stones that he'd been cooking for hours. He threw water on the stones that sent off the most intense, burning steam I've ever felt in my life. Felt like third degree burns all over my body. The elder started to sing and I went into a trance. I saw the future of Renegade. It wasn't just us, though. It was this global organization operating from all over the world. A collective Renegade. It was beautiful."
"Then, when it was over, I ran outside in the blizzard to put my clothes back on…might have gotten frostbite, but it was worth it."
"What's that called? That ceremony?"
"Inipi. It's called an Inipi. It was great."
"So right now, though, Renegade is splitting up?"
"Yes, but it's still alive. It's still operating, just splitting up into different factions. It's probably better to lay low this way right now, too. We have plans to reunite after the holidays. We want to invest in a mobile HQ…like an RV or something. We'll call it the Loose Cannon."
"That's good," I said. "Any new intel regarding the pipeline?"
"Word is that they are flooding the whole damn place. Reservoir up the river is going to be opened, flooding main camp and potentially DAPL site. Goal is to make it impossible to drill under a deeper river."
"Wait, who is doing the flooding?"
"The Army Corps, apparently. In the next two weeks it's supposedly to go down. Not sure if it's actually Army Corps or that's code or something, but they're saying action is going to be taken one way or another."
The river has yet to be flooded, but Renegade Media Collective has assured me that they're going back to Standing Rock.
To see more of Renegade's frontline footage visit their Facebook page.
Popular in the Community