As American kids, we were raised on the culture-defining parable of The Little Engine that Could... an early industrial age tale of a little blue steam engine that through positive thinking ("I think I can") and sheer determination overcame the greatest of obstacles.
I have often thought that the steep uphill climb faced by advocates of renewable energy was like the "little blue engine" of the post-industrial age. Is it possible to power that steam engine of economic growth with renewables like wind and solar instead of coal and oil?
I was first faced with this question as the director of Greenpeace's international Atmosphere and Energy program in 1991, and at the time it seemed like a near impossible proposition. Climate change was emerging as a challenge unlike any we had faced before, and the solution was going to require a phase-out of fossil fuels. Many of our friends in the labor unions relied on the fossil-fuel industry for jobs, so would it ever be possible to gain sufficient public traction to steer our economy in the renewable direction?
I believed that campaigning against dirty energy would only take us half the distance... we needed to be in favor of something. As a result, Greenpeace embarked on a two-year process to develop a Global Energy Scenario in cooperation with the Stockholm Environment Institute. The study was published in 1993, and showed how the world could transition out of fossil fuels (and nuclear power) by 2100.
Indeed it has been a steep climb. Renewable energy as a cause had less charisma than a bleeding harp seal, and it faced a well-organized opposition with nearly unlimited funding courtesy of some of the world's most powerful energy companies. But the little engine that could started gaining momentum.
In the past few years, subsequent studies have shown that a nearly 100% renewable energy economy would be possible in a far closer time horizon -- 2050 (WWF), 2050 (Greenpeace), even 2030 (according to a new study in Energy Policy). The "I think I cans" are getting more confident, thanks in large part to the revelation that renewable industries like wind and solar can actually put unemployed union workers back on the job.
According to REN21, the leading global policy network on renewable energy:
2009 was unprecedented in the history of renewable energy, despite the headwinds posed by the global financial crisis, lower oil prices, and slow progress with climate policy. Indeed, as other economic sectors declined around the world, existing renewable capacity continued to grow at rates close to those in previous years, including grid-connected solar PV (53%), wind power (32%), solar hot water/heating (21%), geothermal power (4%), and hydropower (3%).
Some have the impression that renewables are only for the wealthiest of nations, but look at how wind is sweeping the developing world. In 2010, for the first time, investments in new wind power capacity by developing countries and emerging economies outstripped those of the developed nations. While China was largely responsible for tipping the balance, it is by no means alone. India's Suzlon is now a global leader, stemming from a country where there are no less than 17 companies manufacturing wind power equipment.
Renewables are here. The little blue engine is getting faster and faster, and people from all walks of life are seeing renewable energy as a source not only of clean and healthy energy, but also clean and healthy jobs. So what now stands in our way?
The events of the past few days in Wisconsin should give us a hint. This weekend, nearly 70,000 people -- Democrats, Republicans, union workers, entrepreneurs, grandmas and college kids -- descended upon the Wisconsin capitol to stop the assault on organized labor by Tea Party Governor Scott Walker.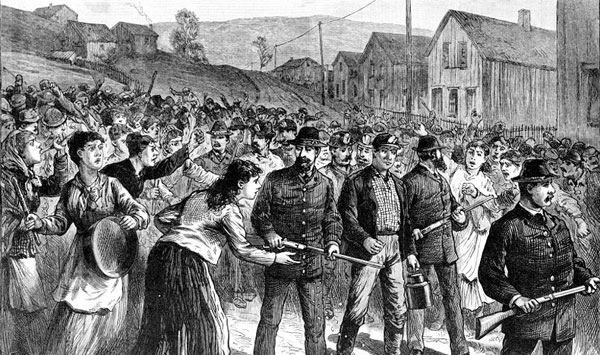 Union busting in Ohio, 1884
After giving away a healthy state surplus of $137 million to special interests, Walker is using the threat of bankruptcy to put an end to the unions along with the state's burgeoning clean energy sector. To quote the Milwaukee Examiner:
Wisconsin imports all its coal and oil, yet has the potential to produce all its energy using renewable resources. Scott Walker continues to chase away cleaner energy options. Firmly entrenched in the paradigms of fossil-fuel based automotive transportation, he single-handedly killed high-speed rail between Milwaukee and Madison. Now Walker is setting his sights on killing wind-energy and his proposed legislation would require wind turbines to be constructed with an (impossible) 1,800-foot setback from neighboring property lines.
While Walker's actions sound an awful lot like the union busting of the first industrial revolution, this time there's a difference. He doesn't just want to to destroy the unions. He also wants to take down the renewable energy industry that will provide those unions with a wave of new employment opportunities in the decades to come.
It's clear that the little renewable engine could make it up that hill if left to its own resources. But can it do so with a monster Tea Party train, loaded up with coal, breathing down its neck? That is another question.
Leave your thoughts about the Tea Party, Wisconsin unions and the struggle for clean, renewable energy below.
Calling all HuffPost superfans!
Sign up for membership to become a founding member and help shape HuffPost's next chapter