This article is part of HuffPost's "Reclaim" campaign, an ongoing project spotlighting the world's waste crisis and how we can begin to solve it.
The Renewal Workshop is one of these. It takes shirts, jackets and other items damaged during manufacturing, then repairs and resells them for 30 to 50 percent off the original price, co-founder Nicole Bassett told The Huffington Post. Its goal is to prevent imperfect items, which traditional retailers can't sell in stores, from being tossed in the trash.
The Renewal Workshop is currently raising funds on Indiegogo and will begin selling these so-called "renewed" garments on its website in late October.
The Renewal Workshop is attempting to combat waste in the textile industry by "closing the loop," or trying to ensure new clothes are made from recycled or used garments.
Some major companies are already engaged in similar efforts. Fast-fashion giant H&M and outdoorsy brand The North Face, for instance, have in-store collection programs, which let customers bring in previously purchased clothes to be recycled or repurposed.
These efforts don't always pan out. Puma launched a line of products in 2013 made entirely of biodegradable and recyclable materials, but had to stop it last year due to a lack of demand, The Guardian reported.
The Renewal Workshop's effort at "closing the loop" is central to its business. It creates every single one of its products out of existing garments.
Apparel partners provide damaged items at no cost to The Renewal Workshop, and pay a partnership fee. When a customer buys a repaired garment, the partner business that provided it gets a portion of the sales, and the customer receives an item with the original company's brand label and a Renewal Workshop label on it, Bassett explained.
There are a few different options for what happens when garments are sent out to a recycler: Fabrics can be turned into new yarn to create other products, or can be shredded into fibers to be used as stuffing; some items may even be turned into new products like jackets or tote bags, according to Bassett.
And because the average person doesn't necessarily have the time or the know-how to recycle their clothes after they're done with them, The Renewal Workshop is stepping up to help. It will have a "Give Back" program, Bassett told HuffPost, encouraging customers to return their used Renewal Workshop clothes to be re-renewed or recycled.
It remains to be seen if customers will go through the trouble of sending back items, as the company doesn't plan on paying for shipping yet.
Related
Before You Go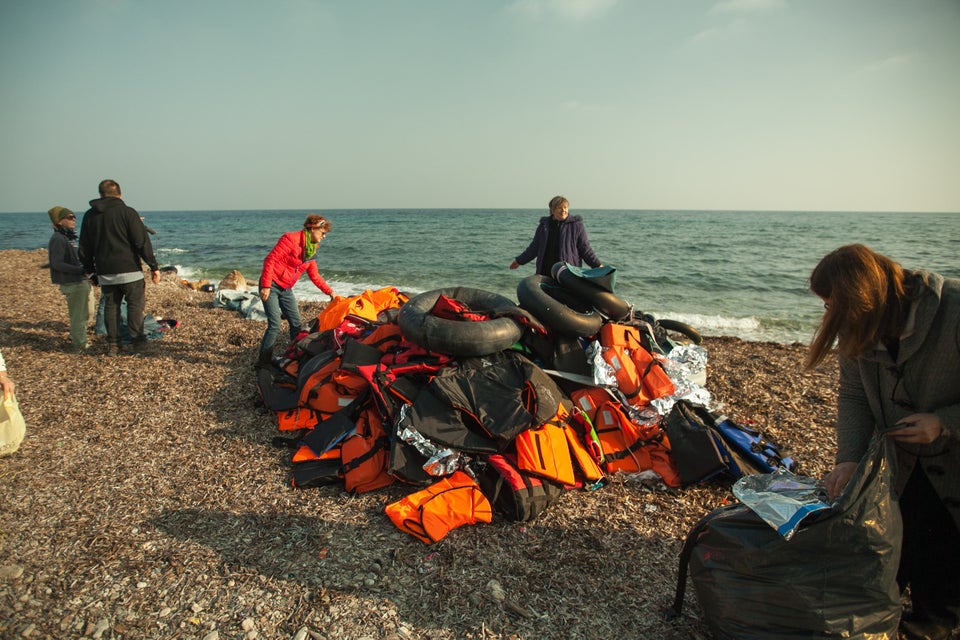 Bringing Clean Clothes To Refugees