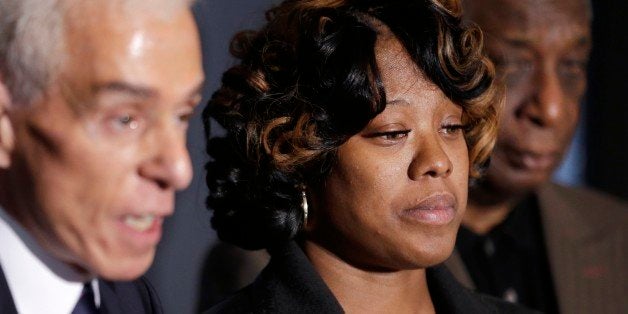 Renisha McBride should be alive today. As an African American woman, McBride's death deeply affected me. Nineteen-year-old McBride was shot and killed while seeking help on the porch of Theodore Wafer, a 55 year old white man, in a Detroit suburb, following her car accident in the pre-dawn morning hours of November 2, 2013. McBride's loud knocks on Wafer's door were answered by him with a single 12 gauge shotgun bullet to her face. He then called 911. On August 7, 2014, Wafer was convicted for the murder of Renisha McBride and later received a sentence of 17 to 32 years.
I remember Renisha McBride as she was black, a woman and human. She did not deserve to die for banging on a door for assistance from what should have been a Good Samaritan. Her story reminds me of the phrase that "there but for the grace of God go I." I am Renisha McBride. I now realize, at any time, I could meet her fate, simply for seeking help from any one of my white neighbors, under similar circumstances. Many African Americans understand the plight of black men when it comes to racial stereotypical profiling and meeting a tragic and undeserved violent death. McBride's death sadly reminds us that same fate is available for black women.
While the case of Renisha McBride captivated me, many media outlets gave it scant coverage. And some outlets that did cover her case treated her with anonymity, often referring to Wafer as the "porch shooter" without naming McBride. Ms. McBride was not a porch- an inanimate object. Wafer did not shoot the porch. He shot and killed a vibrant young black woman. When the jury delivered the verdict on August 7, 2014, the Associated Press initially tweeted that "Suburban Detroit homeowner convicted of second degree murder for killing woman who showed up drunk on porch." The AP's tweet makes Wafer seem respectable as a "Suburban Detroit homeowner" and demeans and blames McBride for being a drunk on his porch. Renisha McBride deserved better. And Black Twitter quickly responded with thehashtag #APheadlines --causing the AP to reword and change its wording of McBride from drunk to reflect that she was unarmed.
We must use our collective efforts to break down and eliminate black stereotypes in the media. Those stereotypes of super human strength and size, up to no good, victim shaming and blaming devalue the lives of blacks in the media. We must call out the media whenever it fails to recognize black women as human. As a society, we are losing our moral compass when a stranger -- a young black woman needing help, cannot expect to receive a 911 call from another stranger, a white man.
While the prosecution and defense said the case was not about race, as a former prosecutor, I beg to differ. Wafer heard loud banging and saw a shadowy black person on his porch in that fateful early pre-dawn hour. He also potentially saw all the stereotypical associations of blacks -- up to no good, stronger than King Kong, violent and countless other derogatory stereotypes used to describe blacks. And Wafer likely acted upon those stereotypes. Wafer's actions are representative of a continuing and growing pattern and practice of stereotypical racial profiling leading to blacks being killed. By breaking down black stereotypes in the media, some black lives might be saved.
We cannot bring back Renisha McBride. We must bring light and life to her story so by telling and re-telling the story another Renisha McBride might survive. McBride, a cheer leader in high school, graduated from Southfield High School a little more than a year before her untimely death. She loved having fun with her family, parents, sister and friends. Renisha McBride was black, a woman and human. She deserved to be alive today. Her life and black women's lives matter.
This post is part of the "28 Black Lives That Matter" series produced by The Huffington Post for Black History Month. Each day in February, this series will shine a spotlight on one African-American individual who made headlines in 2014 -- mostly in circumstances we all wished had not taken place. This series will pay tribute to these individuals and address the underlying circumstances that led to their unfortunate outcomes. To follow the conversation on Twitter, view #28BlackLives -- and to see all the posts as part of our Black History Month coverage, read here.