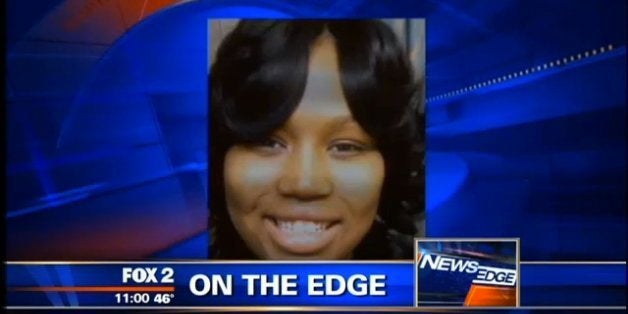 The night 19-year-old Renisha McBride was shot to death on a homeowner's porch last month, she was just trying to get home, according to court testimony.
A preliminary hearing in the 20th District Court of Dearborn Heights, Mich. was held Wednesday to determine if there is enough evidence to take the accused shooter and homeowner, Theodore Paul Wafer, to trial. He has been charged with second-degree murder, manslaughter and a felony gun charge in McBride's death. The prosecution has alleged that he shot McBride in the face with a shotgun, through his screen door at a distance of less than three feet.
Several hours before she was shot, McBride crashed the car she was driving into a parked vehicle, located in Detroit about half a mile from Wafer's home. Carmen Beasley was indoors when she heard a "boom" around 1 a.m., she testified, and immediately called 911. McBride had hit Beasley's husband's Dodge Charger and left her own car at their home on Bramell Street; Beasley saw her walking away, looking like she was hurt and holding her head in hands. She demonstrated for the court after prompting: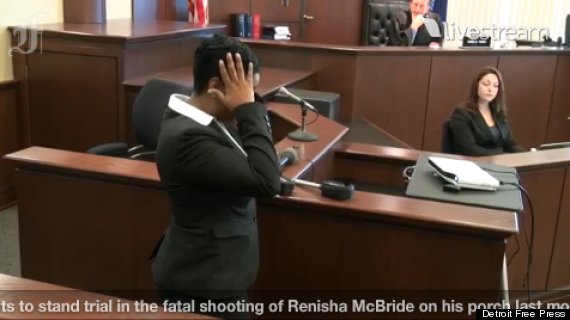 Image via Detroit Free Press video.
"I asked her if she was okay, and she said yes," Beasley said. "She got in the car and she tried to, you know, start the ignition up, and I explained to her, I said, 'Honey, your car is damaged, you're not going to be able to start the car.'"
Beasley tried to help McBride call a family member, but she couldn't find her phone or give a phone number to call.
"She just kept saying she wanted to go home," Beasley said. "I was just concerned abut her well-being."
Beasley told McBride to sit in the car while she went back inside her home to call 911 again. She said McBride had bleeding hands, was drunk and didn't seem to know where she was.
An autopsy found that she had a blood-alcohol level more than double the legal limit, and there were traces of marijuana in her system.
While Beasley was inside, McBride wandered away again. Less than four hours later, she was dead.
Detroit Police Department spokesman Sgt. Michael Woody told The Huffington Post the first call about the accident came at about 12:57 a.m. It was determined to be a low priority because McBride had fled. After the next call at 1:23 a.m., when she had returned, a dispatcher ordered EMS units, Woody said. A unit arrived at the scene at 1:40 a.m., but McBride did not return.
Testimony stretched throughout the day Wednesday, including from another bystander from the accident, who thought McBride looked like she was "in shock," before court adjourned with plans to continue the hearing the following day. Witnesses included the 911 dispatcher who took Wafer's call, a Dearborn Heights detective, the medical examiner who performed McBride's autopsy, an expert in firearms who works for the Michigan State Police, another firearms expert and crime scene reconstructionist retained by the defense.
But so far, little has been illuminated about McBride's whereabouts after she left the accident scene and before she was found lying on Wafer's porch.
If the case goes to trial, Wafer faces a maximum possible sentence of life in prison for the second-degree murder charge and 15 years for manslaughter, as well as an additional two years for the felony gun charge.
REAL LIFE. REAL NEWS. REAL VOICES.
Help us tell more of the stories that matter from voices that too often remain unheard.
BEFORE YOU GO
PHOTO GALLERY
Renisha McBride Case