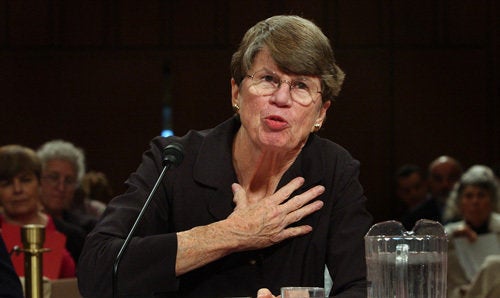 Former Attorney General Janet Reno said on Wednesday that her one-time deputy, Eric Holder, was "indubitably" qualified to assume the AG role in an Obama administration, had the right temperament and jurisprudence for the post, and should not be faulted for his role in the pardoning of Marc Rich.
"It was done in haste, and haste is not conducive to good processes," Reno said of the controversial pardon of the so-called "fugitive financier," which Holder shepherded during the last days of the Clinton administration. The Republican National Committee and other GOP officials have criticized Holder for his role in the episode, saying he suspended legal standards in order to help facilitate a political favor.
Reached by phone, Reno said she had been contacted by Obama transition officials prior to news breaking that Holder was likely to receive the AG promotion, and helped research for them the current Washington lawyer's record.
She did not downplay the enormity of the task Holder would face him upon entering office, noting that Justice was likely to play an important legal role in a wide range of topics, from warrentless wiretapping to the Supreme Court to the economic bailout package currently being distributed by government.
"He will have to deal with how Justice participates in the bailout," she said. "Not just in the sense of enough money now, but how it uses it in a creative way to distribute primarily research money to state and local governments and others, in a comprehensive effort, which I always supported, but which Eric has a golden opportunity to pursue."
Reno also noted that Holder's role would ultimately be impacted by the current inspector general report into the actions of Alberto Gonzales, who was accused politicizing the department and forcing cases designed to benefit Republicans.
"Ultimately, I don't think, until that report is cleared up, we will see Eric function in a way that he would like," she said.
Pressed on several occasions to predict whether Holder would push investigations into actions of the Bush administration, Reno said she expected her one-time colleague to show prudence in the cases he pursues.
"I don't know what is on the table," she said. "It would depend on the inspector general and what they can bring to the table. Eric is not going to take a little bit of something and run with it as a great sensational story. He is going to weigh all the information, take an informed decision and go with that."
Popular in the Community