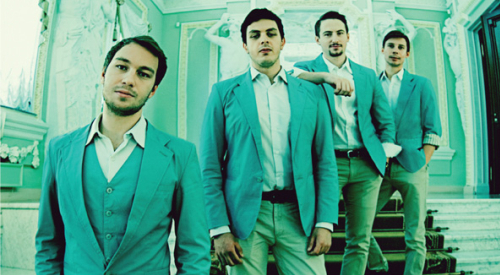 Of all of the places you'd think, Russia really isn't on the top of the list of where one of the most exciting modern funk bands would be from. That's where The Soul Surfers call home. Natives of Niznhny Novgorod in Russia, The Soul Surfers come from a place where our media describes as a cold place in many ways, but this talented 4-piece band breaks all social constructs and truly shows that music has a loving connection that reaches worldwide.
The Soul Surfers, led by Igor Zhukovsky, have released a slew of 7" singles on Detroit's own Funk Night Records, along with recent releases on the acclaimed Ubiquity Records. The band is currently working on their forthcoming debut full-length album, and Zhukovsky says the following about it: "We had a chance to collaborate and make this international album with so many cool guests from the best groups in the game all over the world. And there is no barriers with people worldwide -- everybody can do what they love together, don't believe the shitty words of politicians!"
With a widespread resurgence of Funk music hitting all corners of the Earth with new styles and nuances that honor its roots while giving it a new modern twist, The Soul Surfers are on the upper echelon of this fringe of bands. The Soul Surfers are currently in the states with their first ever tour of the U.S.A. having already played in St. Louis and Chicago, and will hit Detroit on Friday, June 26th at the Leland City Club, so don't miss this rare engagement.