Elizabeth Catlett: Wake Up in Glory : Burning in Water, New York City.
28 November, 2017 – 3 February, 2018
317 10th Avenue, New York, NY 10001 info@burninginwater.net     (646) 918-7696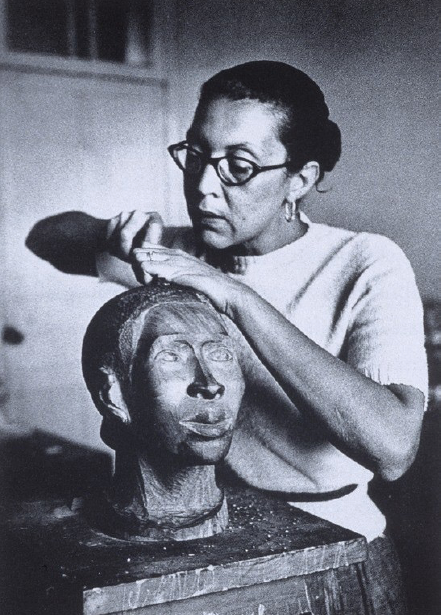 Earlier this summer, during private cocktails hosted by Zwirner at the Four Seasons in Seattle (it was Seattle Art Fair weekend), I had the privilege to meet with San Francisco-based private art dealer, Anna Hygelund. Hygelund told me she was working on a project in New York exhibiting works by prominent African-American artist and sculptor Elizabeth Catlett, known for her depictions of the African-American experience in the 20th century. Of late, I have been doing my own films on black artists in Los Angeles (BAILA). In a film I did on Samella Lewis, Lewis mentions her time as a student under the mentorship of Catlett. I made sure Hygelund followed up with me when the show went live. So here we are. Im attaching images from the current exhibition and my film on Samella Lewis as part of my Take 1 Art Series and BAILA Films. You can view the film here:
I asked Anna Hygelund a few questions about the exhibition :
What is your role with the show? What inspired it? I try to avoid the word ''curate'' so let's say I helped organize the show along with the owner of Burning in Water - Dr. Barry Malin. It sounds a bit trite, but the show truly was inspired through a deep admiration for the artist between myself and Barry. Initially we had discussed including a sculpture we had acquired earlier this year in a group show, but we soon concluded that a stand alone exhibition would be more rewarding, especially since it had​ been several years since a proper survey of her work had been organized​. As we went on to consider her practice within the current political climate, it felt like a timely moment to show the work of an artist whose practice and life was exemplary in the fight against injustice and oppression. ​​Two ​institutional shows this year -Soul of a Nation ​: Art in the Age of Black Power​ at Tate Modern and We Wanted a Revolution: Black Radical Women, 1965-85 at Brooklyn Museum -​ as well as the gallery show Power -​ curated by Todd Levin at Spruth Magers -​ were also sources of inspiration, all of which included at least one work by Catlett!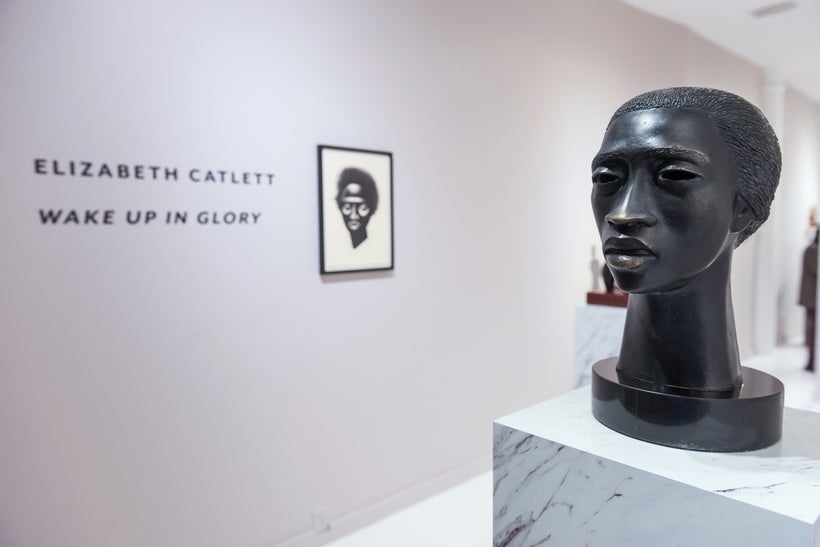 How does the work inspire you personally? The caliber and range of her talent both technically and emotionally inspires deep reverence in me. Whether she was working in bronze, wood, onyx, marble, or terracotta she was a masterful technician, and yet equally successful in her conceptual constructs. The woman could sculpt! Catlett is also an inspiration to me in that she was a trailblazing badass to many people from African-Americans, to Latinos, to women, to artists!​ I encourage everyone to read our press release because it nicely summarizes her incredible biography​.​ Not everyone can enter the art historical canon and get blacklisted by the US government at the same time. Her practice also inspires me in​ that for seven decades, Catlett never stopped making beautiful, experimental, passionate​ work. ​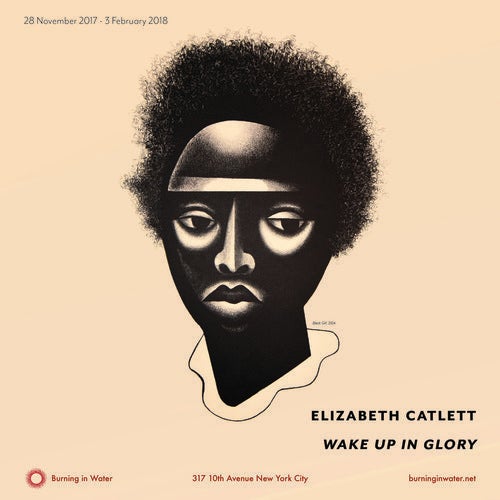 What will Catlett's legacy ​be ​as an artist? "Elizabeth Catlett's art," art historian Melanie Anne Herzog wrote, "cries out in protest, proclaims solidarity, celebrates survival." Though she wielded a bold indictment of injustice, Catlett portrayed her subjects (almost always African American women) as heros rather than victims. For Catlett, there was no distinction between her convictions and her artwork. She drew from European Modernism, Pre-Columbian and African art to forge a style that was both uncompromising and broadly accessible. Catlett imbued her subjects with a sense of implacable feminine strength, agency and resilience. From a contemporary vantage point, her work has lost none of its urgency. Among American artists of the 20th century, Elizabeth Catlett stands today as one of the most profoundly relevant.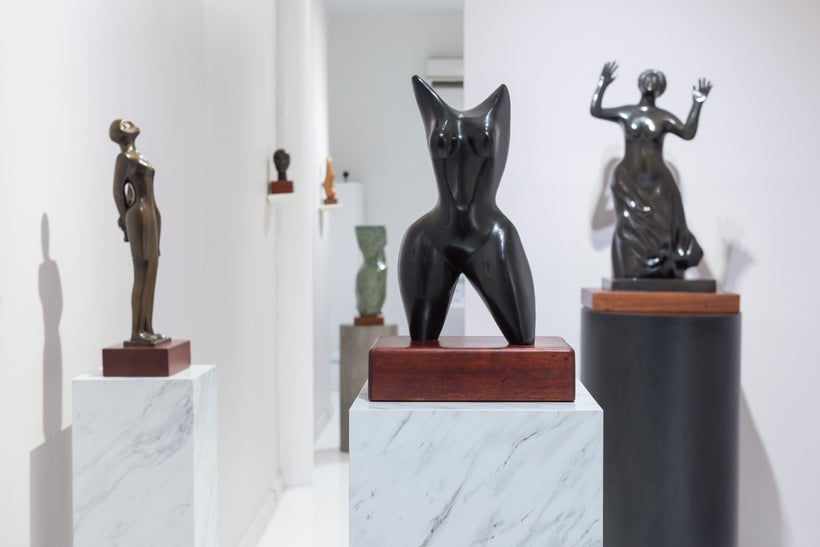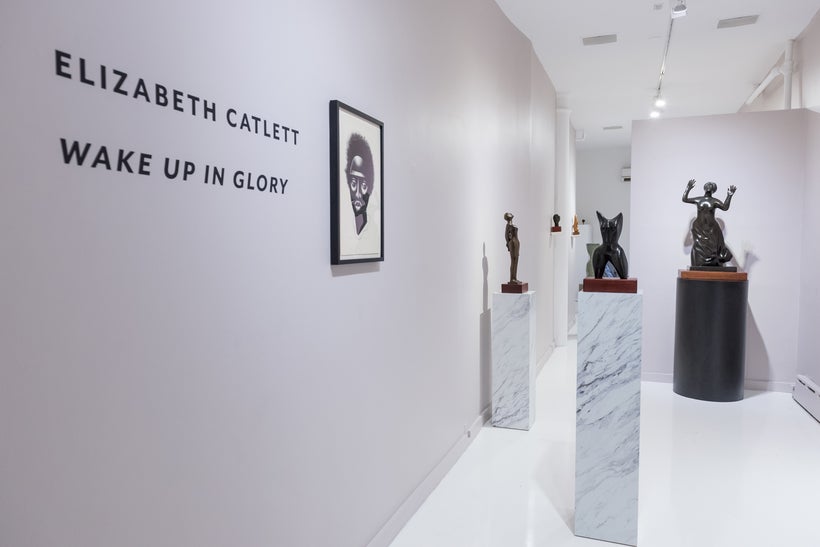 Elizabeth Catlett's art cries out in protest, proclaims solidarity, celebrates survival.1
Catlett's mobilizations of desire become more than assertion, belief, need and hope. They become will. In her sculpture, Catlett wagers that desire activated by and embodied in a language of organic form can be an engine of history.2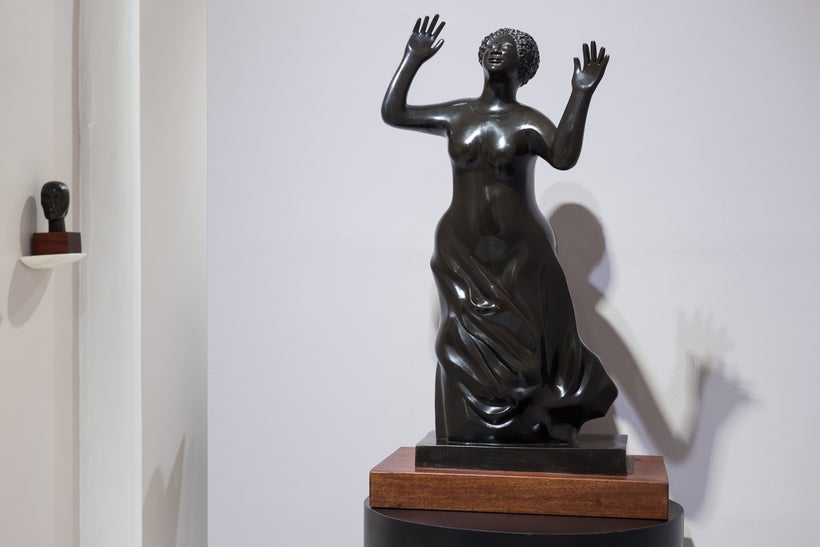 Burning in Water - New York is pleased to present Elizabeth Catlett: Wake Up in Glory. The exhibition will focus on the evolution of Catlett's sculpture, featuring a diverse group of works drawn from across the sevendecade span of the artist's career, including work in bronze, wood and marble. The show begins with Catlett's stately Negro Woman bust. The most recent works in the show were created shortly before the artist's death in 2012 at the age of 96.
Born in Washington, DC in 1915, Elizabeth Catlett forged a singular artistic career as a sculptor and printmaker. During the course of her long life, Catlett was profoundly influenced by a broad array of artistic genres and traditions, including the Harlem Renaissance, European Modernism, African art, American Regionalism, the Chicago Renaissance, Pre-Columbian art, Mexican Muralism and Post-Revolution Populism and the Black Arts Movement.
Rather than simply emulating or reacting to these diverse influences, Catlett synthesized disparate visual idioms to develop a highly-individual style. Catlett's work was also profoundly shaped by a lifelong engagement with social and political concerns. While avoiding overt didacticism, Catlett developed a remarkable facility in using pared-down forms to convey powerful messages regarding the topics that mattered to her most: freedom, race and ethnicity, feminism and maternalism. Ultimately, Catlett rejected any distinction between the aesthetic and sociopolitical elements of her work. "I believe that art should come from the people and be for the people," she commented in 1952. "I believe that art is important to the extent that it grows out of and affects the society of its time."3
Catlett studied at Howard University in the 1930s - a period when the art department was suffused with a highly-charged atmosphere of "cross-cultural modernism."4 At Howard, Catlett absorbed elements of both traditional African art and European modernism that served as touchstones throughout her later career. At the University of Iowa, Catlett was mentored by the painter Grant Wood. In accordance with his regionalist ethos, Wood exhorted Catlett to focus her art on "what she knew." Catlett adopted this principle even as she transformed it; rather than a geographic focus, Catlett grounded her art in the terrain of her own experiences as a woman and an African American. Working with the Russian modernist sculptor Opal Zadkine, Catlett further elaborated her characteristic approach: an on-going engagement with formal experimentation within the context of an enduring focus on African American womanhood.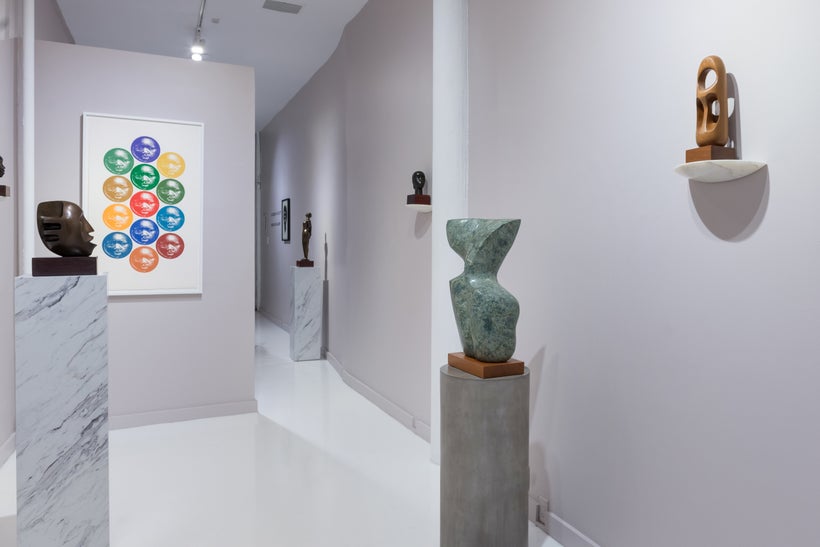 Alice Elizabeth Catlett (1915-2012) was born in Washington, DC. She studied at Howard University, principally under the direction of James Porter. After graduation, she served as a public school art teacher in Durham, NC, where she also worked with Thurgood Marshall on a campaign against racial disparities in teacher salaries. Catlett subsequently studied art at the University of Iowa under the mentorship of the painter Grant Wood and became the first student ever to receive an MFA. Her thesis project sculpture, Mother and Child, was awarded first prize at the 1941 American Negro Exposition in Chicago. After a period in New York when she studied under the Russian sculptor Ossip Zadkine and taught at the radically progressive George Washington Carver School in Harlem, Catlett moved to Mexico in 1941. She joined the Taller de Gráfica Popular artist collective in Mexico City. She also studied sculpture at the Esmeralda Escuela de Pintura y Escultura with ceramicist Francisco Zuñiga and wood sculptor José L. Ruíz. In 1959, Catlett became head of the department of sculpture at the Universidad Nacional Autónoma de Mexico and subsequently chair of the art department. The city of New Orleans commissioned Catlett to create a ten-foot sculpture of Louis Armstrong for the city's Bicentennial celebration in 1975. Solo exhibitions of Catlett's work have been mounted at the The Modern Art Museum, Mexico City (1970), The Atlanta Center for Black Art (1972), The Howard University Gallery of Art (1972)The Studio Museum in Harlem (1972, 1994), Southern University (1974), Scripps College (1975), the Malcolm Brown Gallery (1981), the New Orleans Museum of Art (1983), the African American Museum of Dallas (1984), Spelman College (1985), the Museo Diego Rivera in Guanajuato, Mexico (1987), the Neuberger Museum of Art (1998) and the Bronx Museum (2011). Elizabeth Catlett's work is in the permanent collections of numerous museums and institutions, including the Museum of Modern Art, the Metropolitan Museum of Art, the Library of Congress, Carnegie Mellon University, the University of Iowa, the Schomburg Center for Research in Black Culture and the Palacio de Bellas Artes in Mexico.
Burning in Water is a New York gallery and project space featuring an innovative curatorial program that highlights the work of living artists with reference to broader issues confronting society. Founded in 2015 by Barry Thomas Malin, the gallery frequently collaborates with nonprofit and community-based organizations in presenting its projects.
1. Herzog, Melanie Anne, Elizabeth Catlett: An American Artist in Mexico, University of Washington Press, 2000.
2. Brenson, Michael, "Elizabeth Catlett's Sculptural Aesthetics," in Elizabeth Catlett Sculpture: A 50 Year Retrospective, University of Washington Press, 1988.
3. As quoted in Elizabeth Catlett: Prints and Sculptures, The Studio Museum of Harlem, 1972.
4. Morrison, Keith, Art in Washington and Its Afro-American Presence: 1940 - 1970, Washington Project for the Arts, 1985.
5. Brenson, Michael, "Elizabeth Catlett's Sculptural Aesthetics," in Elizabeth Catlett Sculpture: A 50 Year Retrospective, University of Washington Press, 1998.
6. Stokes Sims, Lowery, "Elizabeth Catlett," in Elizabeth Catlett Sculpture: A 50 Year Retrospective, University of Washington Press, 1998.
7. Brenson, Michael, "Elizabeth Catlett's Sculptural Aesthetics," in Elizabeth Catlett Sculpture: A 50 Year Retrospective, University of Washington Press, 1998.
This article is part of an ongoing photojournalism survey of art exhibition openings titled EMS N(art)rative. Through my lens I document a photographic essay or visual "N(art)rative" that captures the happenings, personalities, collectors, gallerists, artists and the art itself; all elements that form the richly varied and textured fabric of the SoCal art world. This reconnaissance offers a unique view for serious art world players to obtain news and information on the current pulse of what's in the now, yet capturing timeless indelible images for posterity and legacy. Here is EMS N(art)rative Sixty-three.
EMS can be reached at victorpond@msn.com and Instagram @ericminhswenson
REAL LIFE. REAL NEWS. REAL VOICES.
Help us tell more of the stories that matter from voices that too often remain unheard.
This post was published on the now-closed HuffPost Contributor platform. Contributors control their own work and posted freely to our site. If you need to flag this entry as abusive,
send us an email
.