A friend recently shared an article with us about a fully renovated 15th-century chateau that sits on 180 acres in the French countryside. With eight bedrooms and five bathrooms, it's elegantly furnished and features multiple, large fireplaces, medieval-themed kitchens, and a knight's armor at the entry door.
You can rent it for $2,800 a month.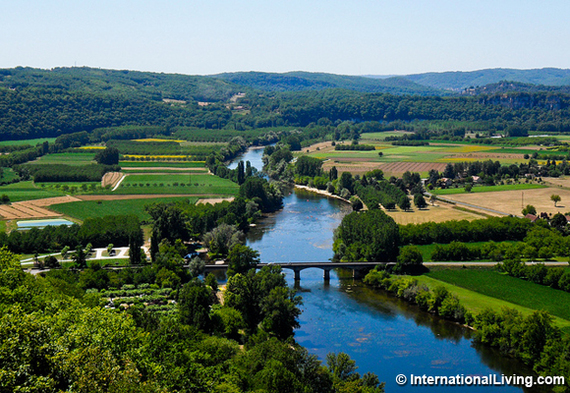 The Dordogne River running through the Aquitaine region of France
In the Aquitaine region of France, you can rent a stunning seven-bedroom castle -- also stylishly furnished -- on more than 200 acres and with a sparkling private swimming pool, for $2,925 a month.
Contrast that with a cozy two-bedroom, one-bath apartment in New York's Upper East Side ... with what could best be described (and kindly, at that) as an "efficiency kitchen" for $2,995 a month. And that's with zero furnishings. Not even window coverings.
If you'd like something furnished, you could, of course, opt for a 400-square-foot studio apartment in San Francisco's Lower Haight area. It rents for $3,000 a month. (If you want to entertain, you can stow the Murphy bed away and you'd have comfortable seating for maybe five people...)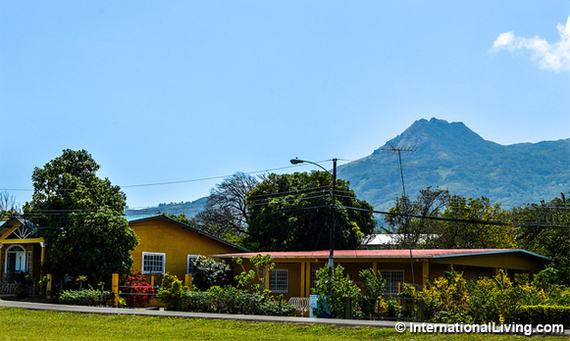 Suburban home in Santa Fe, Panama
The article offers several similar examples. And it begs the question: How can this be? How can it be less expensive to rent an historical, classically furnished eight-bedroom chateau or a seven-bedroom castle in France than a barebones efficiency apartment in New York or San Francisco?
With prices like these, is it any wonder retirees are saying "Goodbye" to the U.S. and "Bonjour" to very affordable and upscale bargains in exotic locations like France, Italy, Spain, and beyond?
To be fair, not many retirees want to fork over $2,800 a month for rent anywhere in the world ... and the good news is that you don't have to.
In fact, if you have $2,800 a month, you can live like royalty ... like the owner of the castle ... in many places around the world. That amount can cover all your expenses ... rent, food, utilities, healthcare, transportation, dining out now and then, entertainment, your gym membership, your salon treatments, even household help. And you'll likely have something left over.
Just this week, we've seen fully furnished two-bedroom apartments advertised for rent in Mexico's Lake Chapala area for just $600 a month. In picturesque seaside Campeche on Mexico's Yucatan Peninsula, you can rent a small local house for as little as $400 a month. Comfortable modern homes, with two or three bedrooms, rent unfurnished for $500 and up.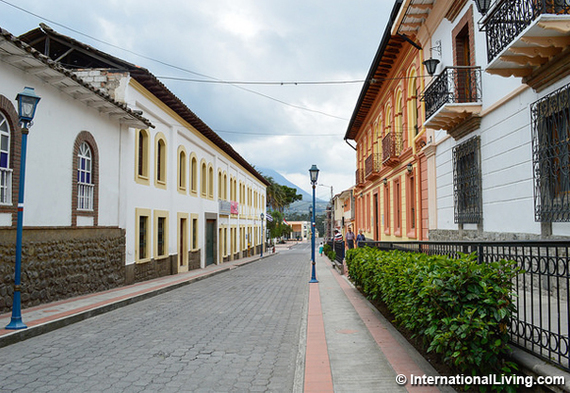 Colonial buildings and homes in Cotacachi, Ecuador
In our little town of Cotacachi in northern Ecuador, modern fully-furnished two-bedroom apartments can be rented for $350 to $400 a month. Outside of town via a small hike, a lovely furnished adobe-style home with a vaulted ceiling, fireplace, and a stunning mountain view can be had for $250 a month.
In Cuenca -- Ecuador's third-largest city -- as well as in the capital city of Quito (both progressive, sophisticated cities) you'll also find reasonable rentals. A 1,000-square-foot, two-bedroom apartment in central Cuenca is listed right now for $350 a month.
A gorgeously furnished apartment in Quito's scenic Guapalo neighborhood is renting for just $480 a month -- and that includes all your utilities ... even cable TV. A brand-new, fully furnished, three-bedroom apartment in the famous La Ronda neighborhood of Quito's UNESCO-designated Old Town is renting for just $695, and that, too, is with all utilities included.
In Costa Rica...Nicaragua...Colombia--safe and welcoming places with great climates, excellent healthcare, and a low overall cost of living -- you'll find similar bargains.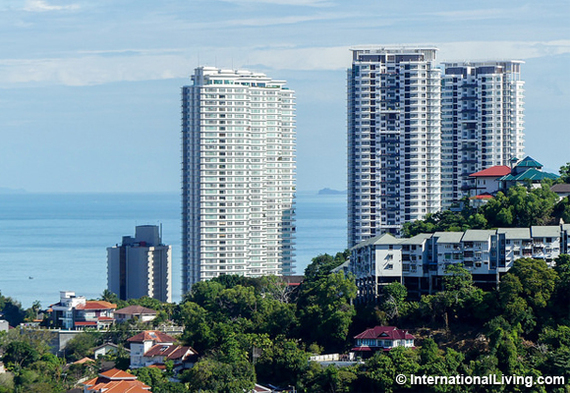 Highrise condos in Penang, Malaysia
A friend who lives in the lush mountainous countryside of Panama, resplendent with waterfalls, wild toucans and other birds, says, "You can rent a house with a garden for $300 a month."
She and her husband own their home in Santa Fe, Panama, where they grow much of their own food. She says they easily live on a budget of $1,000 a month. "A typical electric bill is maybe $20 a month, internet is as little as $15, and cable starts at about $20. Trash pickup is just $2 a month, and gas for cooking will cost you even less," she says.
In Penang, Malaysia, another friend rents a 2,100-square-foot apartment with four bedrooms and three bathrooms in a building with parking, a swimming pool, and gym for just $639 a month.
With rental prices and everyday living costs like these, it's not hard to see how a meager budget in these overseas destinations can buy you a substantial lifestyle.
When you can live comfortably for a month or more -- all in -- on the amount you'd pay to rent a tiny apartment in New York or San Francisco, it's not hard to understand why more and more Americans and Canadians are looking to retire overseas.
This article comes to us courtesy of InternationalLiving.com, the world's leading authority on how to live, work, invest, travel, and retire better overseas.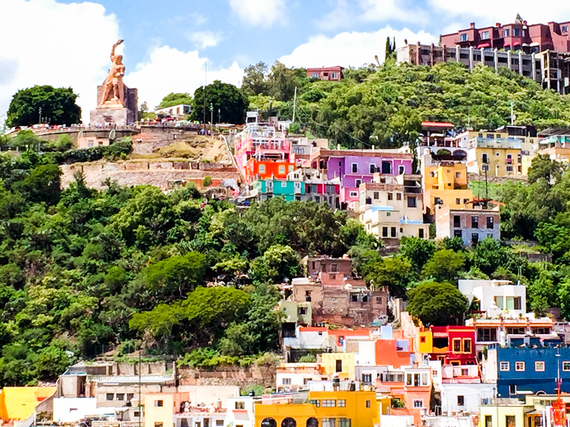 Guanajuato, Mexico
Related Articles
The 5 Best Places to Retire In France
Create Awe-Inspiring Memories When You Move Overseas
3 Top Retirement Havens with the Lowest Cost Of Living
PHOTO GALLERY
8 Ways To Wake Up With More Energy
REAL LIFE. REAL NEWS. REAL VOICES.
Help us tell more of the stories that matter from voices that too often remain unheard.