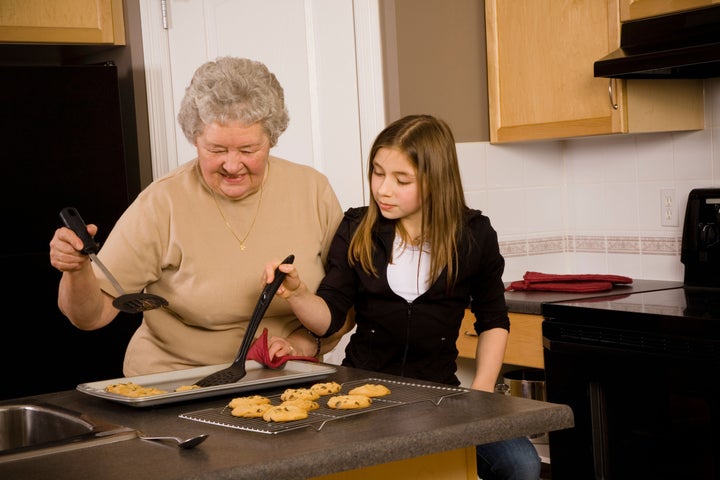 Women of a certain age who are struggling to find work now have a new option, as a Los Angeles-based employment agency is offering what some are calling the career opportunity of a lifetime -- a chance to get paid to essentially be a child's grandmother.
As Entrepreneur Magazine (via Business Insider) is reporting, the Rent-A-Grandma agency offers its clients a range of services that incudes childcare, housecleaning, party-planning and pet-setting. So far, domestic female workers "from age 48 up into their 80s" have been placed in various homes by the firm.
The mission of Rent-A-Grandma, which was founded by former children's tutor Todd Pliss, is to match those who need caregiving or home management services with female workers over 50 years old who are both willing and able to provide that work. Now in the process of franchising the concept nationwide, Pliss says he got the idea after observing complaints from L.A.-based parents who claimed to be frazzled by unprofessional babysitters. "I heard these complaints," Pliss said, "and asked myself, 'Who's more responsible? More mature?' I thought, Hey, grandmas! We all have warm, fuzzy feelings about grandmas. And they don't text or tweet while watching the kids."
The job suits Linda Terry, a 63-year-old grandmother of 10, just fine. "I've taken my experience of raising my own three sons and running a home and turned it into something I now get paid for," Terry, who earns about $500 a week and is currently working a three-month live-in assignment in the Manhattan Beach area of L.A. with a family of four, including a newborn, tells The Fiscal Times. "I find that very satisfying." Clients seem to be similarly pleased: "For me, the true benefit of older workers like this is that they have a maturity you might not see with a younger person," notedAnna Maria Caldwell, a mother of three in Valencia, Calif. who's hired a grandma.
As for the benefits of hiring a "grandma" over another domestic worker, Pliss notes, "These are not retired women who are bored. These are women who are passionate and want to work. It's kind of disappointing to see how many good, older women are out there who can't find a job. One of our grandmas was homeless and living in a shelter before she found work with us."
Related
Popular in the Community