Once upon a time, brick-and-mortar stores scrambled to launch websites. These days, online shopping sites are scrambling to launch brick-and-mortar stores.
The latest online retailer making a major push into the "real world" is Rent the Runway, a primarily online fashion service that rents out designer clothes for far lower than retail prices. Now it has plans to expand its fledgling fleet of stores.
Rent the Runway plans to open four or five new stores in "major metropolitan areas" in 2015, co-founder and chief executive Jennifer Hyman told The Huffington Post. That would double its current batch of four locations in New York, Las Vegas and Washington, D.C. At the boutiques, customers can book one-on-one appointments with personal stylists, and try on and rent dresses.
"We've seen that physical retail works for us," said Hyman. "When you see some of this inventory in person, it's on a whole other level. You see the fabric, you see the quality."
In recent years, many online fashion companies have planted their flags in the physical world, plopping down brick-and-mortar stores so that customers can touch and feel their wares. Menswear seller Bonobos, famous for its washed chinos, has almost a dozen "guide shops" where customers can try on any product they like. Shoppers can now test Warby Parker glasses and receive eye exams at nearly 20 locations across the country. At both of these brands' shops, customers place their orders in store and have their items shipped by mail -- so the shops serve as showrooms for online operations.
Birchbox, the beauty subscription service, went a more traditional route, opening a full-blown retail store in New York where shoppers can fill their bags with makeup and take it all home. Its store also focuses on the hands-on factor, complete with services like makeup touch-ups, nail polish changes and a "Try Bar" to test all the newest trends.
Inside Rent the Runway's Washington, D.C., store, the company's fourth location.
Founded in 2009 by Hyman and Jennifer Fleiss, who met at Harvard Business School, Rent the Runway has stormed onto the fashion scene by catering to a simple need: luxury clothing for special occasions. Planning a big night out for a friend's birthday? Rent a $460 little black dress from Helmut Lang for $35. Attending a swanky black-tie gala? You can show up in a $6,000 Gabriela Cadena gown for $450. There's also an accessories collection to complete outfits, offering items like Moschino clutches and Oscar de la Renta earrings.
This year, Rent the Runway has rented the equivalent of $600 million in the retail value of its clothes and has seen a 122 percent increase in orders, the company said. It has raised more than $54 million in venture capital funding to date and has more than 300 full-time employees.
The stores serve as a way to show customers brands they're likely unfamiliar with, said Hyman. Since 90 percent of her customers rent brands they've never owned before, they require an introduction. That's largely because of lofty designer prices, which many customers simply can't afford. With rentals, even the fanciest of brands can be within budget.
"Why try on a Carolina Herrera dress if it's $3,000 and you're never going to buy it?" said Hyman. At Rent the Runway stores, customers don't have to make that huge commitment. They want to try that pricey dress on because as a rental, it has suddenly been thrust into their price range.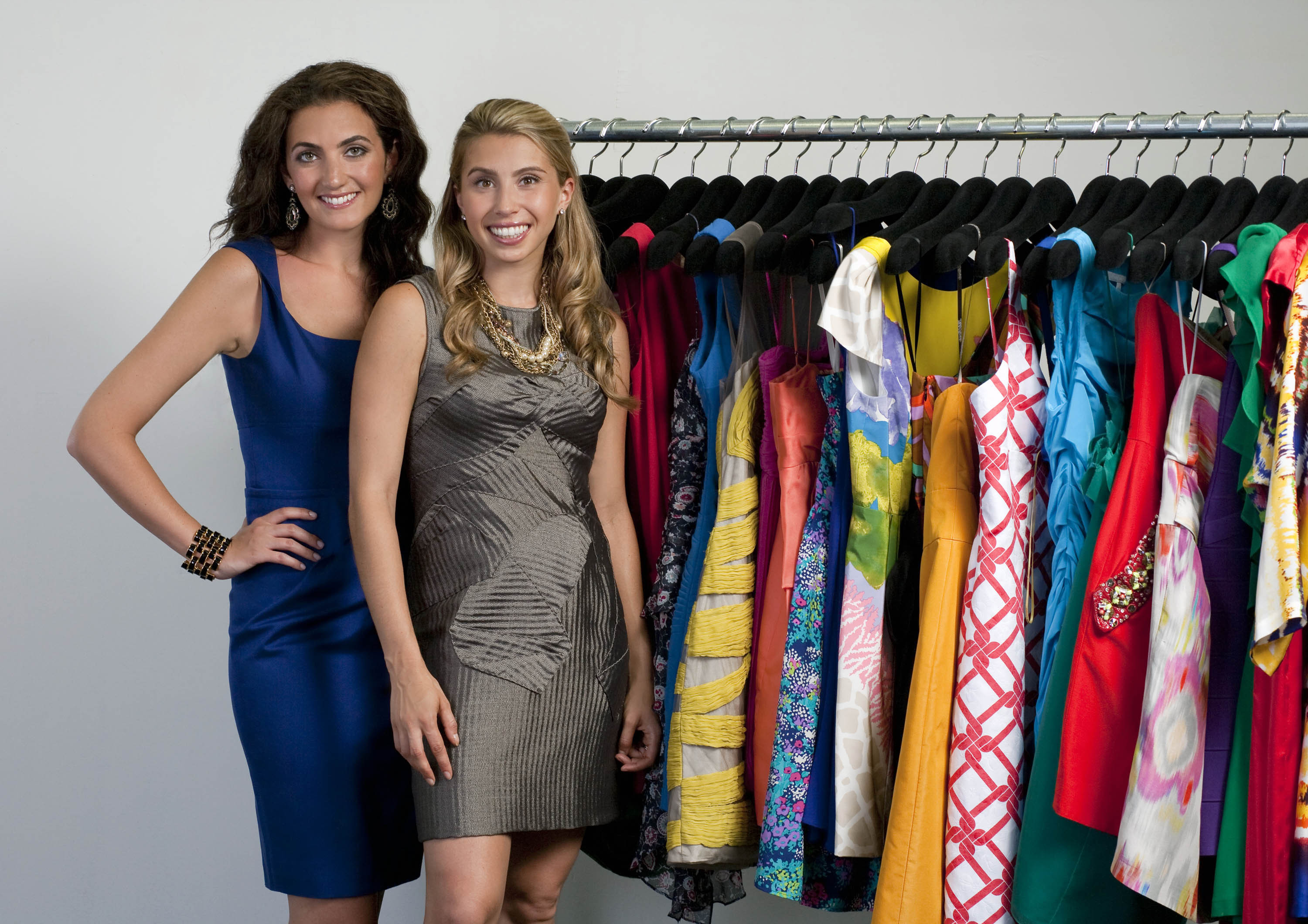 Jennifer Hyman and Jennifer Fleiss, co-founders of Rent the Runway. (AP Photo/Rent the Runway, Philippe Rohdewald)
Rent the Runway exists to eliminate the binary choice of buy versus don't buy, said Hyman. As she puts it, if shopping were created for the techie world of 2014, customers would have "maximum optionality."
Case in point: Rent the Runway's "Unlimited" service. Launched earlier this year, the service lets shoppers shell out $49 a month for total access to a selection of designer clothes. They can pick three pieces to use for as long as they want, which can then be sent back and swapped for new styles. If customers can't bear the thought of sending back a beloved item, they can purchase it for 30 percent off the retail price, freeing up its slot for subsequent rentals. It's Rent the Runway's first foray into everyday clothing, and its answer to "disposable chic" fast fashion brands like like Zara, H&M and Forever 21, which quickly adapt styles from the catwalk and sell them at low prices.
Permanent ownership is a part of Rent the Runway's future, despite the fleeting nature of the company's name. In November, Rent the Runway opened a warehouse store attached to its distribution center in Secaucus, New Jersey. This store sells used -- Hyman calls it "gently loved" -- merchandise that's being retired from Rent the Runway's website.
As Rent the Runway expands with more distribution centers around the country, it plans to open a warehouse store at each one, because it simply "makes sense," said Hyman. The Secaucus store "has taken off more quickly than anticipated," she added.
Just don't expect Rent the Runway to come out with a regular ol' retail shop -- on or offline.
"There are more plans for selling merchandise, but not for selling brand new merchandise," said Hyman. "Rent the Runway as a business is about reinventing the way women get dressed."