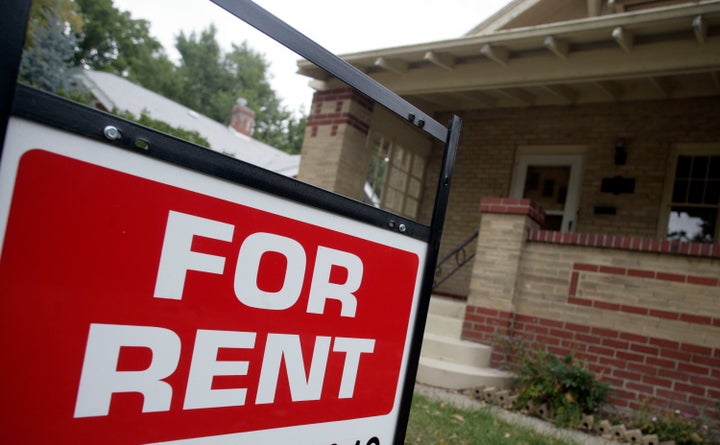 NEW YORK -- Around 10 million American households -- or one in every four families that rent their homes -- could have to choose between paying rent, buying groceries or keeping current with bills, according to a report released Tuesday.
The number of households spending more than 50 percent of their income on rent and bills jumped by 2.6 million over the last decade, according to a Harvard Joint Center for Housing Studies report. Economists generally consider "affordable" rent to cost about 30 percent of a tenant's income.
When housing costs hit certain levels, many Americans are forced to choose between rent and food. "In real terms, it means more people have less money to spend on household necessities such as food, health care, or savings," Eric Belsky, director of the Harvard Joint Center for Housing Studies, said in the report. Households which spend 50 percent or more of their income on rent also spend almost 40 percent less on food and over 50 percent less on health care than households with more affordable rent.
"In the last decade, rental housing affordability problems went through the roof," Belsky said in the report. "And these affordability problems are marching up the income scale," he added.
Already, rising rents mean the household budgets of working-class and middle-class families are under strain. Growing numbers of middle-income, and lower-middle-income renters are spending between 30 percent and 50 percent of their incomes on rent. And the report found that rents could start to soar as the recovery takes hold.
Belsky said that after a boom, the rental market took a brief hit during the recession. "Rental housing costs went up and up. There was a brief dip in 2009, now they've moved up again," he told The Huffington Post. Affordability could become such a problem, Belsky said, that even financially secure Americans could start to struggle to make rent.
Even before the recession, rent increases and growing bills outpaced many stagnant salaries. Now, with modest improvements in the job market, there is renewed upward pressure on rents. Many former homeowners who faced foreclosure are now looking to rent, and people who ordinarily would have bought homes are struggling with tighter mortgage lending, while others are waiting for home prices to sink even lower.
Mortgage lending for apartment buildings -- the multifamily sector -- was severely hit during the financial crisis, and financing for the sector has dropped by $40 billion, according to the report.
Since 2008, the only refinancing for loans on apartment buildings has come from federally-backed sources: Fannie Mae, Freddie Mac and the Federal Housing Administration.
And for Americans with lower incomes, the availability of federally protected affordable housing is shrinking. The report found 700,000 affordable rental units had either been removed from federal programs or demolished since the mid 1990s, with very little new housing being offered at the lower end of the rent scale.
Related
Popular in the Community