This is the clearest explanation for why more and more people are struggling to afford a place to live: in the last 50 years, rents have gone up significantly faster than incomes.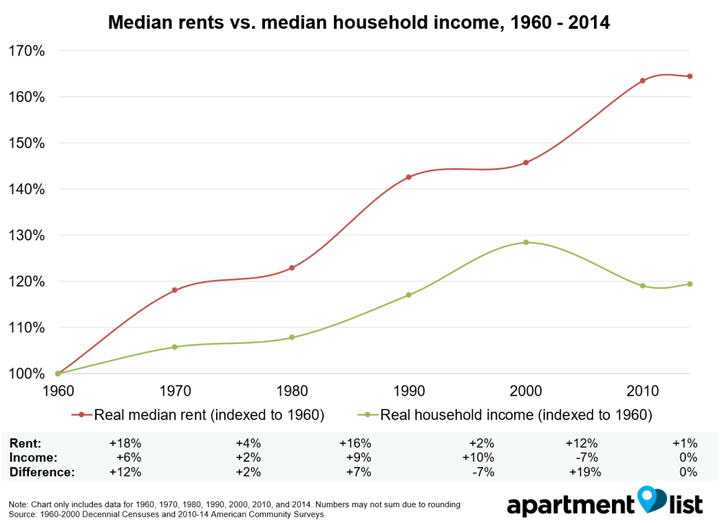 Andrew Woo, director of data science for Apartment List, explained in a post that the service used 1960 as the baseline to chart how much median rent and income have gone up each year through 2014.
Though rents have gone up at a faster rate than incomes in every decade besides the 1990s, it's only recently that the two diverged wildly. Between 2000 and 2010, rents increased 12 percent while incomes fell 7 percent. Rent growth has been slower since 2000, Apartment List notes, and there have been small increases in income in the last couple years.
While coastal cities with tight housing markets, like San Francisco, New York and Los Angeles, are often spotlighted for their shockingly high rents, they aren't the only places affected. In so-called cheaper cities like St. Louis or Detroit, rents are far lower, but incomes have barely gone up, or have declined, since 1980.
There are some exceptions: in Austin, Texas; Phoenix and Las Vegas, incomes and rent have gone up at a similar pace since 1980, according to Apartment List.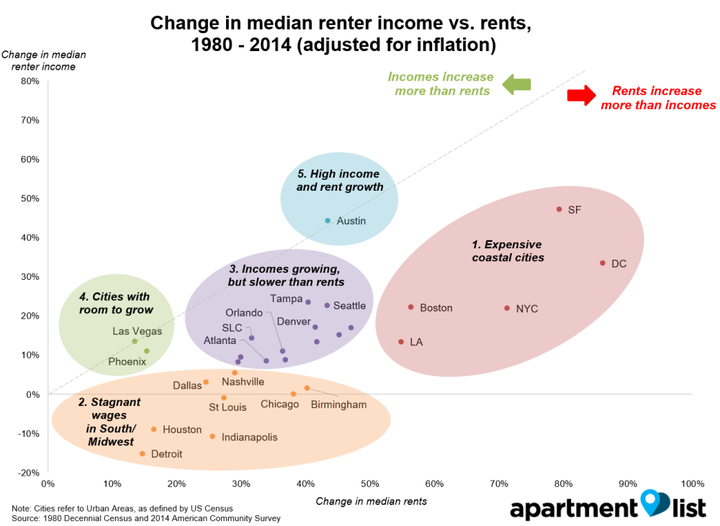 The breakdown by city helps show why people struggle to pay rent even in more affordable markets. The standard for an affordable rent payment is 30 percent or less than a household's monthly income. Any more is considered "cost-burdened" and can lead to families cutting spending on food, health care and savings.
The portion of renters who are cost-burdened nationally has doubled since 1960, according to Apartment List. While cost burdens are widespread among people making lower incomes, they're lately affecting a growing number of middle-income households, according to Harvard University's Center for Joint Housing Studies' December report on rental housing.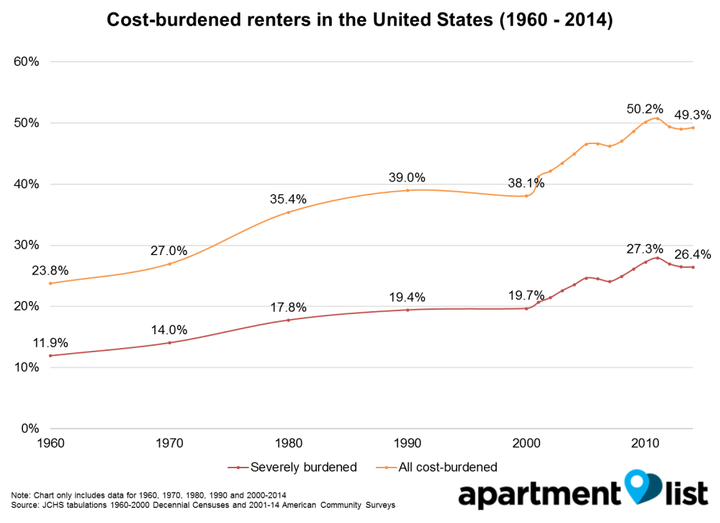 Last year's Harvard report wasn't optimistic about rents leveling out.
"Most new rentals are targeted to the high end of the market," the researchers wrote. "And with the huge millennial population poised to enter the housing market, the pressure on rents will only increase."
Apartment List puts a very real figure on what long-term rent growth means for your bank account.
"If rents had only risen at the rate of inflation, the average renter would be paying $366 less in rent each month," writes Woo.
Time to go fantasize about everything we could do with an extra $4,400 this year.
Support HuffPost
The Stakes Have Never Been Higher
Related
Popular in the Community