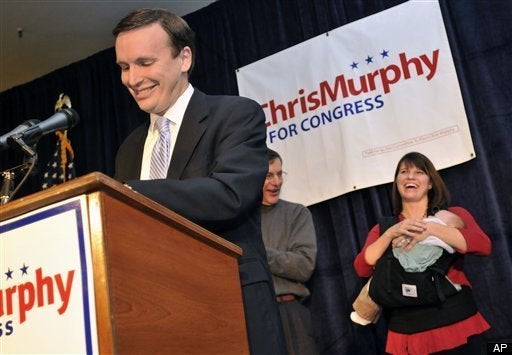 UPDATE: Rep. Chris Murphy (D-Conn.) formally announced on Thursday morning that he will be running for the United States Senate seat being vacated by Senator Joseph Lieberman (I-Conn.)
In an exclusive statement to The Huffington Post, the Connecticut Democrat explained that his decision came after consultation with his family, friends and colleagues.
"I only take this step because I believe I can be an even stronger voice for change in the United States Senate," Murphy said. "I'm thankful for all the encouragement I have received to take this step, from family, friends, and people across the state. What I've heard is that people feel that the Senate simply doesn't work anymore - it's become an unjustifiable barrier to positive change, and Connecticut needs a fresh, progressive voice there that will push for both policy and institutional reform. "
Murphy will be making an official announcement later on Thursday morning, along with the release of his first campaign video on the new campaign website: www.chrismurphy.com. A celebratory event is planned later in the day in Cheshire, Connecticut.
Below is Murphy's announcement video:
WASHINGTON -- Rep. Chris Murphy (D-Conn.) will announce on Thursday that he plans to run for the Senate seat being vacated by retiring Sen. Joseph Lieberman (I-Conn), several Democratic sources tell The Huffington Post.
The announcement will make Murphy the second lawmaker to enter the Democratic primary. Earlier in the week, Susan Bysiewicz, a thrice-elected former secretary of state, said that she intended to run for Lieberman's seat as well.
News of Murphy's impending entrance into the race was first reported by Hartford Courant columnist and political blogger Kevin Rennie. A Democratic source said the congressman alerted fellow lawmakers of his decision on Wednesday after Lieberman announced he would not be seeking a fifth term in office.
A Murphy spokesman declined comment.
As The Huffington Post reported on Wednesday, Connecticut Democrats have begun bracing themselves for an active and crowded primary process. In addition to Bysiewicz and Murphy, Rep. Joe Courtney (D-Conn.) is widely expected to announce a run for office.
"I'm looking at it," Courtney told The Huffington Post earlier in the day. "When I ran for the House I started in February of '05. So time is the enemy. You have to raise all kind of money. When you look at the Udalls [Senators Tom and Mark] they jumped out very early in their races. [Joe] Sestak, [Paul] Hodes did the same thing. So it is a pretty tight timeframe."

Popular in the Community