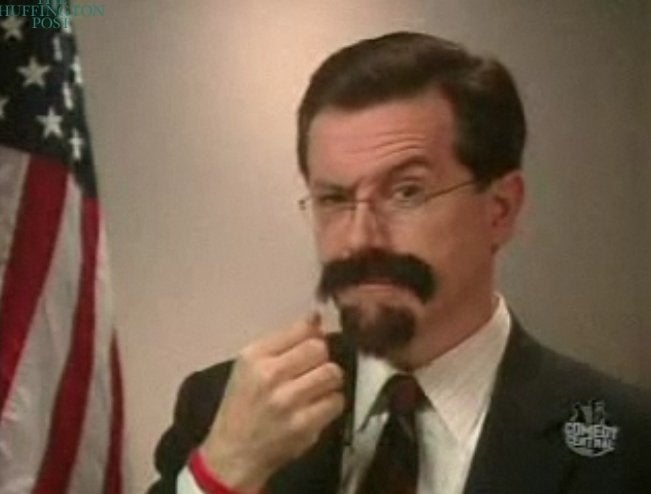 Stephen Colbert's latest iteration of his awkward-moment inducing series, "Better Know A District," went after new comedic ground by revisiting one of the series most notorious, and hilarious, moments. On Tuesday, Colbert presented his interview with Rep. Dan Maffei of New York's 25th congressional district.
The freshman Democrat came across as genial and game, a bit overexcited about his proximity to Syracuse, perhaps a too easy mark for a 'man/boy love' joke. But overall, Maffei's good humor served him well -- at least better than his beer-shotgunning skills, which proved to be a bit of a failure.
Maffei, a self-described nerd, allowed himself to be filmed wearing a fake beard and mustache, along with Colbert, the premise being that they would behave like their "evil twins" in a manner according to an old Star Trek episode. Through this device, Colbert managed to stage a redux of his famous interview with Florida Rep. Robert Wexler, during which he got Wexler to admit that cocaine and hookers were both "fun things to do." Using the evil twin beards, Colbert managed the following exchange:
COLBERT: Evil Congressman Maffei, let's say a few things the good Congressman Maffei would never say. Complete this sentence.
COLBERT: I enjoy cocaine because...
COLBERT: You are not Congressman Maffei. You are now evil your evil twin.
MAFFEI: I enjoy cocaine because...
COLBERT: Say, "This gives me joy."
COLBERT: Well said. "I enjoy the company of prostitutes for the the following reasons..."
MAFFEI: I enjoy the company of prostitutes for the following reasons: it represses women, it's generally illegal...
COLBERT: And this gives you joy?
Uhm...okay. Maffei may have been a little too ready to talk about prostitutes, there.
Popular in the Community