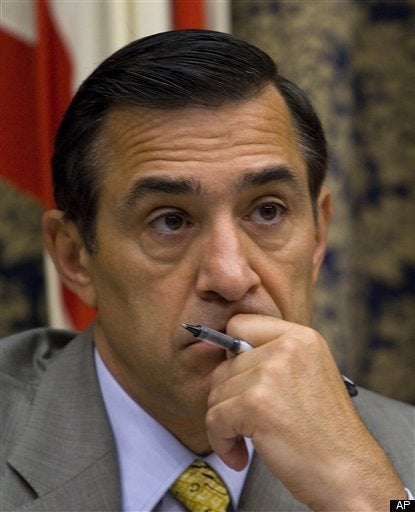 Rep. Darrell Issa (R-Cali.) is planning to introduce legislation as early as today that would effectively ban the Republican National Committee from using legal loopholes to continue sending deceptive census mailers.
The California Republican's office confirmed to the Huffington Post that they looked into the matter after reports surfaced that the RNC was still sending out fundraising appeals under the guise of census mailers even after legislation was passed to end the practice.
The congressman was not going to send a letter to RNC Chairman Michael Steele urging him to stop the practice, said an aide. Rather, he will write an add-on bill to simply close the hole in the initial law, of which the RNC took advantage.
"They didn't break the law, that's the bottom line," said Kurt Bardella, a spokesman for Issa. "They may have violated the spirit of the law... But we are working on legislation to remedy this. I think this was a product of bad legislative writing in the first place."
Under the law that was passed through the House by a vote of 416-0 last month (with Issa as a co-sponsor), mailers that were marked with the word "census" on the envelope had to state the name and the address of the sender on the outside of the envelope as well. The RNC mailer, which includes a detailed questionnaire and a solicitation for donations, has the words "Census Document" visible on the envelope without an accompanying name of the sender or address.
But the word appears through a window in the envelope and not on the envelope itself, explained Bardella. Issa's legislation will close this "loophole."
A bill is expected to be introduced in the Committee on Oversight and Government Reform on Tuesday and, if all goes as planned, will be marked up next week.
UPDATE: Issa drops the bill (below) and an accompanying statement.
The RNC's mailings plainly violate the spirit and intent of the law. Today I introduced legislation to clarify Congress' intent and remove loopholes that resulted in this mailing slipping through. Deceptive mailings must not be allowed to interfere with the constitutionally mandated Census. This legislation deserves bipartisan support and I am working with Congressional Democrats to advance this bill as expeditiously as possible.