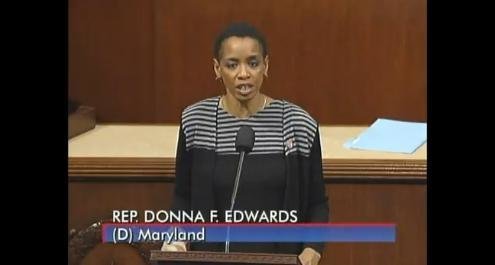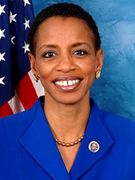 I first interviewed Rep. Donna Edwards for an article about Afghan women in March 2010. She had just returned from a congressional trip to Afghanistan, and I wanted to get some "on the ground" feedback. I was impressed with her insights and forthright opinions. Eight months later, Esquire Magazine took notice of her activities -- when they named her as one of the Ten Best Members of Congress in their November issue.
Rep. Edwards sits on the Subcommittee on Water Resources and Environment. She is a strong believer in the importance of the Clean Air Act. She voted against H.R. 910, the Energy Tax Prevention Act of 2011, which she qualified as being "wrong for our economy, our environment, and our families." In a press release, Rep. Edwards referenced how the Clean Air Act had helped to prevent 160,000 premature deaths, 130,000 heart attacks, and more than 100,000 hospital visits by preventing respiratory problems such as asthma and bronchitis.
On this year's Earth Day, the congresswoman released an announcement stating that the commemoration was "the latest reminder that we need action at all levels" in order to protect the environment for future generations.
I reached out to her with four key questions on energy and her commitment to the environment. Below are her responses via e-mail:
What do you see as the biggest challenge to preserving the gains of the Clean Air and Water protection bills?
It is important to remember that for nearly 50 years, the Clean Air Act been instrumental in making our country healthier and safer by protecting the air we breathe, the water we drink, and by holding corporate polluters accountable. These efforts have often received bipartisan support. However, this Congress has seen numerous legislative attempts by House Republicans to strip provisions from the Clean Air Act and restrict the ability of the Environmental Protection Agency to implement critical public health standards. Quite frankly, combating funding cuts and legislative attempts to undermine environmental protections represent by far the greatest challenge to preserving the progress we have made under the Clean Air Act.
Can American citizens put their shoulders to the wheel, change their patterns of energy consumption, and embrace a new mindset that fosters awareness of a greener lifestyle?
Absolutely, and it requires a collective effort. We need to emphasize the dangers climate change poses to public health, invest more in green technologies, green infrastructure and create a level playing field for our energy market. Right now, big oil companies receive $4 billion in tax breaks every year even though the industry earned $36 billion in profits in the first quarter of this year alone. This is unfair, unsustainable, and it greatly distorts our energy market. We need to ensure that economic development includes concerns for the environment. The two do not need to be mutually exclusive.
Can you speak about The Green Infrastructure for Clean Water Act, introduced by yourself and Senator Tom Udall?
Sure. The Green Infrastructure for Clean Water Act would establish up to five regional Centers of Excellence for green infrastructure in the United States. The centers would be charged with conducting research on green infrastructure relevant to the geographic region where the center is located. Communities would receive training and technical assistance on how to implement the best green infrastructure management practices. Essentially, the bill uses centers to conduct research and empower communities to pursue green infrastructure practices using the natural environment for clean water, flood control, and storm water management.
How has your role as a mother affected your choices to champion the environment?
I think being a mother has made me even more concerned with how we impact our environment. Children are vulnerable especially to pollutant related diseases such as asthma, water born bacteria, and other respiratory illnesses. We are doing them a disservice now and in the future if we choose not to reduce our consumption of fossil fuels and invest in green technologies.
The support of a strong environmental agenda by our elected officials is essential to safeguarding clean air and water. Look for upcoming interviews with other representatives about their positions and actions on one of the major issues facing our country.
Photo: United States Congress
Related
Popular in the Community