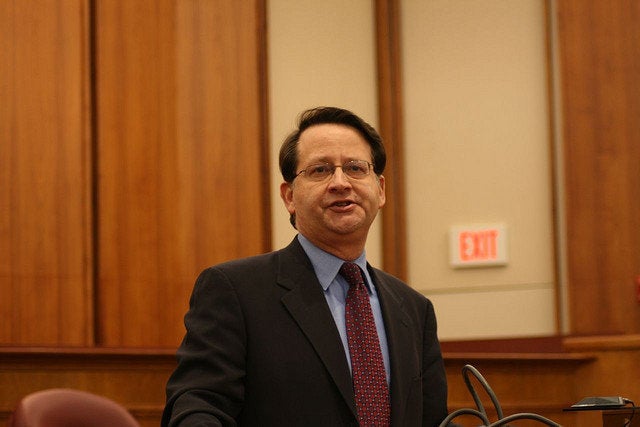 U.S. Rep. Gary Peters came to Pontiac City Hall Wednesday morning to discuss his plan to combat an agreement between Pontiac Emergency Manager Lou Schimmel and Oakland County that could result in less funding for the city.
At the end of 2011, Schimmel signed an cooperative agreement that would let the county receive and administer Pontiac's share of funds from the U.S. Department of Housing and Urban Development (HUD) for the Community Development Block Grant (CDBG) program through 2014. The agreement was meant to lift the financial burden of administering the funds for the cash-strapped city.
The problem was it didn't legally bind the county to spend the federal dollars intended for Pontiac in the city. After he was alerted in December that Pontiac would not directly receive HUD funds for fiscal year 2012, Peters asked HUD to review the agreement.
However, HUD uses a different formula to calculate CDBG allocations for Pontiac -- because of higher community need, the city receives more per-capita funding than Oakland County does. Peters's office determined that if the city were to take part in the Urban County program, it could lose up to $850,000 annually.
Pontiac could instead subcontract with the county in a joint agreement that would allow the city's funding to be computed separately but still allocated by the county.
According to Laura Feldman, public affairs specialist for HUD's Midwest region, Schimmel has until Friday to decide whether to go forward with a cooperative or joint agreement that will determine how the Pontiac's HUD funds for 2012-2014 will be allocated.
"HUD, Pontiac and Oakland County are only exploring the options at this point," Feldman wrote in an email to HuffPost. "HUD is making sure that the Emergency Manager has a clear understanding of all the options available."
Richard Marsh Jr., Pontiac's federal programs administrator and consultant for Wade Trim Associates, Inc., said that it was at HUD's urging that Schimmel pursued an arrangement with the county.
"There had been a lot of history with the Federal Programs Division having numerous findings, things that HUD finds that were not done appropriately in the department," Marsh explained. "Mr. Schimmel had heard about that and was concerned with it."

Marsh was instated in 2011 by Pontiac's previous emergency manager, Michael Stampfler, after an independent audit showed the city lacked compliance with federal programs, including missing documentation for how CDBG money was spent.
A December audit by the same company showed the questionable practices in the Federal Programs Division had been addressed.
Feldman said HUD met with Schimmel several times, and mismanagement was only one of several of the emergency manager's concerns with the way the agency's funding was distributed.
Marsh said he was concerned about Pontiac receiving less funding, and while he has not seen a new plan from Peters, he said a phone call meeting with HUD on Tuesday is supposed to clarify the way funds will be distributed in the future.
"Replacing democratically elected officials with an emergency manager creates an environment where decisions are made with no accountability and no commitment to the long term benefit of the city," Peters said. "The governor can appoint an emergency manager, but he can't guarantee that his decisions are in the best interests of Pontiac residents."
Schimmel, who has managed Pontiac since September, is not the first emergency manager to have his cost-cutting strategies questioned. Last week, Michigan Radio reported that an independent audit of Benton Harbor, controlled by Emergency Manager Joe Harris, showed a large deficit there: The city spent about $653,000 more than its operating budget in fiscal year 2011.
Popular in the Community