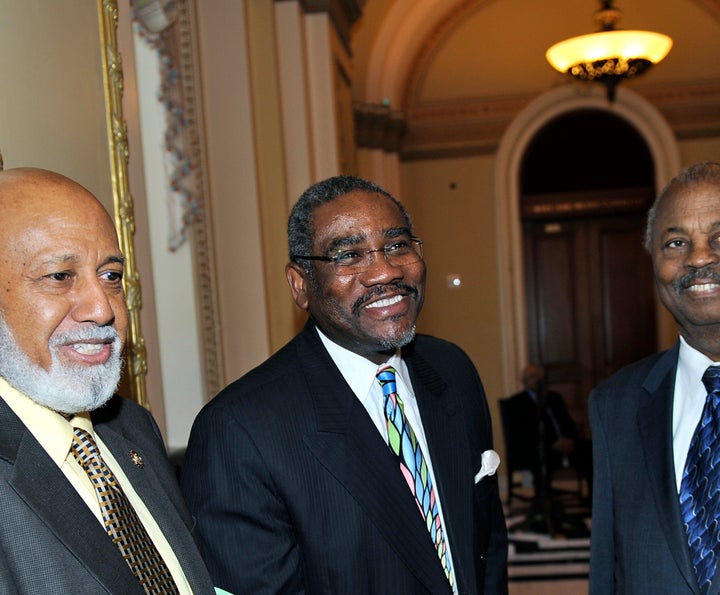 WASHINGTON -- New York members of the House are keeping the ethics committee awfully busy these days, with yet another member of the delegation being referred for investigation, this time Rep. Gregory Meeks.
The Office of Congressional Ethics revealed Friday that it has asked the full ethics committee to look into its finding that Meeks (D-N.Y.) had taken a gift of $40,000 from a friend and businessman named Edul Ahmad.
Meeks said the payment was actually a personal loan that he took in 2007 to help finish work on his new $860,000 home.
But Meeks failed to report the loan on any of his financial disclosure forms -- as required -- until 2010. The New York Daily News reported that Meeks came forward after the FBI started investigating Ahmad and discovered the payment.
"During the course of its review, the Office of Congressional Ethics learned that the $40,000 Representative Meeks received from Edul Ahmad appeared to lack the normal indicia, including a set interest rate or repayment terms, of a legitimate loan," the OCE said in referring the matter. "Therefore, this $40,000 transferred to Representative Meeks in 2007 appears to have been a gift."
Meeks' lawyers argued that the OCE does not have jurisdiction because the payment happened in 2007, and the OCE is only supposed to investigate matters starting in 2008. They also said the OCE broke its own rules by not telling Meeks about the case against him.
When Meeks reported the $40,000 as a loan, he also took out a $59,000 home equity loan to pay it back, but then failed to declare the new loan on his disclosure forms until later. The Office of Congressional Ethics recommended that the full committee not investigate the second loan from 2010, saying that unlike the first one, Meeks documented it, and it had scheduled interest and a payment plan.
"I agree with the Committee's dismissal of the 2010 loan allegation," Meeks said in a statement. "I hope that the Committee will soon dismiss the remaining allegation, which was unsupported by Office of Congressional Ethics' (OCE) report and findings. I will respect the Committee's review process and withhold my comments until it completes its work."
This session of Congress has already seen two New Yorkers quit amid ethics probes. Rep. Chris Lee (R) left office after allegedly soliciting sex on Craigslist and sending a shirtless photo of himself. Rep. Anthony Weiner (D) quit after Tweeting obscene photos of himself in the spring.
And that followed a session in which Rep. Eric Massa (D-N.Y.) resigned amid allegations of inappropriate behavior with young male staffers, and Rep. Charlie Rangel (D-N.Y.) was censured for wide-ranging ethics violations.
Popular in the Community