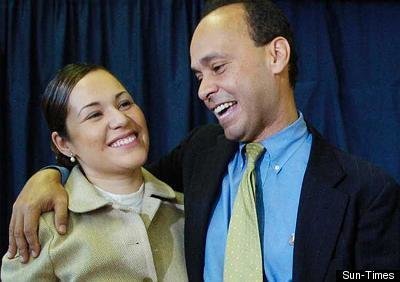 Two stories in the Chicago Sun-Times Monday suggest that the daughter of Representative Luis Gutierrez may have received preferential treatment from the city and state government.
Omaira Figueroa was hired by the Rod Blagojevich administration in 2004, after being listed on a secret clout database kept by the indicted ex-governor, the Sun-Times reports. Four years later, despite earning a healthy salary, she bought an affordable housing unit from a donor to her father's campaign, with the blessing of an alderman who Gutierrez mentored.
The congressman vehemently denies any wrongdoing in either case.
Gutierrez wouldn't entertain such speculation "unless you could show me she violated some rule, that she got some kind of special treatment," he told the Sun-Times. "It's just not there."
In the case of Figueroa's 2004 hiring, the congressman's daughter was taken on at the Illinois Commerce Commission after working as an assistant sergeant-at-arms for the city council. The job earns her nearly $60,000 a year.
Omaira Figueroa became a consumer counselor for the Illinois Commerce Commission in June 2004, after Blagojevich aides included her in the then-secret hiring database under a spreadsheet labeled "Gutierrez, Luis (CONG-D-4th Dist.)"

"There should be no issues. She should get a letter offering the position in about 2 weeks," according to a note placed in the database the month before the ICC hired her.

Four years later, Figueroa purchased a condo slated as "affordable housing" in Chicago's 26th Ward, then represented by Ald. Billy Ocasio. Ordinarily, Figueroa wouldn't have been eligible for affordable housing from the city, but "through a 26th Ward 'community' initiative that 'wasn't an official government program,' " as an Ocasio spokesman described it, she landed the two-bedroom, two-bathroom condo for $155,000.
Roman Popovych, the developer who sold her the condo, donated $1,000 to her father's campaign six months before the purchase. He also donated over $13,000 to Ocasio.
Figueroa re-sold the condo a year later for a profit of almost $85,000 -- which would also have been forbidden under the city's affordable-housing rules.
Ald. Ocasio was given oversight, through a so-called "declaration of restrictive covenant," to assign affordable housing units to new condo developments in his district. He then worked with non-profits to set the terms for who could buy the units.
"I've known Omaira since she was 6 years old," said Ocasio, who hired her to work part-time in his aldermanic office about 10 years ago. "She got no preferential treatment."

Rep. Gutierrez was much more clear about whether his relationship with Ocasio had any influence on the deal.
"Never," Gutierrez said. "Never. Absolutely not. Never. Never."
Related
Popular in the Community