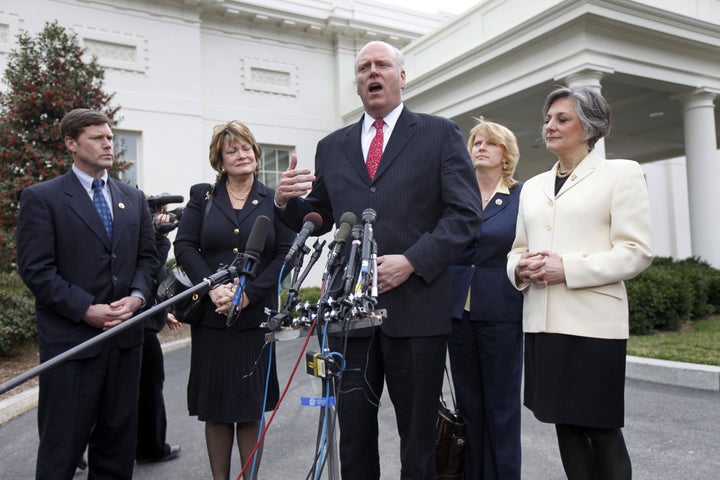 The Huffington Post crashed a Thursday evening fundraiser for Rep. Joe Crowley's political action committee, the Jobs, Opportunies and Education PAC.
The event, a typical Washington fundraiser, was listed on the Sunlight Foundation's website, www.politicalpartytime.org, as CROWLEY UNPLUGGED!! The venue was the Washington office of the Recording Industry Association of America, an organization that has spent more than $1.8 million in lobbying Congress so far in 2009, according to the Center for Responsive Politics.
Via his leadership PAC, Crowley can distribute cash he earned last night to his friends in the House, who so far this year have received $23,000.
Friendly Crowley staffers greeted the Huffington Post in the lobby of the downtown office building and said the New York Democrat would indeed be singing at the event, a spectacle for which attendees would have to stuff $100 into an envelope to see. For $1,000, guests could get ten tickets and two passes to the "VIP After Party."
Several lobbyists introduced themselves, including Lou Constantino of the Managed Funds Association, a hedge funds lobby that has spent $750,000 in lobbying so far this year as part of the industry's efforts to avert regulation. Patrick Collins said he was there just because he likes Crowley. Law firm Holland & Knight sent at least one intern.
After ten minutes of friendly schmoozing with these people, a new guest refused to identify himself. "Yeah, I don't deal with reporters," he said.
It was then that the Huffington Post noticed Crowley's staffers huddled over their Blackberrys on the other side of the lobby. One of them walked over and said he was reading "your Isakson story."
After a few minutes, the Huffington Post was escorted to the door -- but not denied the company of a Crowley staffer. He proceeded to maneuver himself between this reporter and arriving guests for about 10 or 15 minutes.
"It'd be best if you just keep going," he told arriving guests as the Huffington Post attempted to make new acquaintances. "Just go inside."
"You can't do this shit," he said in an exasperated but still-friendly tone at one point between arrivals. Asked if he would follow his charge all the way to the corner, he said he would -- and he actually did follow when this reporter started walking. But he eventually relented and left the Huffington Post alone to query dozens of incoming guests.
The vast majority of arrivals cordially refused to identify themselves. But a few were more forthcoming, including a woman from the Edison Electric Institute, which has spent more than $2.5 million in lobbying this year, according to the Center for Responsive Politics. The EEI has a lot at stake in climate change legislation.
Finally, the congressman arrived. As he hurried into the lobby, the Huffington Post asked him what his guests would get out of attending the event.
"A couple good songs," Crowley said.
HuffPost readers: Got a tip on a party, or see one worth crashing at www.politicalpartytime.org? Send tips to arthur@huffingtonpost.com.
Popular in the Community