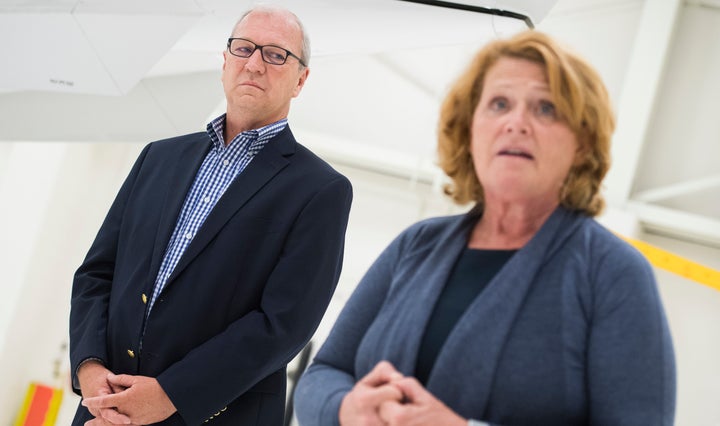 The Republican Senate candidate in North Dakota, Rep. Kevin Cramer, believes the Me Too movement makes women weak ― and said that's what female members of his family think, as well. 
Discussing the reactions of his wife, two daughters, mother and mother-in-law to the Me Too efforts to spotlight sexual abuse, Cramer told The New York Times, "They cannot understand this movement toward victimization." 
"They are pioneers of the prairie. These are tough people whose grandparents were tough and great-grandparents were tough," he said, seeming to suggest that women who are tough can't be sexually assaulted. 
Cramer told the Times that Ford, and many of the women who have come forward with stories of sexual misconduct by powerful men during the Me Too movement, shouldn't automatically be believed. 
Heitkamp, who last week voted against Kavanaugh's ascension to the Supreme Court, responded to Cramer's comments by telling the Times that her mother had to deal with the trauma of sexual assault. 
"I think it's wonderful that his wife has never had an experience, and good for her, and it's wonderful his mom hasn't," she said. "My mom did. And I think it affected my mom her whole life. And it didn't make her less strong."
Heitkemp, who conceded her vote against Kavanaugh likely would cost her politically in her conservative state, also ripped into Cramer's suggestion that the Me Too movement makes women weak. 
"It did not make my mom less strong that she was a victim. She got stronger and she made [her children] strong," she said. "And to suggest that this movement doesn't make women strong and stronger is really unfortunate."
Shortly after Ford's allegation surfaced publicly last month, Cramer dismissed it as "absurd." He downplayed the seriousness of her charge because Kavanagh and a friend who Ford said was part of the incident were young and supposedly drunk.
"This case is even more absurd because these people were teenagers when this supposed alleged incident took place; teenagers," he said during an interview on a local North Dakota radio show.
"They were drunk. Nothing evidently happened in it all, even by her own accusation," Cramer added. "Again, it was supposedly an attempt, or something, that never went anywhere."
Calling all HuffPost superfans!
Sign up for membership to become a founding member and help shape HuffPost's next chapter