Doug Lamborn, the U.S. Representative from Colorado Springs who likened the debt-ceiling debacle and President Obama earlier this month to "dealing with a tar baby," is on a public relations roll.
Likely in response to the many protests his comment triggered, Lamborn's office now sports a sidewalk-facing sign that reads: "Private Property -- No Soliciting, No Protesting, No Loitering." (emph. added) (see photo below)
The Colorado Springs blog Not My Tribe presents images of the sign installed on August 11, as well as a screen shot of a pro-Lamborn rally held the next day, timestamped August 12. As ColoradoPols notes, evidently the no-protesting rule does not apply to pro-Lamborn demonstrations.
Reached for comment by the HuffPost, Colorado progressive radio host David Sirota couldn't confirm if the pro-Lamborn rally was held in the presence of the "no protesting" sign, but did note that
A U.S. Congressman should not be declaring his public taxpayer-funded congressional office "private property" and shouldn't be putting a sign out telling his constituents they have no right to peaceably assemble and protest. That's just fundamentally un-American.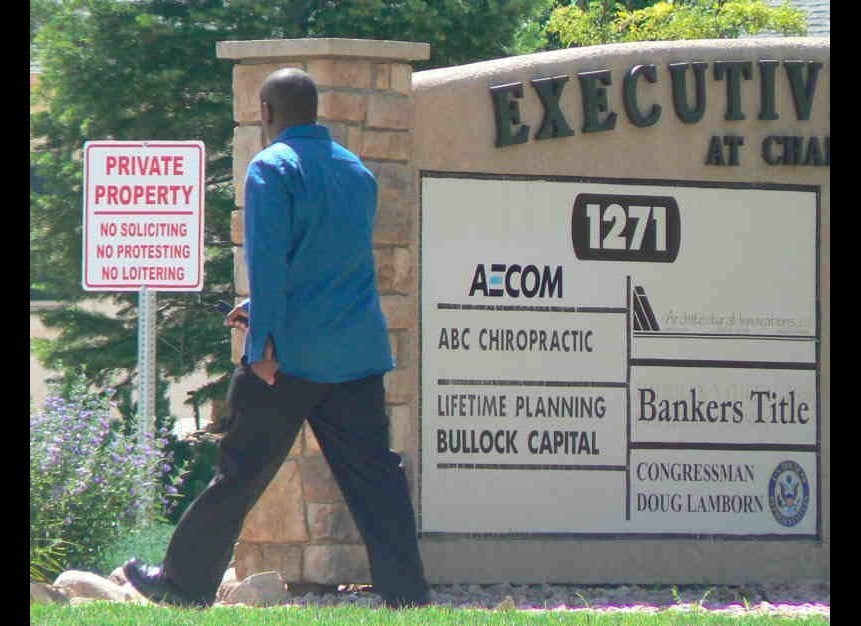 Doug Lamborn No Protesting
Popular in the Community