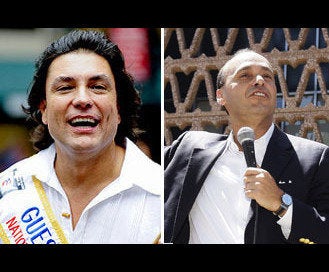 Illinois Congressman Luis Gutierrez has pulled out of New York's annual Puerto Rican Day parade after the man chosen to be the parade's leader, or "padrino international," turned out to have a history of domestic violence.
Gutierrez, a vocal supporter of rights for women, immigrants and the LGBT community, said that participating in an event that honors someone who has been violence toward woman would be doing the Puerto Rican community a disservice.
"I do not believe that honoring an individual who has committed such a serious crime is in keeping with the spirit of our parade or the principles of our community," Gutierrez said, according to the Associated Press. "I believe we must send a message of zero tolerance for violence against women."
Organizers of the New York City event chose Puerto Rican actor Osvaldo Rios to be this Sunday's "padrino international," or international godfather, the AP reports. Rios stars in a Spanish-language soap operas and was convicted on a domestic violence charge in 2003 that stemmed from a 1996 assault. The New York Daily News reports that Rios served three months in a Puerto Rican prison for "pummeling" his former girlfriend.
Gutierrez was originally supposed to be one of the parade's marshals, and is not the only one backing out.
"Domestic violence is a destructive cycle. Lives are destroyed, and futures are damaged by this horrendous crime. We simply cannot remain silent on this issue," a statement from a group of New York City councilwomen read. The group plans to boycott the parade unless Rios is pulled.
New York news website DNAinfo interviewed several women about their thoughts on Rios as the parade's leader.
Caridad Garcia, 21, of East Harlem told DNAinfo that the pick sets a bad example.
"It shows other people, that are not Puerto Rican, that we pretty much don't care about women or domestic violence," Garcia said. "I feel that someone that has more values, someone that has a greater fan base, someone who has given back to the community should be able to represent such a role...in the Puerto Rican festivities."
The AP reports that Rios reached out to media outlets last month, confronting his offense:
"These mistakes undeniably belong to my life, and I acknowledge that they will accompany me forever," Rios said in the letter, written in Spanish. "They are part of my personal history, of my evolution as a man, and of my constant walk in this material level which we call life."

He added, "I asked for forgiveness publicly, and today I do it again with humbleness and absolute responsibility."
Verizon has already backed out of sponsoring the parade, but parade organizers say Rios has paid for his crimes and do not plan on getting a new "padrino international."
WATCH some reactions from New York women about the choice for parade leader here:
Calling all HuffPost superfans!
Sign up for membership to become a founding member and help shape HuffPost's next chapter