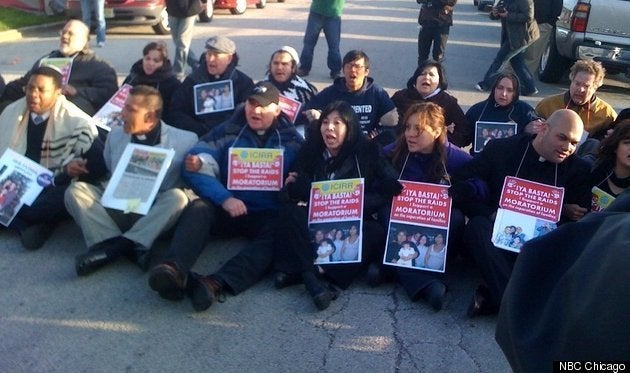 There are more than 1,600 miles separating Chicago from the state of Arizona, but the controversial immigration law passed there has resonated throughout the country--and Chicago's vast Hispanic community has sprung into action.
Earlier this week, more than 30 protesters were arrested in suburban Broadview when they blocked a van taking deportees to O'Hare Airport while chanting, "Illinois is not Arizona" and "No deportations today."
"Arizona has legalized racial profiling. I cannot in good conscience go into this game," Paul D'Amato told a Chicago Sun-Times reporter outside the ballpark. He then ripped the ticket he'd bought to see the Cubs take on the Arizona Diamondbacks into pieces.
The Arizona law would allow police who suspect someone is an illegal immigrant to ask them for papers showing they are in the U.S. legally.
Perhaps the most outspoken opponent of the new law in Chicago is Congressman Luis Gutierrez. Gutierrez has been pushing for immigration reform throughout his career, and has slammed everyone from state Democrats (most recently Governor Pat Quinn) to President Barack Obama on the issue. This week, he accused Quinn of appointing a disproportionately small share of Hispanics in state government. He has also ripped the president for inaction on immigration reform.
Gutierrez -- arrested twice in 2001 protesting the Navy's use of the island of Vieques for bombing practice -- will take part in civil disobedience "to keep the pressure up on President Obama and the leaders of the Democratic party," said Gutierrez spokesman Doug Rivlin.
Aside from expressing anger over the Arizona law, the focus among many Chicago activists has turned to "coming out" as illegal immigrants, and no longer living in fear. Chicago Public Radio reported on the renewed energy of immigration activists in Chicago. They featured one student who grew up in Chicago all her life--and announced her status in front of TV cameras:
"My name is Reyna and I am undocumented...I will not hide any longer. I will come out of the shadows. I'm a human being. I deserve to be happy."
Though the president himself has said comprehensive immigration reform won't happen in 2010, Rep. Gutierrez remains undaunted. Speaking on the National Mall last month, he shouted:
"I want comprehensive immigration reform. I want justice. And I want it now."